Fashion Tips & How Tos
The Spring 2023 Hot List
Make a statement in this season's trending looks.
February 01, 2023
In This Article
It's all in the details! Stand-out embellishments, fresh prints, bright colors, and slimming silhouettes are the themes of this season's trending pieces. Update your wardrobe with all the season's must-have styles, prints, and colors. Start to usher in Spring now with a hot pink or a bold blue blazer that is effortlessly chic from season to season. Turn staple pieces into statement pieces with posh new prints and floral details on tops, jackets, and denim. Speaking of denim, the skort is back! The skort with its slimming skirt silhouette is an absolute must-have to add to your denim collection. The blazer, the skort, and pieces with fresh new takes on florals, pearls, and prints are the trending styles you need for a Spring-ready wardrobe.
1. Pops Of Pink
This Spring is hot, hot, hot… pink! Instead of classic pastels and neutrals, choose a bold new color that is on-trend and adds excitement to your wardrobe. Wear hot pink from head to toe in cocktail dresses and pantsuits that are sophisticated for special occasions. Accentuate this season's must-have prints with hot pink accessories. Elevate a casual look with a hot pink blazer over jeans for a flawless transition from season to season.
2. Fresh Florals
Celebrate Spring and show off your fun side in floral statement pieces with details and embellishments that shine. Stitched embroidery makes all the difference to freshen up jackets, dresses and tops with luxe textures. Intricate floral and butterfly embellishments create a unique 3D-printed style that is stunning from far away and up close.
3. The Blazer In Brights
Make a statement with color in Spring's classic layer – the blazer! Bright hues are on trend for all styles this season, and the blazer is no exception. Bold blue and hot pink colors put a modern twist on the slimming double-breasted blazer, and featured gold accents on the front add flare for a bright look that is chic, tailored, and sophisticated.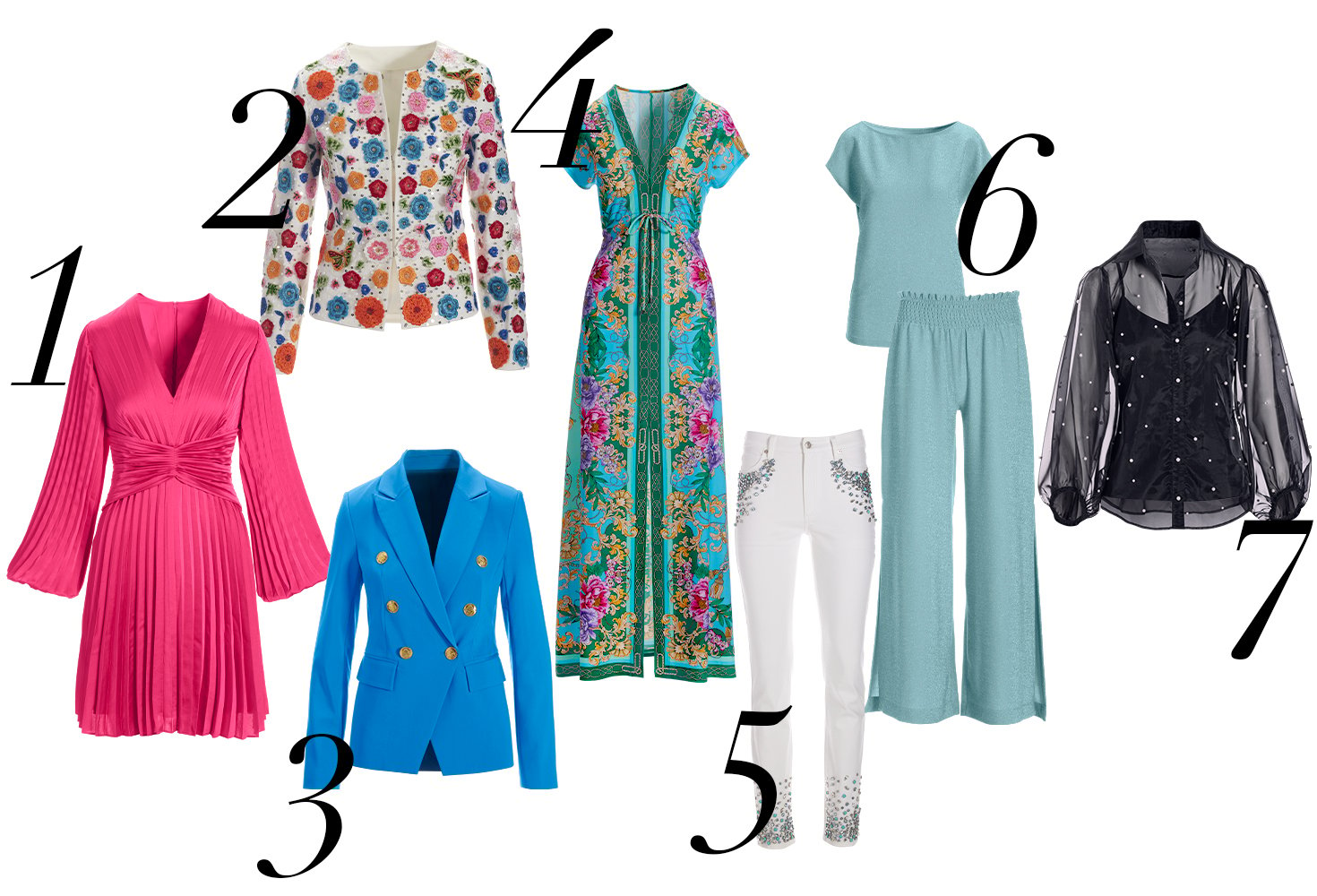 4. Scarf Prints
Wearing a print is a timeless way to put together a stand-out look, and this season scarf prints emerge as the print to wear. Prints add instant and effortless style to any outfit. New scarf prints on tops, dresses, jackets, and accessories are distinctively chic and an excellent choice to wear to any daytime social at the country club or sunny shopping excursion.
5. Denim Deluxe
Denim is always in! Find your favorites in a denim selection with all the best cuts for your figure in premium denim fabrics and in all the essential silhouettes; jeans, jackets, shorts, and the newest comeback trend – the skort. Add flair to your denim collection with this season's prints, just-right washes, and dazzling embellishments.
6. Matched Sets
Matching sets are on-trend this season and with good reason. A matching set is the perfect go-to look for those days when you need fuss-free, instant polish. From athleisure to loungewear to special occasion outfits, matching sets are trending across all styles to give you an impeccably paired outfit.
7. Pearls + Chains
Pearls are everlasting symbols of feminine confidence and prestige, so it's no surprise that pearl embellishments are forever chic. Pearl details delicately adorning new Springtime blouses, dresses, and tops add elegance to any look. For a luxe metallic edge, gold chains are making a strong presence as well. Gold chains make their appearance on the fashionable new status print that compliments any fabric, from denim to charmeuse.
Browse The Hot List and all New Arrivals to update your wardrobe.