Boho Style
How to Dress Boho:
The Boston Proper Boho Style Guide
February 01, 2023
In This Article
Boho style is a combination of bohemian and '70s fashion influences. The term Boho as we know it today still invokes the feeling of free-spirited individualism that defined those eras with distinctive silhouettes, embellishments, and prints. Along with the aesthetic, boho also evokes style with freedom of movement and specific styling. The most recent bohemian style revival, boho-chic, is more neutral, streamlined, and less layer-heavy than traditional boho fashion.
How to Dress Boho?
These classic pieces have no date but are always in fashion.
1. Choose Flowy Fabrics
Dressing boho is all about comfortable, more relaxed-fitting fabrics. When picking boho-chic tops, focus on the fabrications and cuts that lend a free-spirited flow.
2. Play With Prints
Florals, paisleys, and mixed prints are synonymous with boho fashion. Color palettes vary by season, and patterns can change; however, in general it's quite clear to say these prints are forever and timeless to boho styling.
3. Add Fringe
Fringe is a detail that adds attitude and movement and is very much part of the boho look. Added a trim or as a main feature, fringe makes everything from pants to dresses to accessories and boots boho.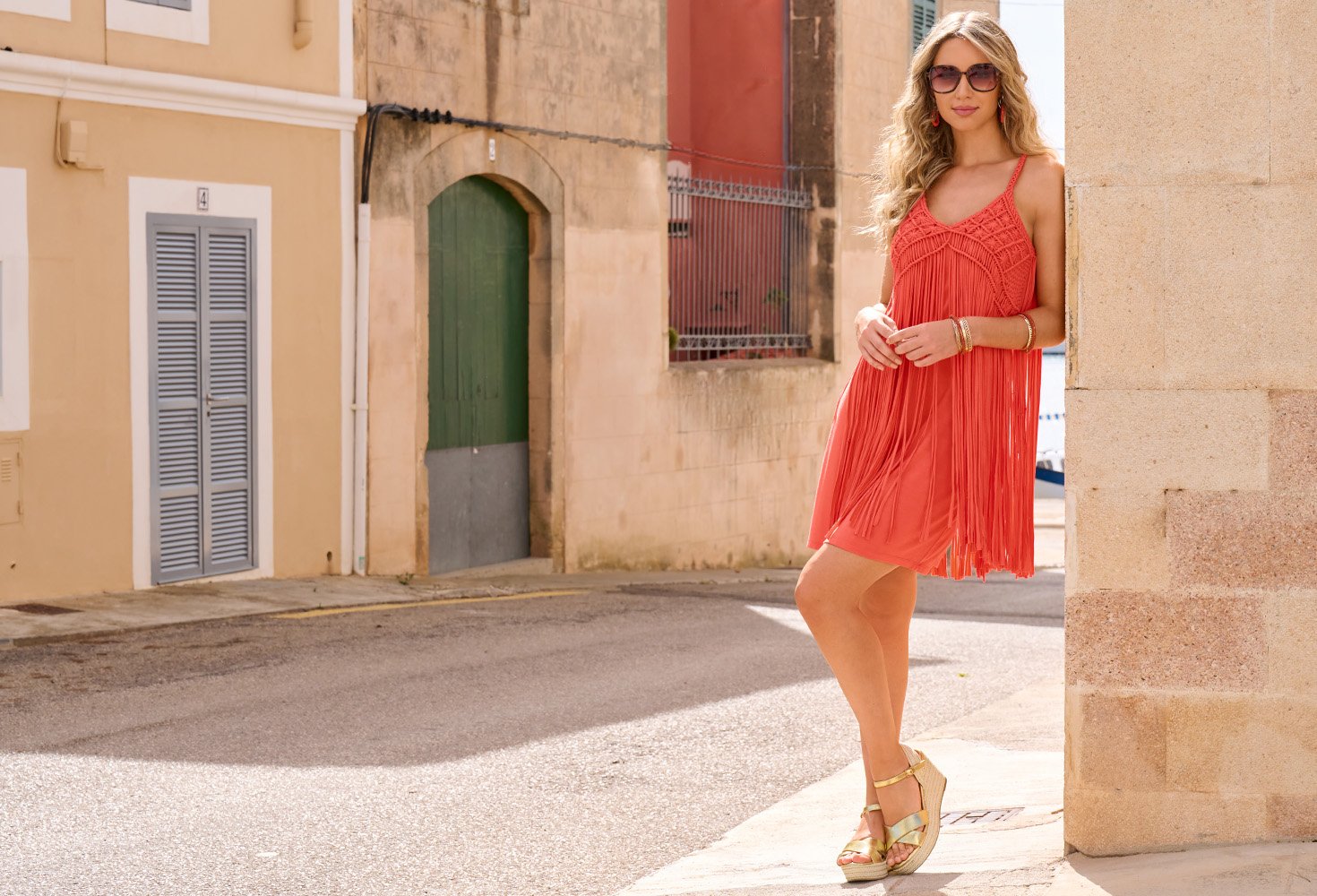 4. Try Wide-Leg Pants
Much like boho tops, bottoms are wide and flowy. The best cut is a wide-leg palazzo because of the natural weight and flow to turn any outfit into a breezy style. If you prefer a slimmer leg, opt for boho details such as embroidery and above-noted fringe.
5. Add Artsy Accessories
At last, you want to include some accessories that let your personality shine. Cue all the boho-chic beaded necklaces, turquoise, and precious stones at the center of boho fashion. Hoop earrings, funky pendants, and unique pieces are classic boho fashion.
The Basics of Boho Fashion
One of the many beautiful things about the boho aesthetic is that it can be very personal. Here are a few things to keep in mind when determining if a piece fits the boho look:
COLORS
Earthy greens, deep yellows, mauves, neutrals like browns, beige, and light-washed pastels make the perfect boho color palette. Adding wood or shades of tan with jewelry and shoes can add warmth without being overwhelming.
TEXTURES
Boho fashion is all about knits, crotchets, and velvets. In summer, you'll still see some silky linen and breathable cotton, but wool and suede are the go-to's for winter months.
PATTERNS
Boho is easy to identify, with designs like paisley, floral prints, trellis, and tie-dye. The modern boho-chic style still incorporates these prints but pairs them with a bold color to maintain the balance.
TOPS
Boho fashion loves romantic blouses, layered ruffles, and bishop sleeves. Subtle beadwork or other embellishment adds a touch of eclecticism, and the off-shoulder look is perfect for summer.
BOTTOMS
When going Boho, comfortable maxi skirts, lounge pants, and flared bottoms are essential. Look for pieces with cinched waists but otherwise wide and comfortable cuts. Denim or crochet pants that flow into a bell bottom can be paired with any top.
DRESSES
Knee-length and maxi dresses are staples. Look for flared sleeves, relaxed fits, A-line cuts, off-the-shoulder, and dreamy, flowy silhouettes.
ACCESSORIES
Think jewelry and more jewelry. Metals with an antique finish and oversized scarves, bags, and glasses help complete the look.
HEADWEAR
Hats! Wide-brimmed, feathered or sequined, western-style, and floppy hats are must-have boho-inspired pieces.
SHOES
Ankle boots of any genre, gladiator sandals, and anything with a chunky heel all make for excellent boho footwear. Look for natural elements like wood or soft hues like beige or brown.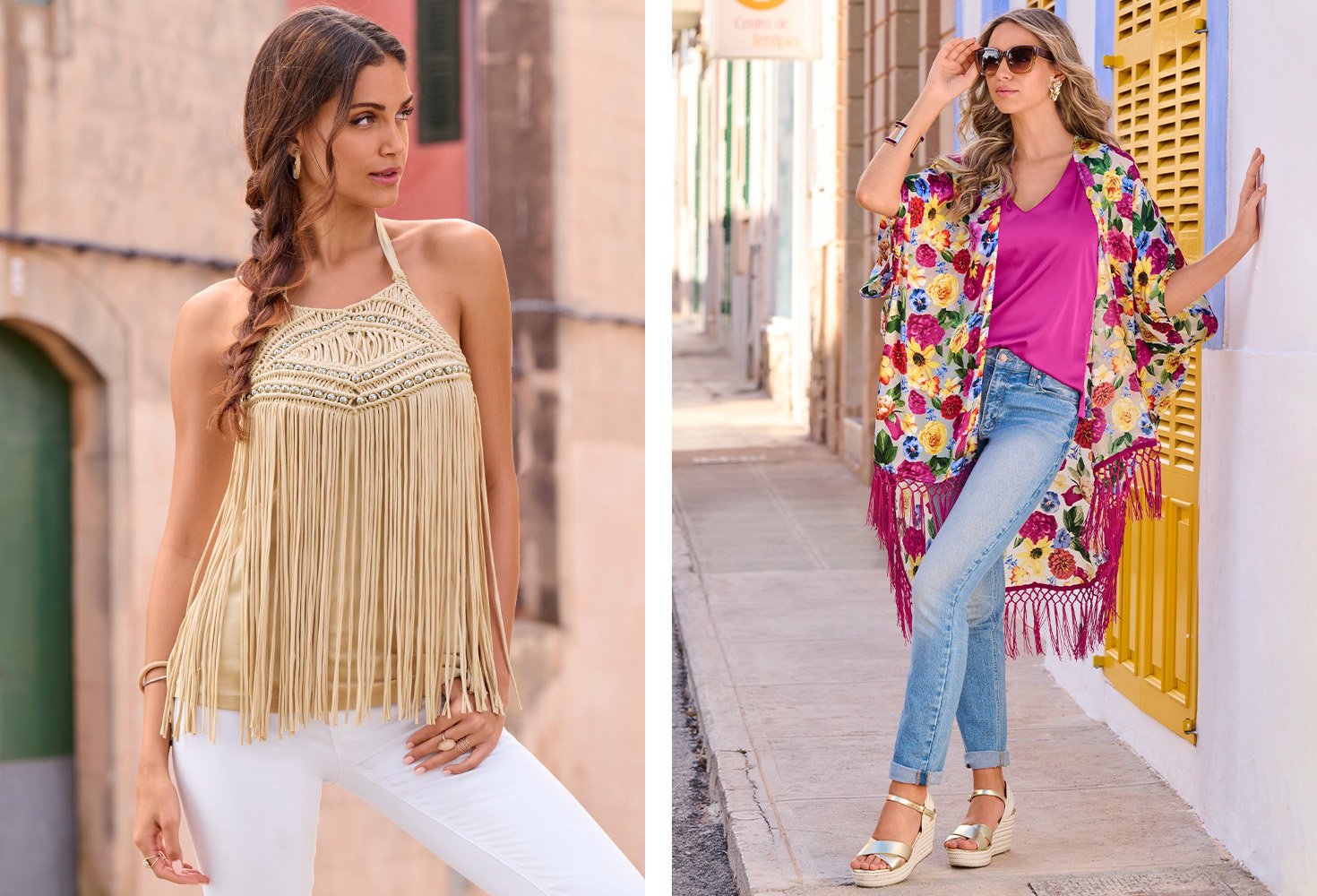 Boho Style Outfits to Try
Typical boho style is long flowing skirts and dresses, romantic blouses, mismatched patterns, loose layers, and natural elements. The same bohemian outfit can suit an outdoor concert or fine wine club with a few adjustments. Here are some outfit ideas to inspire you
Go for an Easy Maxi Dress
Long, flowy, floral dresses are a staple, easily paired with knot sandals and a comfy cardigan. Maxi dresses are versatile and can be worn in many different ways. They're perfect for lounging at home but also look great paired with boots or sandals.
Embrace Boho-Inspired Prints
Boho style is inspired by traditional folk wear and vintage clothing, so it's no surprise that mixing prints is a common way of adding variety to your wardrobe. If you're not comfortable mixing prints head-to-toe, try pairing different patterns as accents to your outfit or add a print scarf to an otherwise all-black ensemble.
Go for a Statement Top
To dress boho, you'll need flare, poet, and bell sleeves. These sleeve designs can be worn with various outfits, colors, and styles. Pair them with high-waist denim, either straight-leg or skinny, to balance your outfit.
Get Into the 70s Vibe with Flare Jeans
Wide-leg flared bottoms show off the leg and are less restrictive in movement. Join this denim trend and switch your skinny jeans for some wide-leg jeans instead.
Let's Build Your Boho-Chic Wardrobe
So many boho-style outfits can be made with just a few pieces of clothing. The key to getting the look is being comfortable in what you wear and finding pieces that fit your style. Whether looking for new pieces to extend your bohemian wardrobe or ready to try a new style, let Boston Proper be your go-to for boho fashion.