Style Over 40
Swim Sense: How to Find Flattering Swimsuits for Your Tropical Vacation
December 21, 2022
In This Article
Finding the perfect swimsuit may feel like a challenging task, especially right after the holiday season when remnants of sugar cookies and spiced eggnog are hanging out around the hip area. But rather than fretting it and regretting it, take a look at the tips below based on body type. Knowing the right design to choose can get you getaway gorgeous, in swimsuits that look like they were made just for you.
Body Types: What You Need To Know
To find the most flattering swimsuits, follow these tips for different body types.
Hourglass
You're curvy throughout. Wear swimsuits that highlight your curves while providing coverage and support where you need it most. Choose ones with thicker straps and ties around the shoulders to support the bust and opt for swimsuits that draw the eyes toward the neckline. Also, waist details highlight your shape and help make curves curvier.
Pear
You're curvy at the hips and thighs and smaller on top. Look for swimsuits that balance your proportions and give you the coverage you want for your bottom half. A skirted bottom that falls just below the hip will create a flattering silhouette. Plunging necklines or eye-catching tops can also bring attention upward.
Apple
You're round in the midsection, so ruching and a cinched waist are your best friends. Two-piece swimsuits are an option for you if you consider high-waisted swim bottoms and tankini-style tops for extra coverage and support. A flattering wrapped top and shaped neckline give the illusion of a smaller waist and help flatter your silhouette overall.
Inverted Triangle
Your shoulders are wide in proportion to the waist and hips with overall narrowing from top to bottom. Bringing attention to the hip with ruching, ties, and hardware help create balance. Fuller coverage tops are also a good idea for providing support and minimizing from the waist up.
Rectangle
You're more straight up and down with fewer curves. Look for a swimsuit that flaunts your frame and helps create a more defined waistline. You can easily wear bold prints and accentuate your neckline while keeping your swim look balanced.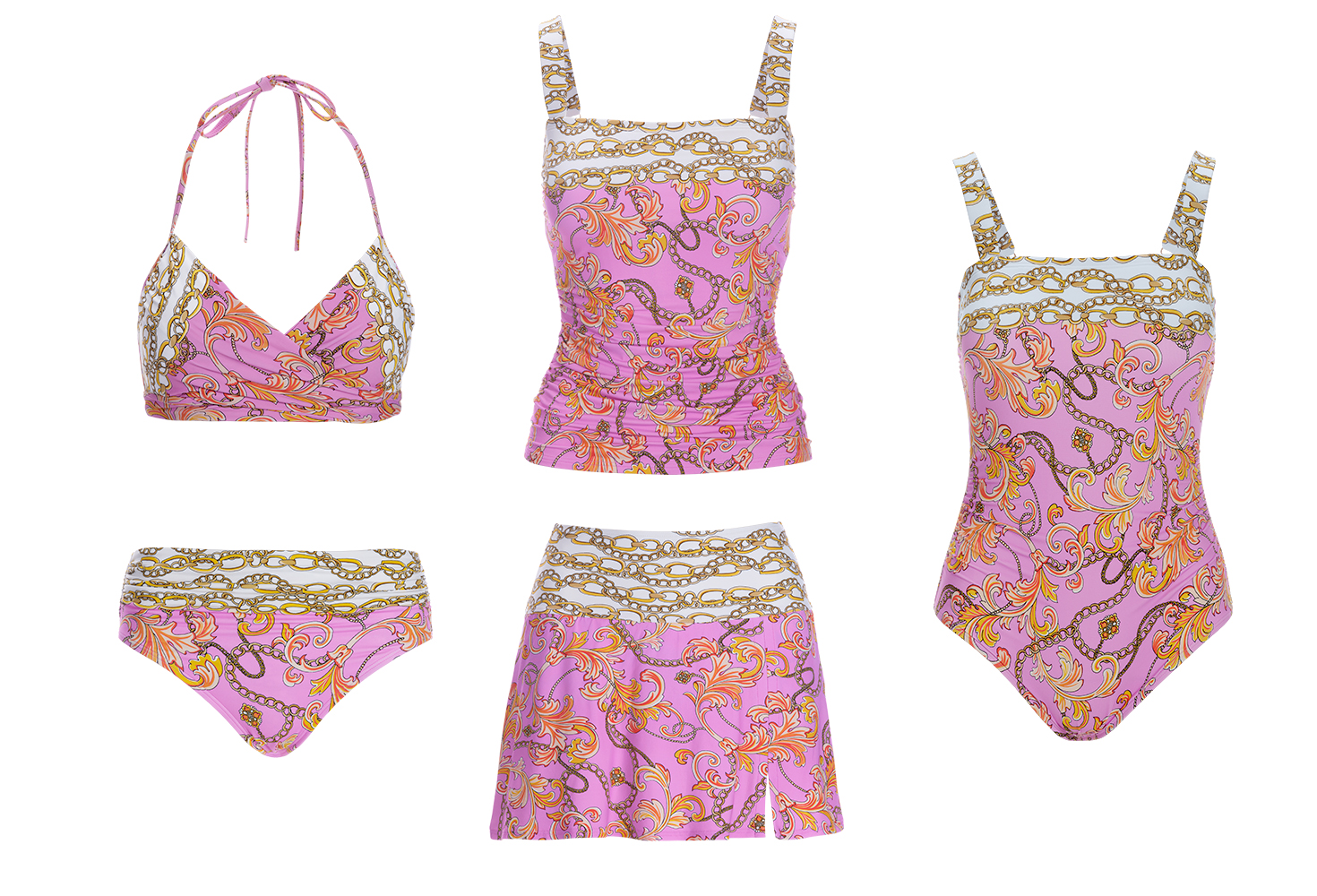 Swim Sense Silhouettes
Now that you know what swimsuits will work best for your body type, you can pair up new Swim Sense styles from our exclusive swim collection designed by Carmen Marc Valvo and only available at Boston Proper.
One-Pieces
With shape-enhancing necklines, ruching around the midriff, and design details to define the waist, Swim Sense one-piece swimsuits are universally flattering. The styles work for all body types.
Swim Bottoms
With a choice of moderate or full coverage, Swim Sense swim bottoms are designed with a high waist for a smoother, more flattering fit around the tummy area. The bikini brief uses ruching around the waist and hips, which is ideal for hourglass, apple, and rectangle shapes. Pear and inverted triangle body types benefit from our skirted bottom with a power mesh front panel, providing extra control and balance on top.
Swim Tops
Swim Sense swim tops are constructed for coverage, support, and comfort with mindful design details. Necklines accentuate and support the bust, wider straps won't dig in, and ruching minimizes around the waist. Hourglass, pear, and rectangle shapes look flawless in the bikini wrap top as it brings attention upward, while the tankini design works well for apple and inverted triangle body types.
Suit Your Size With Swim Sense
Because Swim Sense styles are offered as separates, the collection is the perfect solution for creating custom looks for different body types and can be ordered in different sizes on top and bottom to create a custom fit. And one-piece and cover ups from the collection offer versatility across a range of shapes.
Shop the Swim Sense Collection here.