Fashion Tips & How Tos
Summer 2023: Solutions For Summer Dressing
May 17, 2023
In This Article
We often associate a few tried and true fabrications and styles with summertime, but it's not always clear how and where to utilize these to maximize our wardrobe's potential. During the summer months, we understand and relate to the dilemma of staring bleakly at one's closet or scouring online for outfitting inspiration in the hopes that something smart will appear and save the day. This posits the question: What am I going to wear today? Our Boston Proper response…When we think of summer, the must-haves to get you through the season are garments made in different iterations of linen, shorts with a tasteful hem-length, denim for layering… specifically lightweight Tencel, and of course, suiting to polish up when needed. ­
In narrowing down the above heat-friendly fabrics and styles, one may ponder a few questions at certain junctures: What makes linen an excellent fabric choice for the heat? How do you know when to wear shorts and what length is acceptable? What options are there to wear denim if it's supposed to be blistering hot outside? How does one look polished for a business meeting or an office-related endeavor without melting away? ­We have decided to address the pitfalls of simply not knowing how, when and what to wear this summer with a list of dedicated Boston Proper styles and fabrics categorized to tackle this dilemma.
#1 HOW TO WEAR LINEN:
What makes linen an excellent fabric choice for the heat?
It's luxurious, versatile and breathable!
Linen is a remarkable summer-weight fabric; it's breathable, lightweight and holds structure loosely for less-rigid shaping than winter tailoring pieces. It has the versatility to cross over varying occasions and looks relaxed or business-chic, depending on what it's paired with. Easily worn as a casual fabrication at a resort or the beach and most certainly revered as a polished warm-weather outfitting solution when one needs to dress in mode, it works for many reasons. A new way to celebrate the bounty of potential outfitting options is to wear linen on linen, either in head-to-toe monochrome or with contrasted or supporting hues. To extend your options, you can certainly mix linen separates with existing wardrobe favorites. Instantly add professional appeal by adding a linen blazer over a knit dress if you are called into the office or meeting a client for last-minute plans. To dress up for midday shows or dinner or to balance a pant outfit, experiment with heels and statement jewelry.
*Pro tip: If the event calls for tailored dressing up, linen can be quite luxurious styled in a mix-and-match capsule collection that makes fashion sense and keeps your summer look on trend and on point.
SHOP BREATHABLE LINEN STYLES >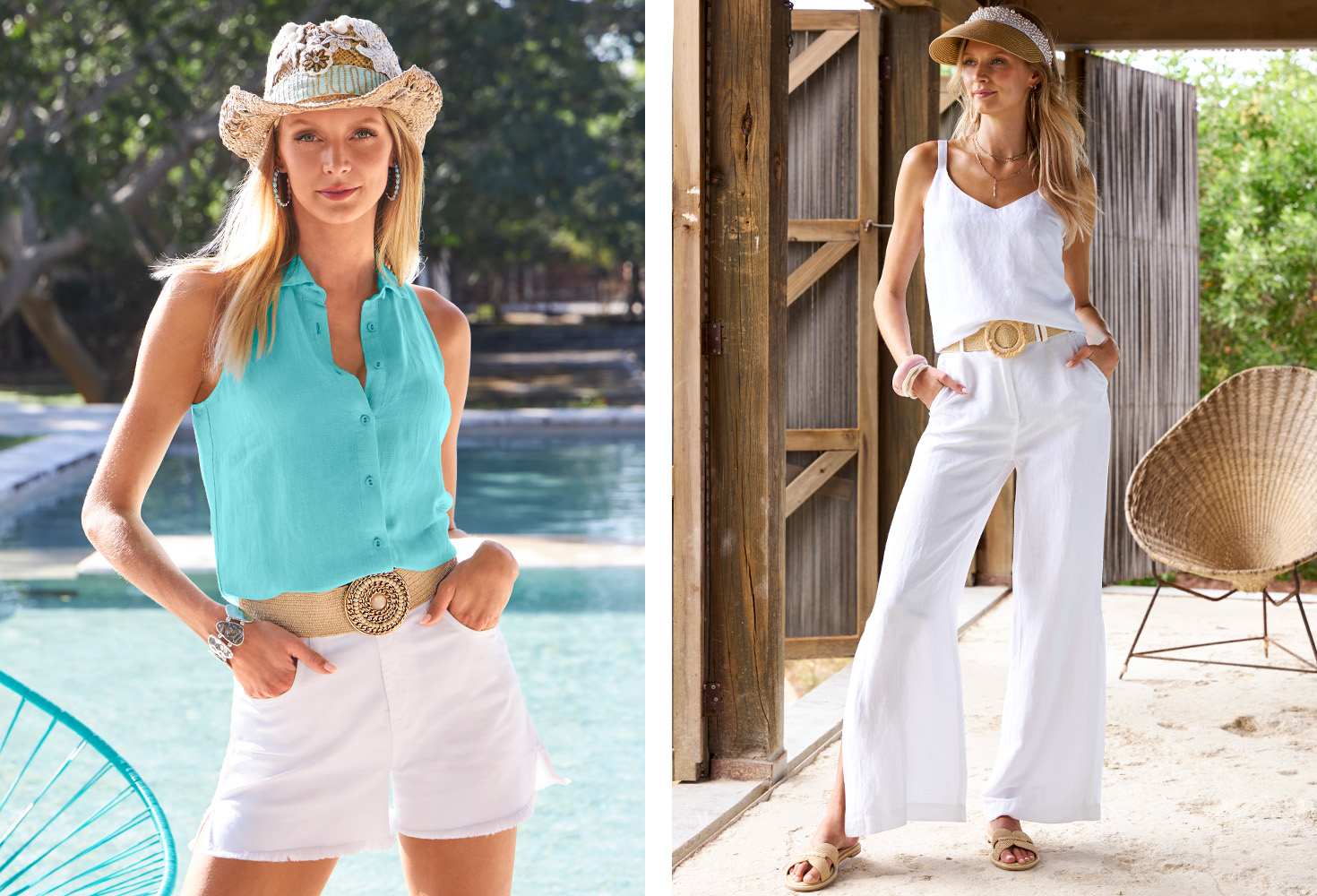 #2 THE PERFECT SHORTS
How do you know when wearing shorts is acceptable and what length looks best?
A sophisticated style at a just-right length is appropriate just about anywhere!
Shorts are an essential investment for staying cool during summer, but there comes a time to dismiss short shorts altogether. We spend many hours developing the most versatile and wearable styles in cuts and lengths designed to flatter your shape, from a light stretch in twill to denim to linen and the new on-trend cargo look. Boston Proper shorts are fit-tested for comfort, and the inseam is precisely measured to hit at the ideal hem length. Pair with a basic top and stylish sneakers, or elevate with a blouse, wedges, block heels, or statement sandals.
*Pro tip: Wear confidently, stay chic, and feel comfortable through all your seasonal daytime activities and casual events.
Find Your Perfect Pair of Shorts >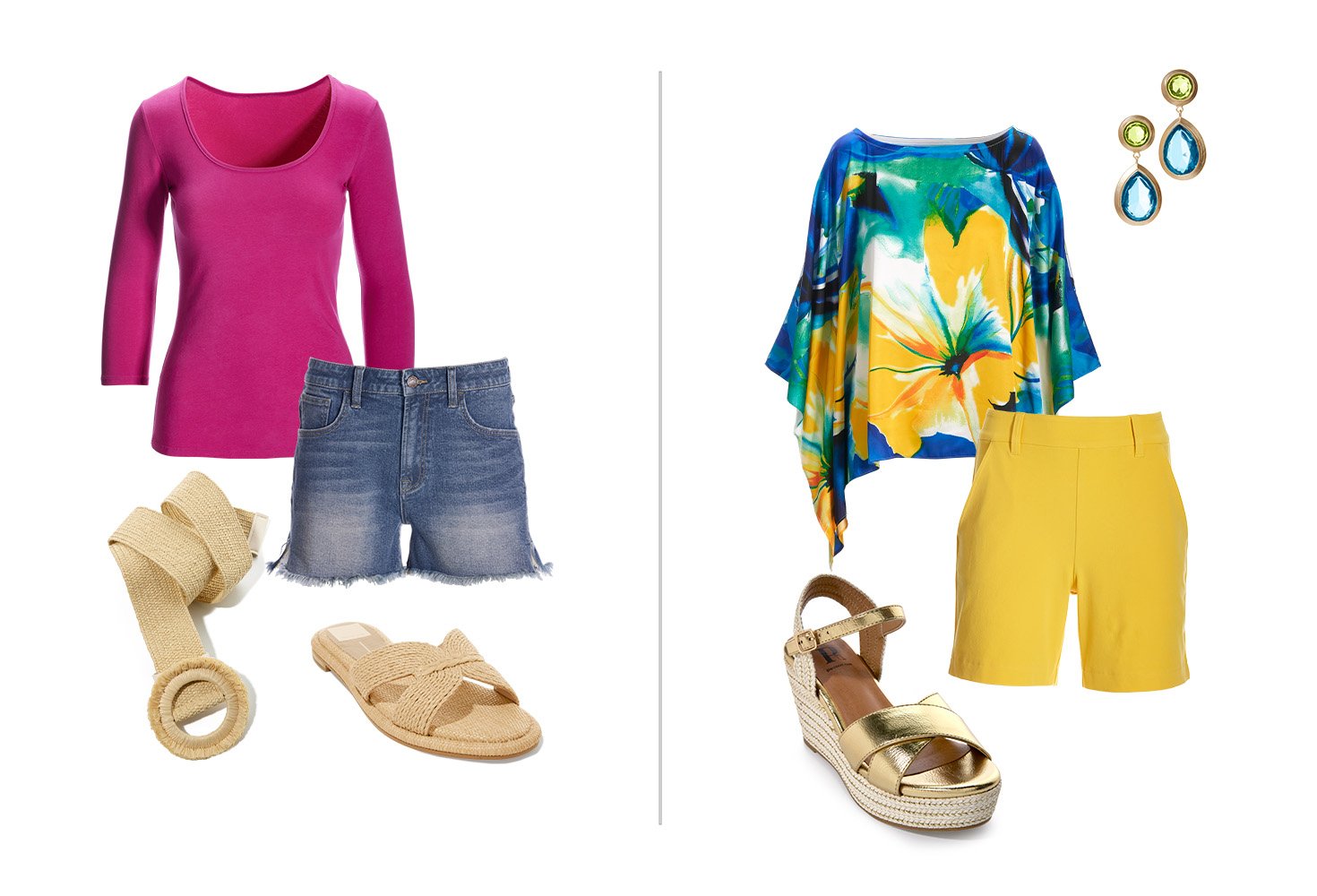 #3 MUST-HAVE SUMMER DENIM
What options are there to wear denim if it's supposed to be blistering hot outside?
Try garments cut from a lightweight Tencel fabrication and must-own denim staples!
Denim always works, so it's a good investment to have a few stalwarts amidst your wardrobe for longevity and then tie in some novelty jeans to supplement seasonal trends. A timeless denim jacket layers over summer tops when you go from hot to cold. The classic pedal pusher is an ideal summer length between a pant and a short. The cut-off short is a staple for casual beach days and weekends. And the wide-leg palazzo, distressed detailed, and classic slim straight-leg jeans work AM to PM with a laid-back summer vibe. All should be a solid lineup for years to come.
When it's extremely hot out, or when you just want to wear a bit of casual luxury, the solution is Tencel. Tencel is a cool, lightweight, soft faux denim fabrication that feels easy to the touch and to wear. Our best-selling Tencel dress and versatile top are two pieces that tick all the boxes to keep you looking your best while beating the heat outside.
*Pro tip: Denim and Tencel can be worn as daytime casual attire solutions, mixed with a polished blouse and blazer for business-casual, or even out at night with heels, a sexy top and sensational jewelry.
Shop Must-Have Denim & Tencel >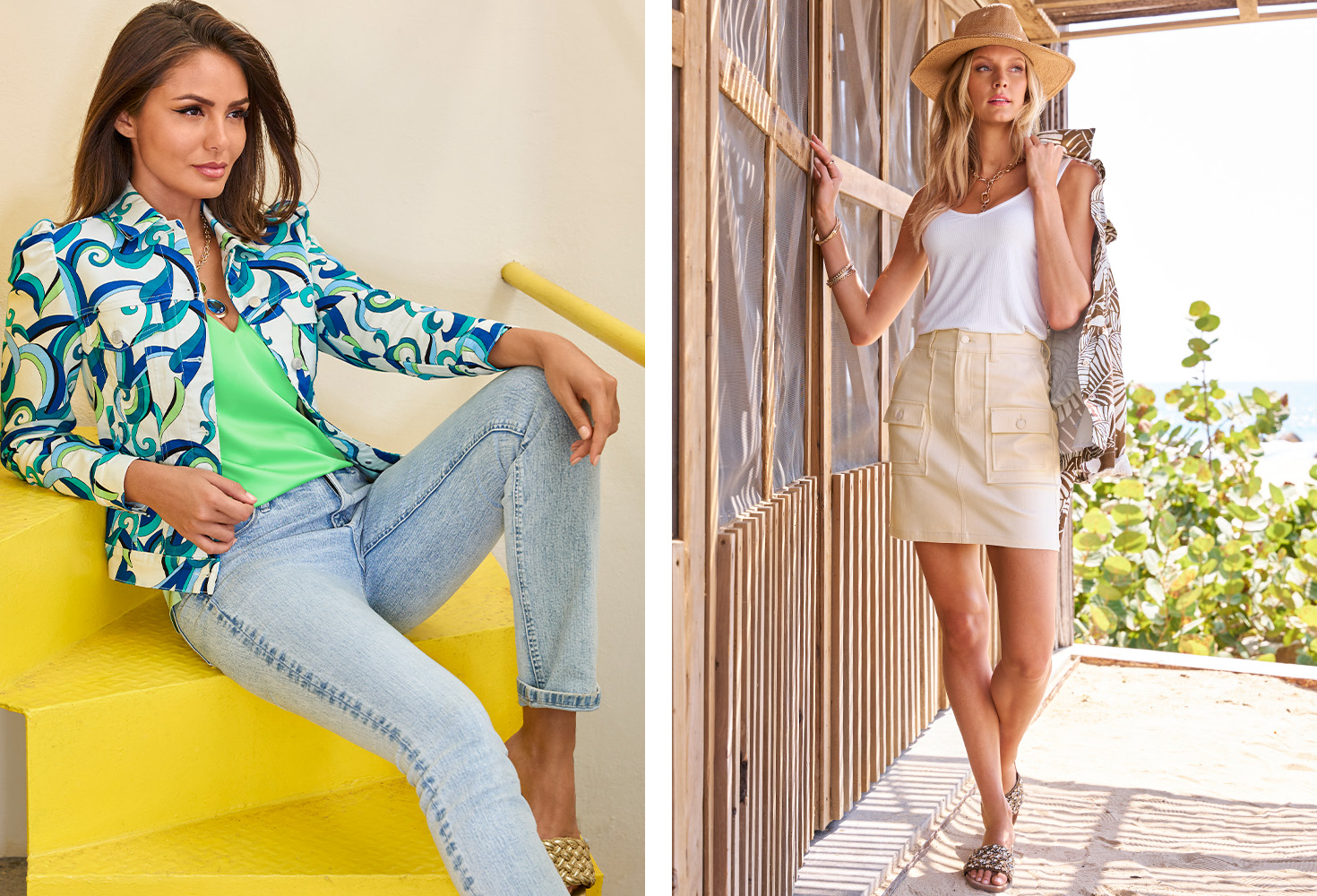 #4 SUMMER SUITING
How does one look polished for a business meeting or an office-related endeavor without melting away?
Make sure you look just as fabulous when you remove your blazer with a chic summer top, stately jewelry, posh pants and footwear that supports your overall look!
During the warmer months of the year, suiting is still a very viable option to dress. In fact, it should be your go-to for any work-related powerhouse attire, for an interview (both to give and to receive), and to use pieces independently as upscale layering staples. Start with a tailored pant, and build using light layers with linen tops, silky charmeuse camisoles or modern shirting underneath, and finalize with a jacket or blazer to slip on and off as needed. When traveling or wanting ease and comfort, there's our wrinkle-resistant Beyond Travel knitwear and forever polished Modern Stretch pieces… two great fabrications defying traditional suiting. And let's not forget timeless biz-casual denim. If the suiting calls for jeans, have a bit of fun with the denim-on-denim trend.
*Pro tip: Invest in the suiting you love and styles that work for your frame. Also, consider mixing new seasonal novelty pieces into an existing wardrobe to invigorate and give older trends a new life.
Shop Polished Summer Suiting >