Style Over 40
Dress Code: What To Wear To Summer Parties
An edit of effortless styles to look chic in the heat.
May 17, 2023
In This Article
In the summer months, comfort shouldn't have to come at the expense of style. Thankfully, fabrics and trends have evolved to pay homage to ease in our mindful designs. So with a full social calendar during the hottest time of the year, our latest collection aims to solve for dressing up in styles that are easy to wear for all affairs. At the ready, we have a plethora of solutions narrowed down for upcoming summer soirees. From garden parties, rooftop gatherings, weddings and engagements, pool or beach parties to the much-anticipated weekend festivities honoring the fourth of July and beyond, get ready to revel in the good times of summer with effortless ease.
#1 SUMMER PARTIES
Matching in Metallic for a Rooftop Party
The music, the skyline, and you—When the rooftop is calling, answer in ultra-flattering coordinates designed to fit and flatter everyone. Cut from a shimmering stretch knit fabric, the flowy flyaway top design with an integrated resin chain neckline falls effortlessly on the frame and transitions to a pull-on pant with ease, for an outfit meant to make you shine.
Floral Vibes for a Garden Party
For a garden party RSVP, look no further than this best-selling knit maxi silhouette in our limited edition floral print. Registering tropical botanical favorites in lush palms and Bird of Paradise blooms, this print will put any garden party greenery to shame. Embellished with novelty beadwork and lightly shirred to forgive at the empire waistline, wear as the ultimate garden party stunner.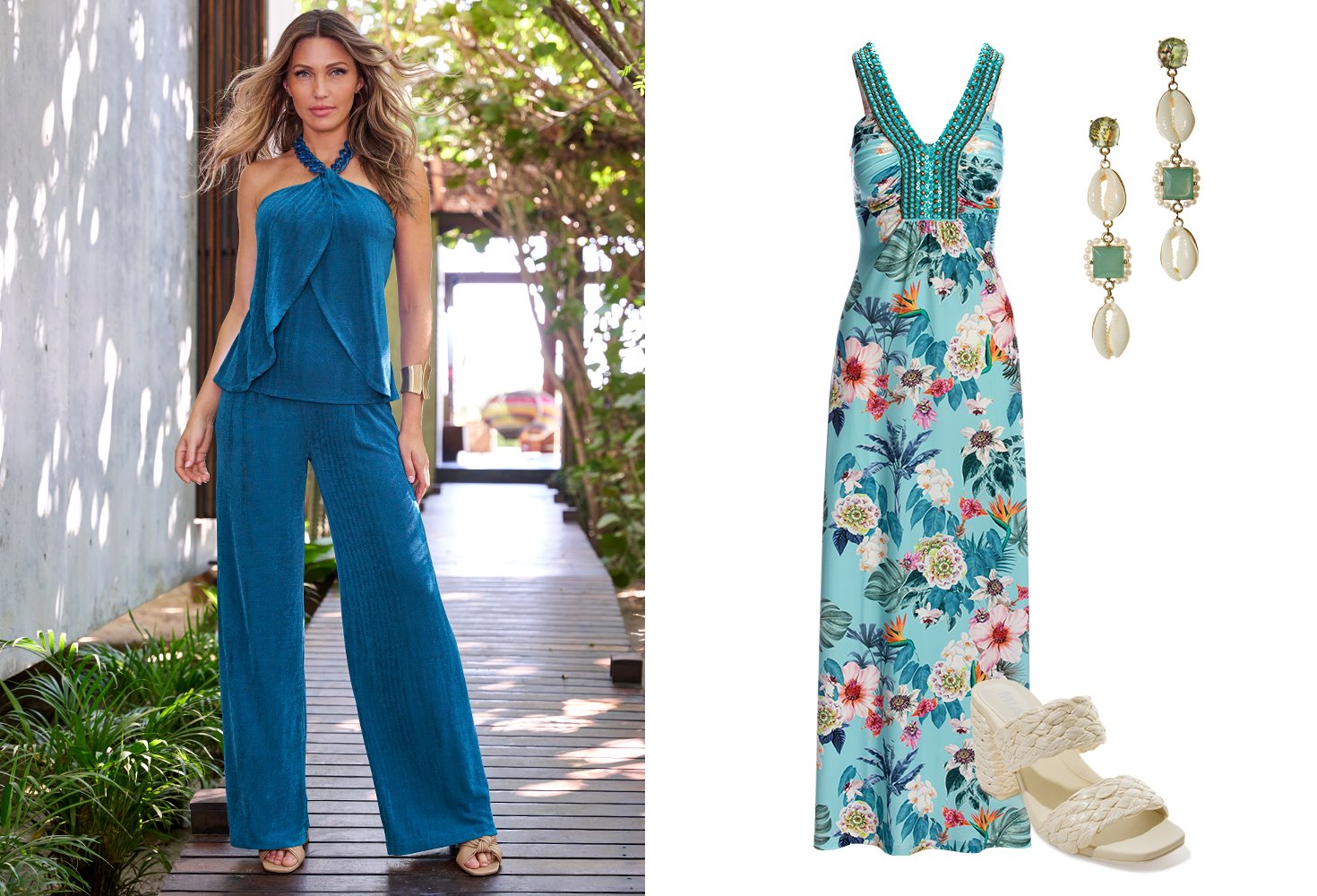 #2 WEDDINGS & ENGAGEMENTS
Best Dressed Wedding Guest
For a sophisticated and flattering style, choose an effortless silhouette that lends movement and laid-back ease with entrance-making air. Ticking off all the major boxes; a waist-slimming classic wrap-tie sash for hourglass shaping, full-coverage with a sweeping floor-length hem, and a feminine billowing lantern sleeve, the shape evokes remnants of old glamour with modern touches. Perhaps the most beautiful feature of all is the painterly palette falling somewhere between the nature of a blue iris and a brush stroke reminiscent of great artistry.
Daytime Engagements
When it comes to dressing for a daytime celebration, like a more casual engagement party, the knack is to wear something understated and fun. We love this energetic and versatile shift dress for just such an occasion in a design that carries so much interest around the neckline via decorative florals to showcase the shoulders.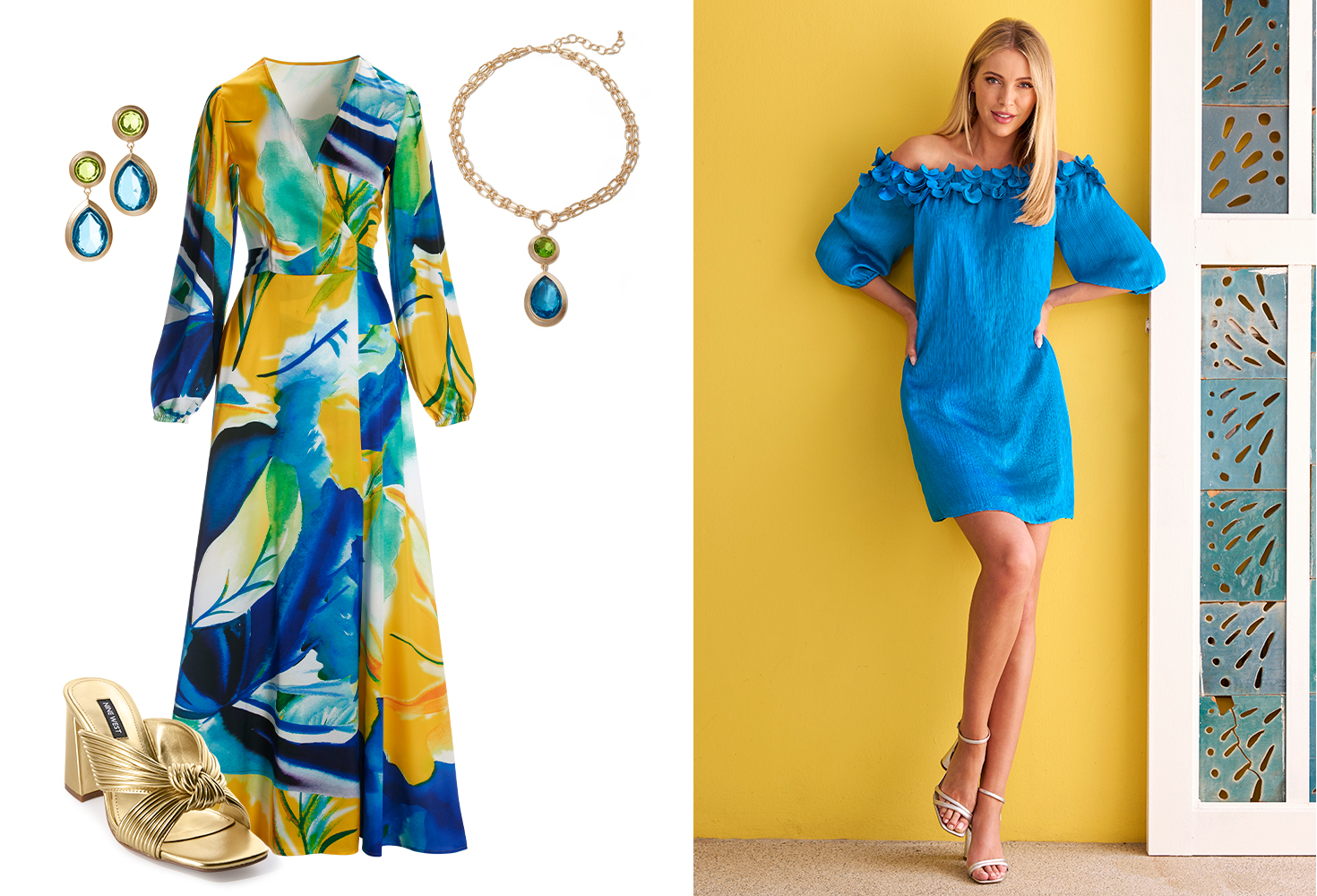 #3 BEACH PARTY
Splash-Friendly Style
Beach-bright prints secure best dressed status by the shore or pool with a vibrant one-piece swimsuit and matching cover up. This swimsuit offers figure-enhancing details with built-in cups for lifting and a ruched midsection for shaping. The bright and colorful print keeps all eyes on all your best features, and throw on the caftan for a jaunt to the bar or buffet.
Very Terry
Terry is the ideal choice for waterside venues with its soft, comfortable, and absorbent fabric qualities. When cut to shape a breezy dress, the party only gets better. Tailored for ease, its adjustable drawstring waist dangles a smidge of gold hardware for a metallic note and creates shape in an otherwise relaxed silhouette. This dress is a fantastic option for a beach party due to its absorbent nature if worn over a damp swimsuit, and sand-repelling loops weaved into the fabric. Garments like this one that are made with loop terry have a comfortable fit and sporty vibe, so you will find yourself wearing this to many more places throughout the summer.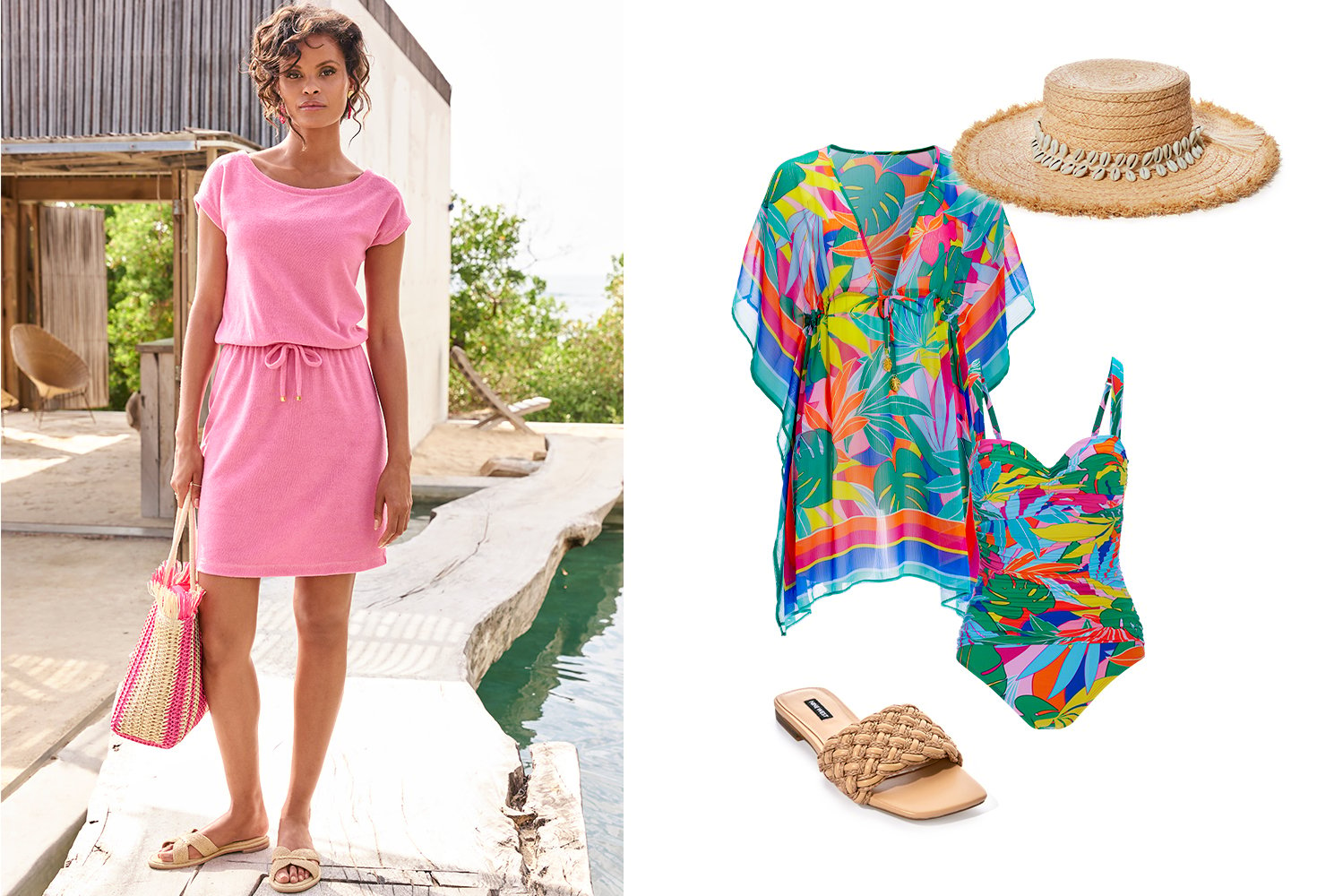 #4 JULY 4TH WEEKEND PARTY
Patriotic Weekend Celebration Capsule
Independence Day is undoubtedly the best day to wear red, white, and blue and don stars and stripes. For weekend parties, consider this stylish statement print dress in an easy shift shape with versatility to dress up or down, depending on the party vibe. And dressing for boats, barbeques, and fireworks unanimously calls for denim cutoffs and a tee appropriately sealed with an American kiss graphic. If the evening turns chilly, the obvious solution is to cover up in a perfectly coordinating American-flag-red version of our bestselling denim jacket.