Fashion Tips & How Tos
Summer 2023: Season-Ready Style
Cool, breathable fabrics to wear for summer.
May 17, 2023
In This Article
One of the best reasons to rejoice when the summer months are at a peak is taking advantage of the warm weather. We all enjoy the shift in styles donning lightweight fabrications, shorter hems, and a seasonal palette filled with grounding whites to reflect rays of the sun and fresh colors that speak to complementing (appropriately sunscreened) tan skin. A new summer collection brings mini style capsules in the most essential fabrications engineered for comfort and functionality. And in Boston Proper fashion, the designs impart femininity and uniqueness as we interpret linen, gauze, and terrycloth into must-have looks of the season.
LINEN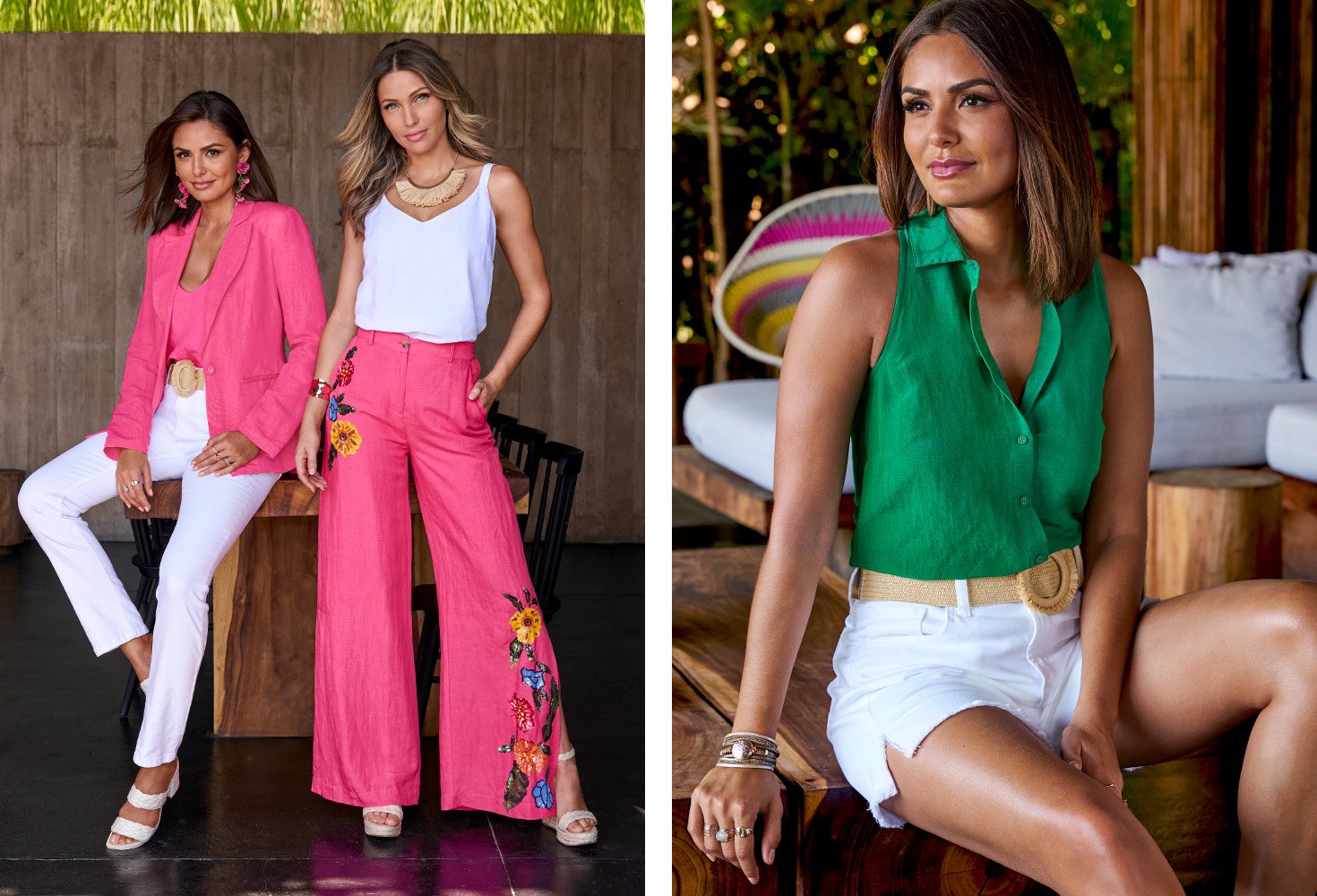 Long held to be the quintessential tailoring fabric of summertime, linen's loose-weaved texture and cotton-blend allows for breathable movement in tailored shapes, so it keeps you cooler and evokes a sense of being relaxed and polished at the same time. Our Linen Capsule Collection allows for versatile styling options for both work and off-duty and dressed up or dressed down. Riveting pink hues update a fitted blazer, saturate a layering tank, and offer feminine vibrancy and novelty appeal in an embellished best-selling wide-leg pant. White bottoms pair with a lush green sleeveless shirt that stands alone as a workplace hero, or as a building piece for layering. Accessorize with metallics, raffia neutrals and complimenting colors. There are so many ways to stay ­chic with these curated mix-and-match separates. Look to linen for endless seasonal polish in the office and beyond.
GAUZE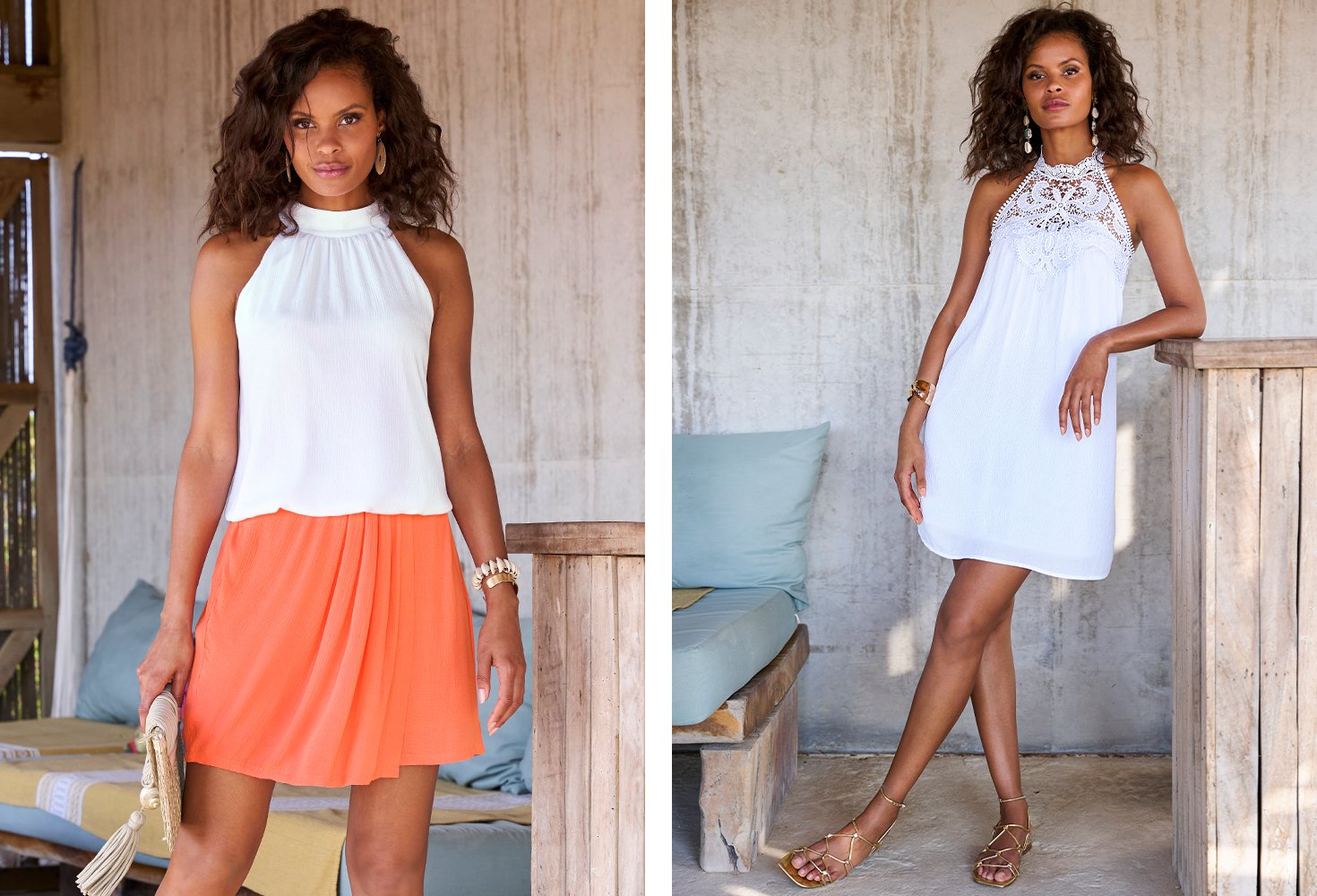 Ethereal and effortless gauze is reimagined with a fresh feminine point of view. Lightweight and flowy, we think this new iteration is a must-have for traveling light and perfecting summer-friendly wearability. Gauze is perfectly melded with an intricately detailed lace yoke halter into a clean white versatile swing dress and delicately shirred into a mock-neck top with a forgiving bubble hem, and gracefully tucked into a gathering drape within an easy & dreamy pull-on pink skort. Functionality has never been met with more ease. Due to the open weave nature of the warp and weft, gauze's texture has a softness and an airiness that lifts itself from the form with complete effortlessness. These are all reasons to fall in love with this summertime favorite fabrication. Pair with accessories utilizing macrame, shells, raffia and metallics to enhance the nature of the fabric.
TERRY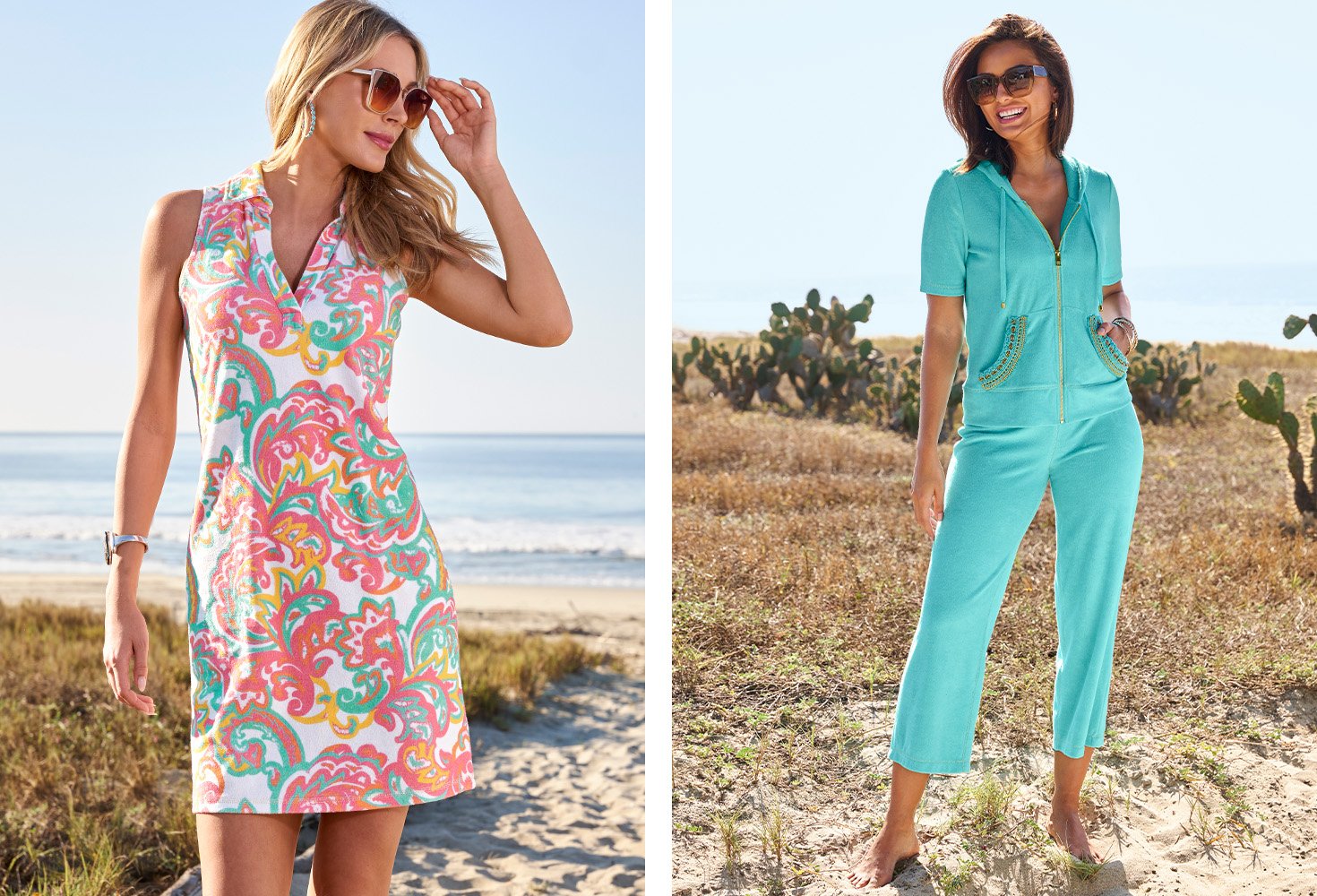 Terry is the designated fabric of comfort for beach cover-ups, casual athleisure, and lounging on-demand. Versatile and summery, it's a material that travels well, keeps you cool and is soft and attractive in solids and prints alike. As a poolside choice, it is excellent at absorbing excess water from damp swimwear, so it's a favorite of resort-wearers and believers in beachside chic. For sporty dress solutions, take the look from sand to street for comfort beyond the shore and pool with tailored details that speak to chic casual style; or opt for easy two-piece sets with built-in pops of glimmering shine, like a lurex chain embellishment at the pockets and interwoven gold thread detailed at the seamlines. Both classic styles boast an easy "throw on and go" vibe to take the stress out of outfit planning for the day. All that's needed to face the sun are a few considered accessories; matching or understated earrings, a bracelet here, a statement sandal there, and of course sunglasses and your ensemble is complete.