What's Trending
How To Wear Summer 2023 Fashion Trends
April 12, 2023
In This Article
The art of staying on-trend and balancing new investment pieces with your existing wardrobe is always top of mind when we curate our collections. To this point, we've reinvented quintessential fabrications with properties that adapt to the temps and bring this season's top trends in the most wearable, most flattering silhouettes for optimal wardrobe assimilation. Read on for our edit of the top five summer trends and how to incorporate them into your wardrobe.
1. Bold Brights
As the weather gets warmer, the colors get brighter. If wintertime compels us to reach for the dark and cozy garments in our closet, it's only fitting that summertime evokes the resurgence of brights and whites with layering essentials and lighter fabrications that keep us cool in the summer heat. And there is that 'je ne sais quoi' about the feeling of bright, vibrant colors making us happy and lively. In keeping with this notion, bold brights are here for the benefit of absolutely everyone. Rivet in pink, citron, and orange hues. On their own or mixed together in a vibrant print, these colors inject energy into every look.
How to style: Pair tops back to light wash jeans, white twill and linen, or grounded against black. To complete the look, any bright piece pairs well with neutral raffia-inspired footwear and accent accessories.
Wear the novelty beaded v-neck tunic on vacation ...or to an upscale restaurant for lunch.
2. Textures & Embellishments
Feminine textures and intricate details are having a moment as they elevate minimalistic silhouettes. Particularly, lace in all iterations continues to be a favorite ethereal fabrication as it offers balance to a garment's weight and structure while enhancing the look on frame. Similarly, crochet achieves this with luxurious yarns and stitching patterns. It has become the summertime statement must-have this season, with texture and aesthetic to retain interest and uphold long-term value in your closet space. A few key crochet pieces included in our latest collection make an impact and feel fresh, like a boho-inspired patchwork crochet poncho, a Lurex multicolor halter dress, and an entrance-making lilac-hued maxi.
How to style: Add some color with a decorative necklace or earrings, and keep it simple with neutral wedges.
Wear the sophisticated sleeveless crochet maxi dress to weddings, outdoor events, and fine dining on vacation.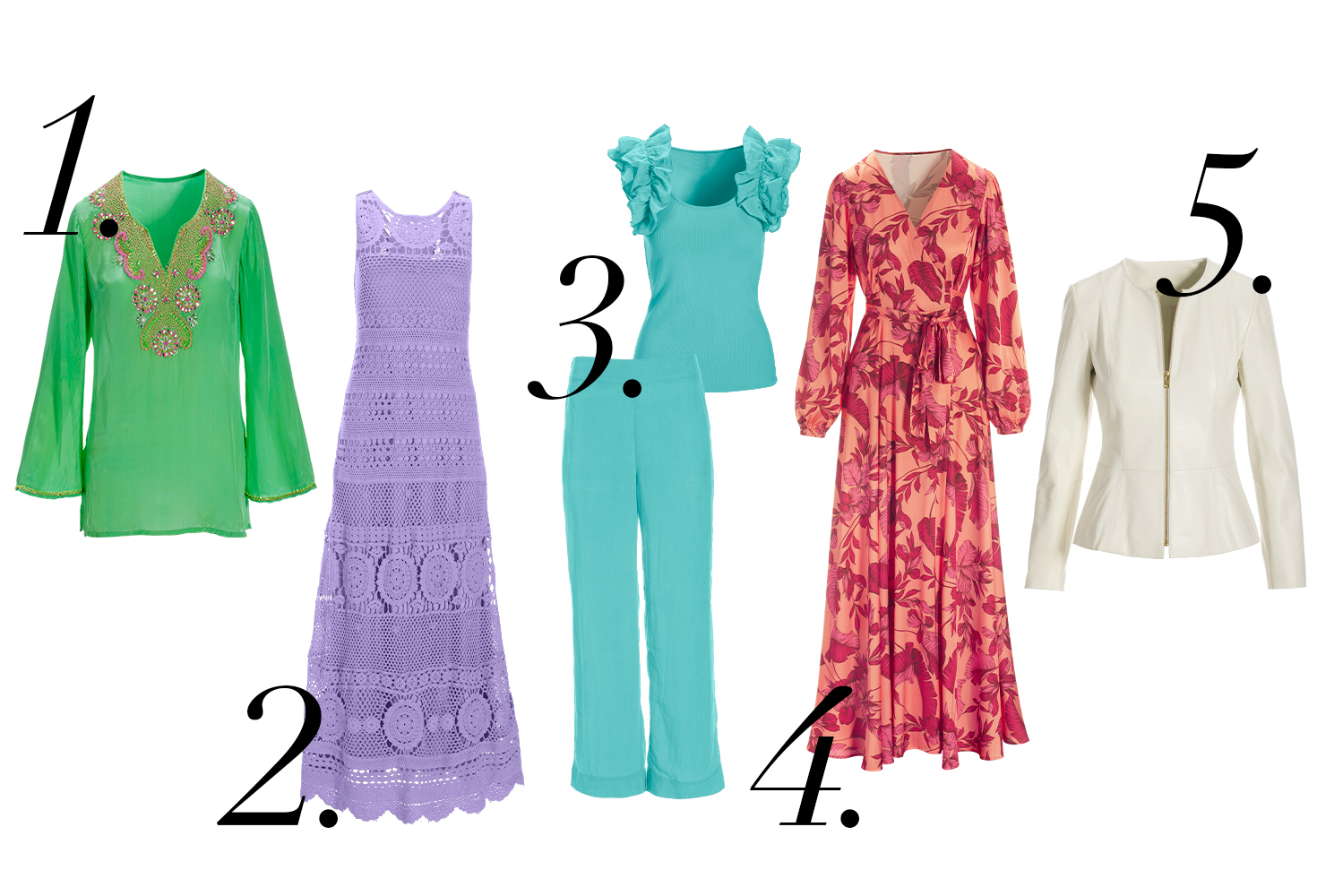 3. Matched Pieces
This is a term that has found its way back into our good graces. Remember when we purposefully mismatched our outfits to avoid being too matchy-matchy? Now fashion is giving this concept new life with coordinated sets in similar or varying fabrics of the same hue or print. We've navigated the trend with head-to-toe statement colorways to invigorate monochromatic dressing; the focus is tonal shades bearing fabrics with distinct textures and design variations. It's fun and fresh because it's intentional and, honestly, quite smart to look symbiotic after all.
How to style: Accessorize in unobtrusive neutral tones to keep the outfit the hero.
Wear Blue Radiance linen cropped pant and coordinating linen ruffle ribbed top for daytime shopping, out to lunch with friends, and anywhere that requires polished casual chic.
4. Trending Prints
Florals are the main story this season, and we welcome the fresh and feminine botanical updates with fervor. Dark-grounded tropical prints with citrus blooms read versatile from day to night or event specific. Bright, colorful florals abound in everything from special occasionwear to athleisurewear in expressive designs boding from oversized, exploding, and abstract. Additionally, florals carry through embellishments as detailed in sequins, embroidery, and lace.
How to style: Florals are versatile and don't need a lot of accolades, so keep footwear and accessories minimalistic in metallics, nudes, or raffia.
Wear the exceptional tropical nights print wrap maxi dress, which rings appropriate for weddings, showers, elevated brunch and birthday celebrations.
5. White
A good strategy for styling your summer outfits is to go monotone in all-white or add a white statement piece to your look. A few essential pieces, like white pants, a white top and a layering piece such as a cardigan or jacket, can be styled together with confidence and paired seamlessly to other colors or prints. White is rudimentary to color blocking and grounds virtually anything. What's new now is unexpected white statements showcased by textured trims, contrasting embellishments, and luxe fabrications.
How to style: Integrate the season's trends together by pairing white to brights or go matching/monochrome for a crisp, polished look.
Wear the versatile collarless peplum leather jacket as an anywhere layer. Consider it your workhorse this season for any occasion.