Style Over 40
Best All-White Outfits for Spring-Summer 2023
April 12, 2023
In This Article
We've all heard the rule that wearing white before Memorial Day and after Labor Day is a fashion faux pas. It's time to toss this old-school wardrobe rule as it no longer applies. White will always be a must-have for summer; and it has become a year-round tone that grounds each season's textures and fabrications. Here is our curated edit of the most stylish all-white outfits on-trend right now.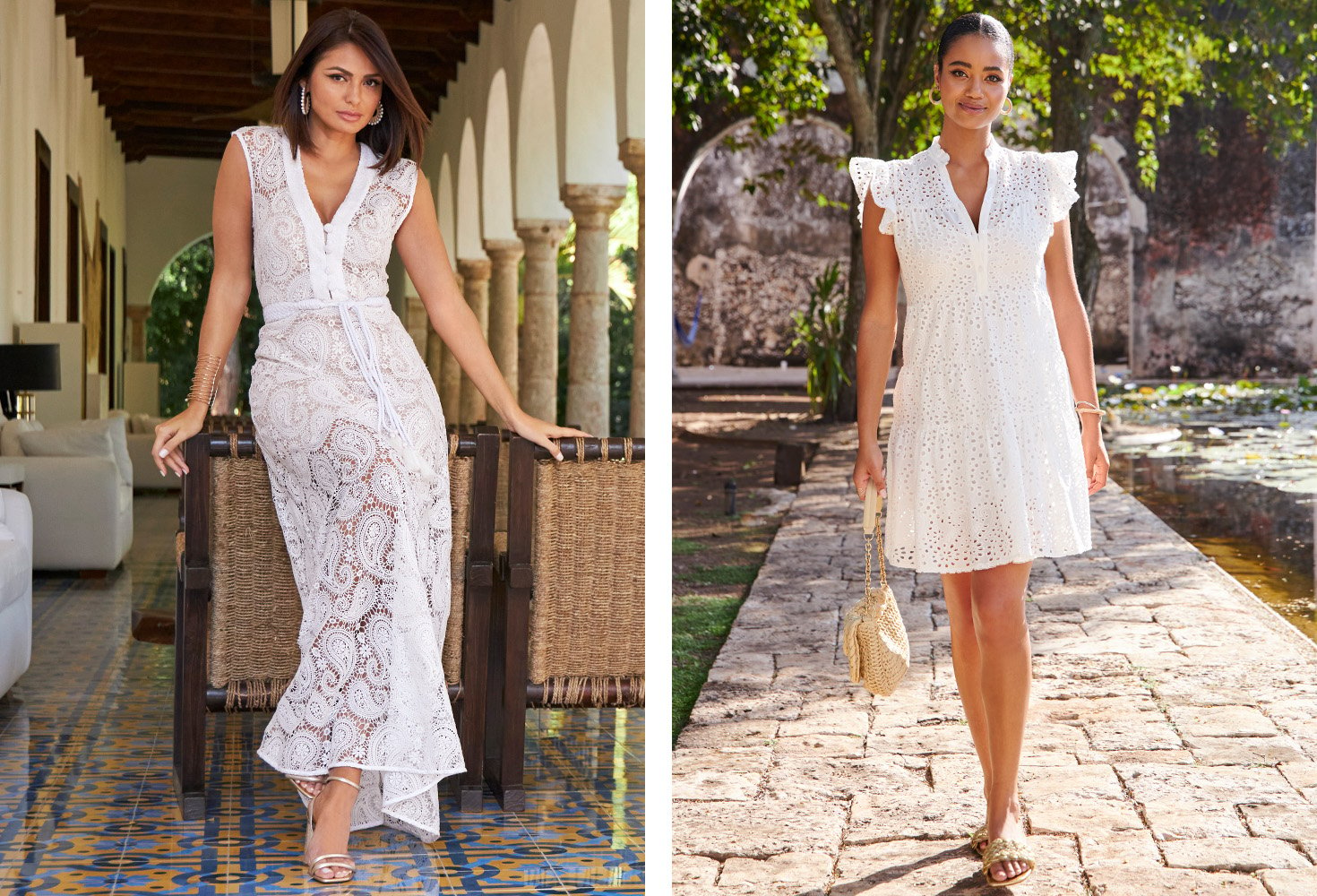 BEST ALL-WHITE DRESSES
A white undertone allows textures and details to take the main stage. This spring and summer, it's all about lace, eyelet, and crochet designed in classic silhouettes. Styles like these have staying power over time, so you can go back to them for years ahead.
A Lace Maxi
Reserve this entrance-making dress for upcoming parties and special occasions. A closer look displays a design with confident, tailored details that lend interest and shape to a veil of paisley-patterned lace. A covered button bodice, cap sleeve, and V-neckline give way to a partially-line skirt tied off at the waist by a macrame tassel belt and a sheer leg. See-through lace also appears on the shoulders to further balance this ethereal dress.
An Eyelet Shift
Relaxed and easy, the shift dress boasts an effortless fit in a 100% cotton eyelet, securing its status as a staple for months to come. Every breezy detail has reason—from a bust-friendly button neckline to a flattering empire waist to a demure ruffle sleeve offering upper arm coverage to flowy tiers for ease of movement. A separate slip is included to line the dress as an understated underpinning, allowing prominence of the eyelet texture.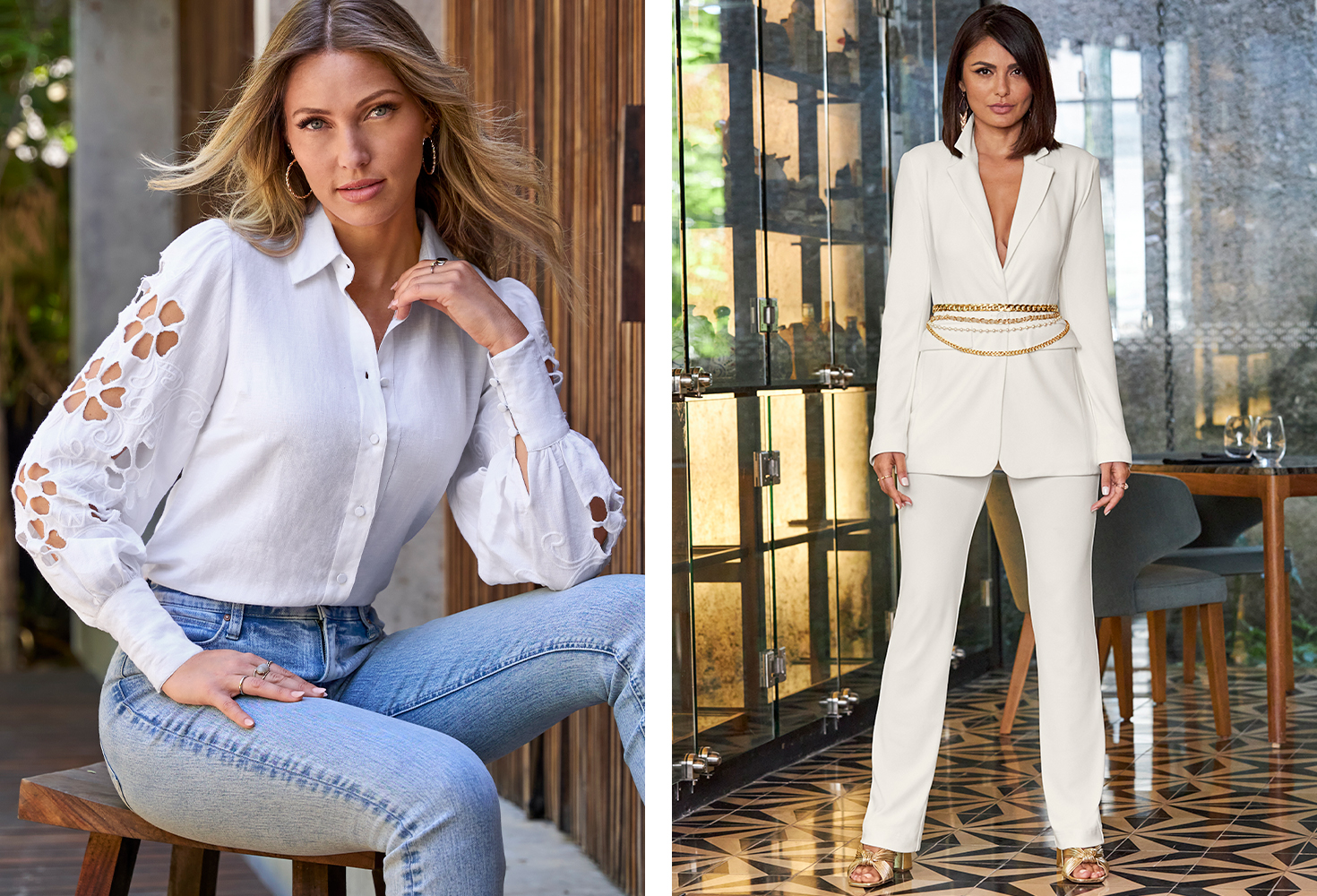 BEST WORKWEAR WHITE
Do you notice white in a work environment commands attention and authority, whether for the crispness of the tone or the ultra-chic elegance it conveys? Two heroes on-trend this season are cut from definitive fabrications to make any workday more effortless.
A Linen Statement
Putting a feminine spin on linen, our choice of fabrication is a linen-viscose blend that's soft to the hand and comfortable to wear. To this, we've placed open lace detail on the sleeve for an elevated, versatile button-down that pairs easily to any bottom.
Knitwear Suiting
Our bestselling Beyond Travel™ Collection is designed from a propriety knit fabrication that's wrinkle-resistant with four-way stretch, and is machine washable. On top of that, the pieces are cut in flattering silhouettes that stay polished AM to PM. Alas, perfect workwear essentials…here we've paired the ivory-toned high-rise palazzo and boyfriend blazer together for the most comfortable suit you'll ever wear (break them apart, and you have stalwarts to style across seasons and occasions.) Flex more styling muscle to this power suit by belting the blazer with bold gold chains.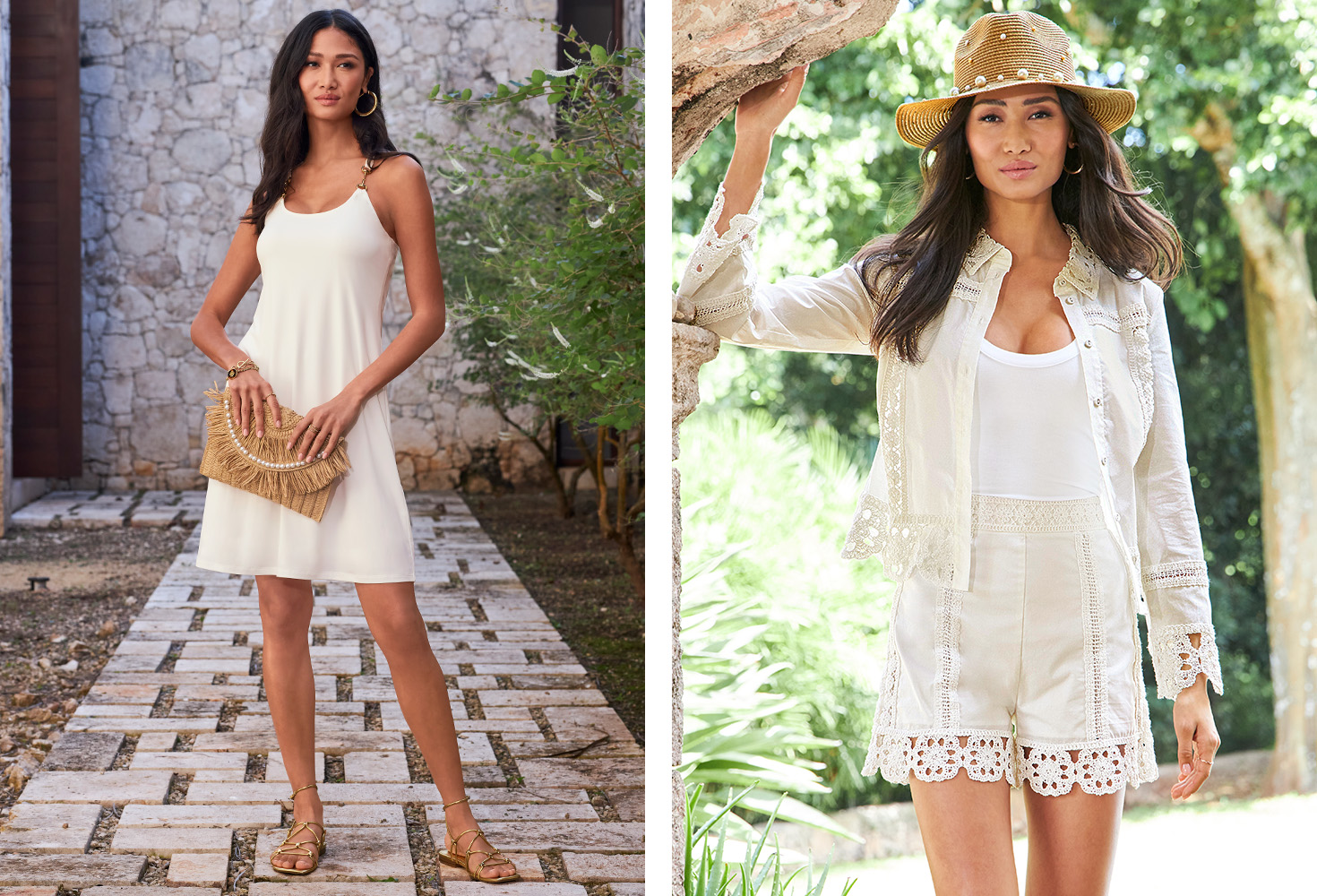 BEST ALL-WHITE FOR THE WEEKEND
When spring weekends roll around, it's time to get out in the fresh air and soak up fun day vibes. Translation: put together easy pieces with casual polish for all that's planned. We like no-fuss co-ords or a breezy dress; both are laid-back statements defined by their trims.
Hardware Detail
Not much more is needed for this get-up-and-go dress other than a comfortable shoe and your bag. A shift silhouette shapes this white knit fabric, equipping it with ease of movement and an effortless fit. Its low-key look strikes a high note with gold hardware integrated into the dress's front straps and sleek racer back.
Crochet Trim
A flattering five-inch short and button-up shirt pair together to make a standout all-white matching set…the perfect statement. Feminine and unique crochet trim lend a handcrafted feel, and a tank beneath affords a layered look if the day includes outdoor/indoor plans.
BROWSE our entire white edit here.