Style Over 40
Return To Work
Workwear tips as going back to on-location work trends up
August 23, 2022
In This Article
Companies are calling employees back to the in-person work environment as pandemic mandates ease up and protocols are put in place. And with that, readapting to on-location attendance presents a new set of challenges—from getting reacquainted with commuting to getting dressed in more than a zoom-worthy top and yoga pants. While it is exciting to start anew, it is also time to rethink workwear by incorporating the comfort and ease we've grown accustomed to into our on-site work wardrobe.
For most, it has probably been a while since business suits, a pair of black pumps, and Monday-Friday outfits were top of mind. Retiring comfy warm ups and slippers for office-appropriate attire can sound daunting, but it doesn't have to be. The good news is there are many polished, comfortable looks for returning to work.
Detail-Oriented
Regardless of the industry and type of work, versatility, functionality, and comfort are paramount when building a work wardrobe. In some instances, the level of dressing is more a choice than an imperative; however, neat and professional are always a requirement. For example, no matter the field or job type, a blazer shows you mean business and is always a good investment—offering polish with everything from jeans to trousers to dresses. When choosing a blazer, consider the tailoring, fit, and quality to help make any look that much more.
The tip: Look for elevated designs with detailed stitching and seaming that help shape; fabrics with stretch, movement, and a good feel; and flattering silhouettes that complement body shapes.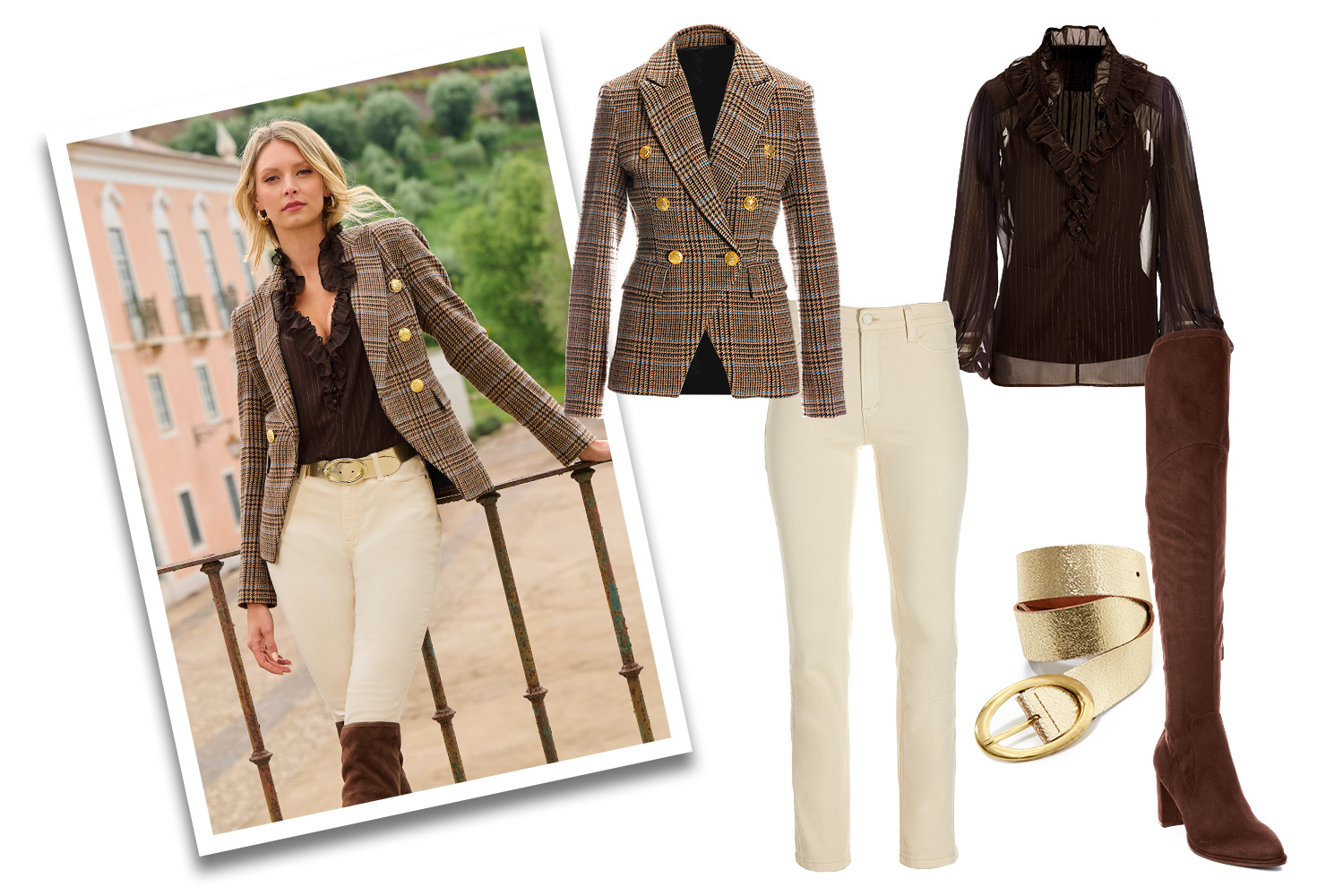 Knits That Work Together
The best bet for effortless pairings is finding versatile pieces that mix and match easily. The Beyond Travel™ Collection is designed to be a traveling dynamo, but there's much more to be said about it for everyday wear, and work especially. The collection uses an exclusive wrinkle-resistant, stretch-knit fabric that provides superior comfort (like those yoga pants we have gotten used to), remains flawless, even after a long trip…and is ready to go right out of the suitcase. Take those great benefits and translate them into sitting behind a computer for hours at a time, or on the flip side, if your job requires being on the go and moving around; now you have some very sensible work options.
Building a capsule of key pieces from the collection will make anyone's workweek more seamless and, the added plus, requires no dry cleaning. The durable double-knit pieces are machine washable, including the best-selling Classic Boyfriend Blazer Jacket. Imagine an easy-care blazer so versatile; it pairs with jeans and a tee for dressed-down days and couldn't be any chicer when matched with coordinating pants. A good pant to try out is the Beyond Travel™ High-Rise Pant. Not only is it cut for comfort, its seamless interior waistband smooths the midriff.
The tip: Stock up on styles in every color and all silhouettes for flawless-looking style every day of the week.
Denim Days
Overall, business casual is more and more acceptable and for every day. Whether reporting in at the office or meeting a prospective client, no one seems to mind a more relaxed approach to dressing for work. Denim jeans have become an established staple for dress-down Fridays and are often worn throughout the week. If denim is a choice that makes sense in your workplace, opt for styles with a flattering fit, darker washes, clean lines, and paired with blouses and blazers. Save distressed, embellished, and colorful denim styles for weekends and going out.
The tip: The straight-leg cut is universally flattering, easy to pair, and works with different shoe and boot options.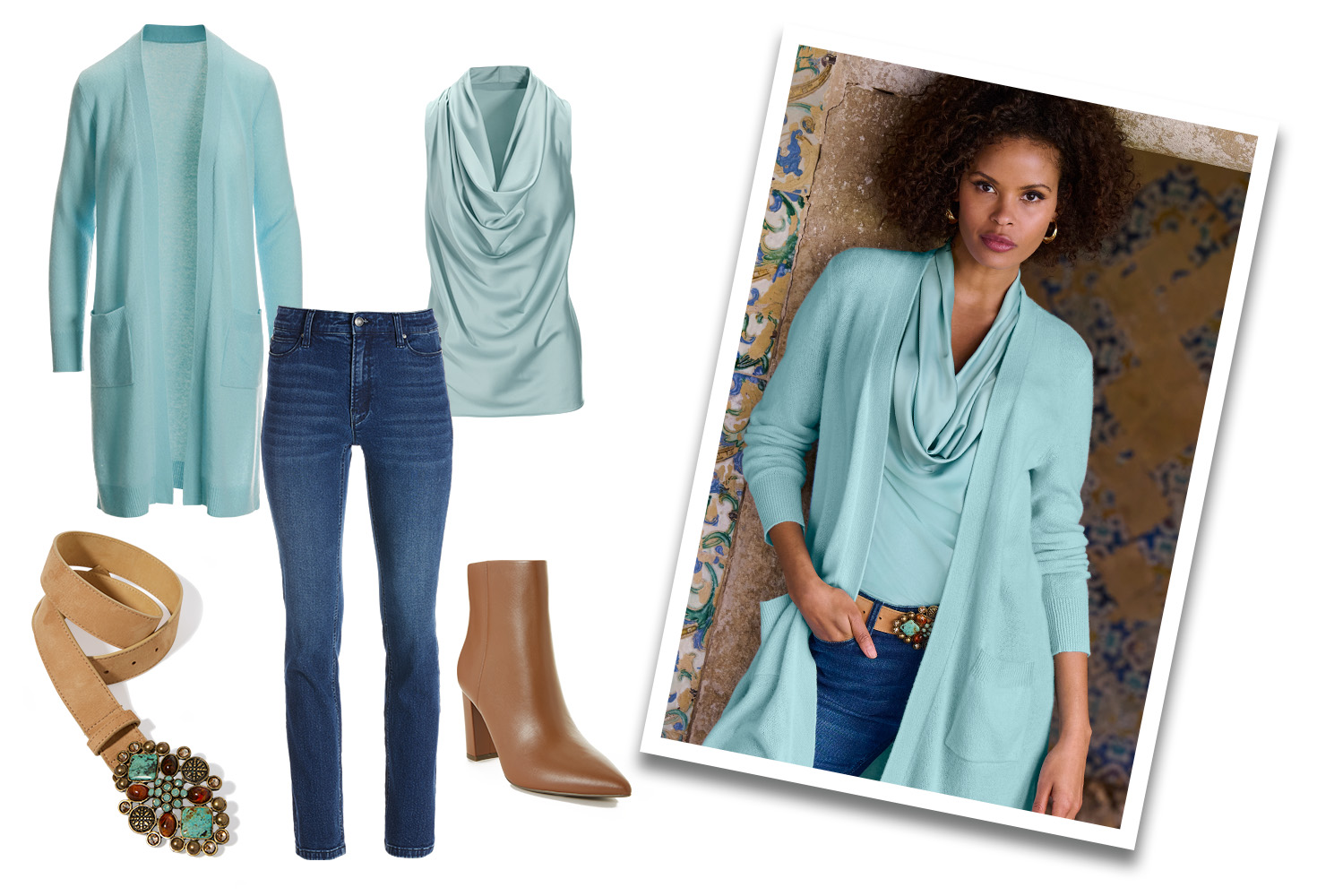 Dress The Part
While dresses may seem counter-intuitive as an easy, fuss-free option for work, think again. Dresses are often referenced as 'one-and-dones' because the outfit is complete in just one piece. There's nothing to pair, nothing to match, and everything to gain. It is important to choose fabrics, shapes, and designs suitable for the environment you are going back to. More informal settings leave lots of choices for casual and perhaps self-expressive looks, like a boho maxi dress. The more commanding sheath or shirtdress make a better option in a corporate office and for client meetings. And while the dress concept is not new, returning to work with readiness makes us look at the dress in a whole new light.
The tip: Know which silhouettes look best for your body type. An empire waist sits above the natural waist with an elongating effect to help create a taller, slimmer appearance, making this style ideal for apple and rectangular shapes. If you are more pear-shaped, the fit-and-flare design helps diminish the hip and thigh areas by cinching at the waist with the skirt adding the volume and a more effortless drape over the lower body.
Monotone
Whatever the color of the moment may be, maximize its impact by going monotone for sophisticated style at work. Layer tone-on-tone and watch how it lengthens. Wear a matching set for instant polish. Build a look head-to-toe in a bold color and show you mean business. Monotone dressing always makes a statement and exudes confidence.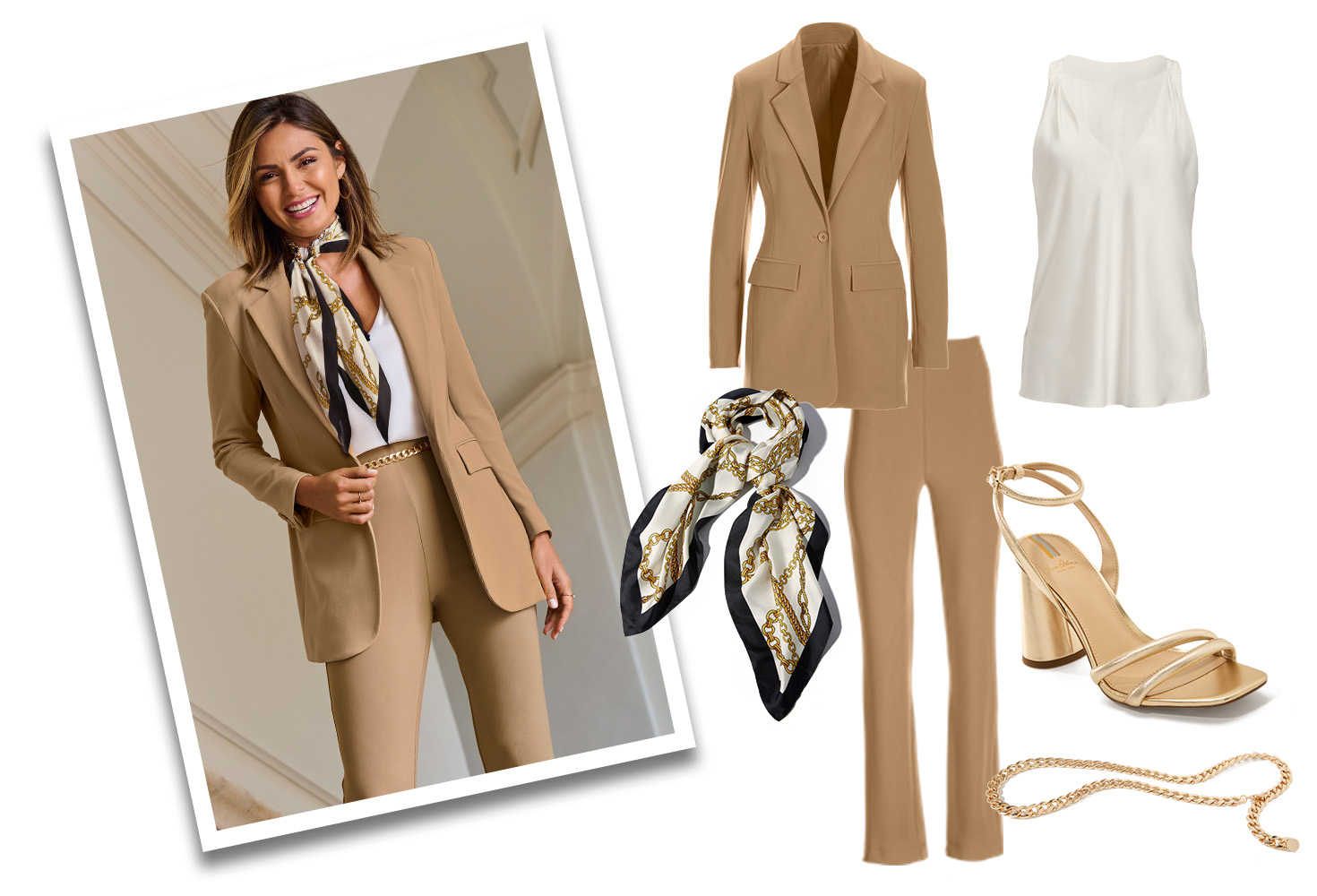 Leggings
When it comes to leggings, they have come a long way. Not just for the gym anymore, leggings are the new pants, especially in the fall and winter seasons when they're outfitted as an easy work uniform with a more substantial topper and boots. The whole trick to pulling leggings off at work is to style them tastefully with ample coverage where needed. Long cardigans, tunic sweaters, and jackets that fall below the hips are all ideal options. The fabrication is another consideration, and thankfully, there are many fashionable ones to choose from, including the ponte, faux leather, and faux-suede. Because of the legging's popularity for comfort and stretch, they can help transition the return to work effortlessly.
Accessorizing The Look
A good worker pays attention to details…as does a good fashion stylist. Accessories put the final touches on outfits to complete the look. There are a few things to note about work accessories when choosing the right ones. Taking it from the top, earrings should not be overpowering or be over 'blingy' at the workplace. Balance the finish with clothing details. For instance, if an outfit is detailed gold-tone buttons and zippers, go with gold earrings that complement the feel of those details. The same goes for a belt buckle. Or, if you are wearing a very tailored look, choose more refined jewelry and belt designs. Take note of necklaces and earrings together. Going heavy on both can throw off your look or overpower it. Consider necklines, your hairstyle, and undertones of clothing to make everything harmonious. It sounds logical, but outfits always come together better with like accessories. The final step is the shoe. Getting back into heels may be like learning to walk all over again. So ease back with a comfortable wedge, a sensible platform or a chic slide.
Organizing It All
With the know-how on ways to dress for in-person-again workdays, a good next step is to take inventory of your current wardrobe. Organization is key at work and key to outfitting efficiency. Whether outfits are grouped together, tops, bottoms, and dresses are separated, or everything is color-blocked, there's a system to getting out of the door and going back to work. Read a related article here.