Style Over 40
Must-Have Silhouettes You Can Wear at Any Age
March 08, 2023
The concept of "dressing for your age" is ambiguous at best. What defines as appropriate for one individual may vary from person to person based on shape, comfort-level and personal style. At Boston Proper, in this latest collection we have removed the guesswork for you and selected a few key timeless pieces that are wearable and retain their investment (value) at any age. As a general rule within the nexus of the fashion industry, a well-fitted and tasteful design speaks for itself. It is what is referred to as a "classic." If one is to understand how to achieve a classic look, one must first ask if the garment has staying power. We as curators devoted to dressing you in the best styles for women over forty continuously ask ourselves "is this timeless; will this look dated in a short while; will this be an appropriate piece to pull out of the wardrobe and dust off for a luncheon next season and beyond"? We edit and develop the most ideal flattering fits and trends for ageless style. As a reader and chic representation of our fashionable clientele, we know you have confidence in our brand to deliver the best silhouettes for any age. The following trends have been vetted and recommended as exceptionally timeless for your personal benefit.
Classic Is Always Chic
Every once in a while, in fashion we come across a classic style that looks just as amazing on a figure of 40+ as a woman of 25 or 65. Like a vintage find, or a daughter pulling out a garment worn from a previous event or seasons past from her mother's wardrobe, it has heirloom quality and thus rejects feeling dated. One of those rare finds: The Floral Embellished Wrap Maxi Dress elongates the frame as it's floor-length, but has a tasteful front side slit to create movement and show a bit of leg. Flattering at the smallest part of the waist with a wrap feature and demure balloon sleeves for arm coverage, every design detail has been considered for the most refined and flattering fit. With such a gorgeous floral print on a Peony pink ground, this dress exudes romantic femininity and timeless appeal.
Jump Into It
Somewhere in the midst of this decade, the jumpsuit has maintained its revival from the 70's and continues to be a force within the apparel industry. Supplanting the dress at times for semi-formal and business casual attire, the jumpsuit looks great on a mature frame as well as a younger one. This is why we have nominated our Ring Hardware Halter Knit Jumpsuit as a style that can be worn at any age. The circular ring hardware and skinny halter straps add interest under a sleek blazer or cardigan and is cut from a luxe knit fabric for stretch and crease-resistance. This style can be worn anywhere day-to-night and is easily dressed up or down.
Scuba Without The Diving Certification
If you haven't slipped into a garment constructed out of scuba material, you are missing out. The Garden Of Eve Placed-Print Square-Neck Scuba Sheath Dress has a substantial thickness with a stretchiness and soft hand feel so it rests on the body without being see-through. One can confidently wear white without any of the typical mishaps of being too sheer or showcasing undergarment seamlines. The placed floral print radiates from the midsection and has a bespoke quality like a Realism Floral Art painting. It truly is a versatile style that can be worn by all women to any elevated event
Keep accessories on-point in metallic and nude tones to complement any of these designs.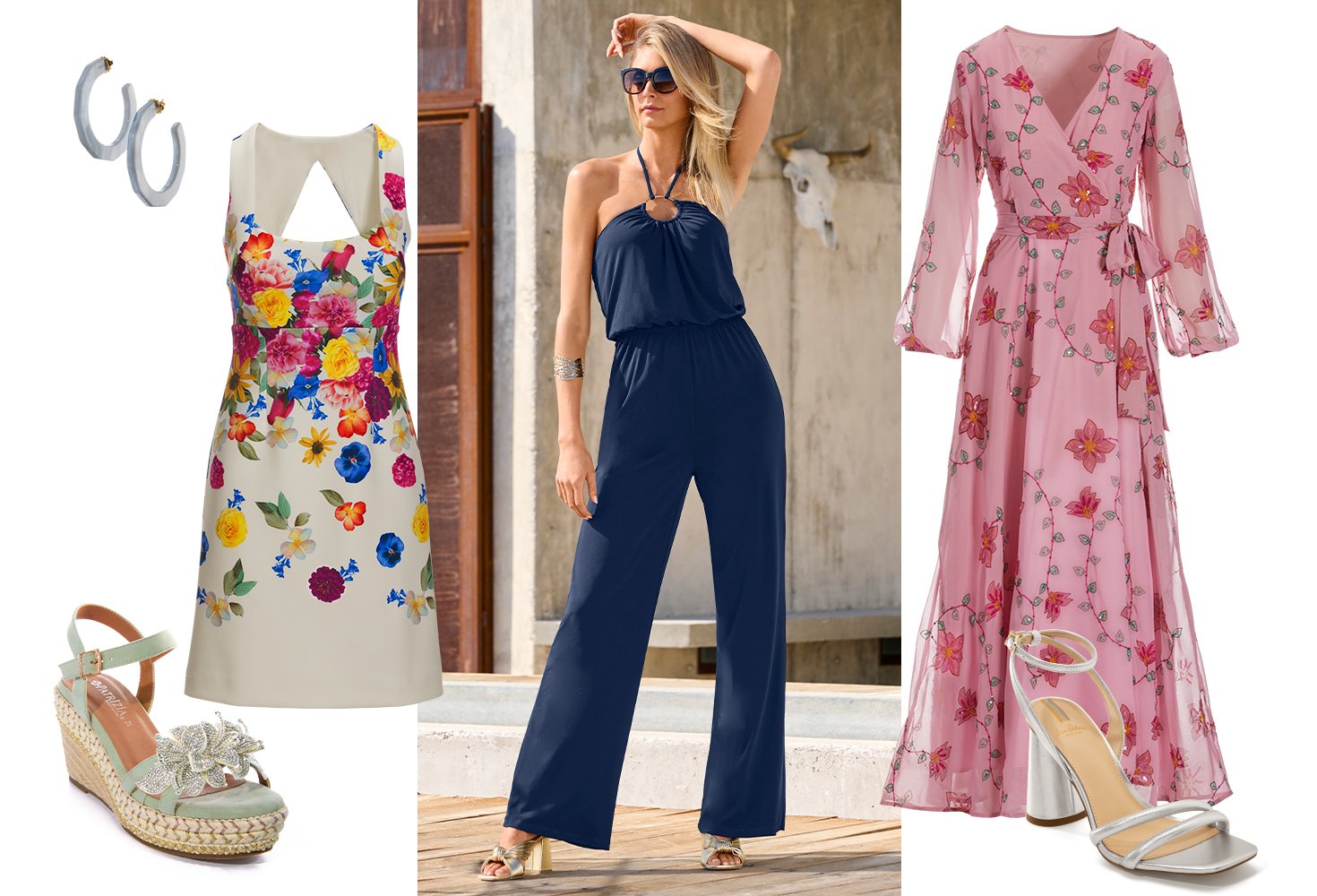 Timeless Trousers
The fine line between keeping up with trends and age-appropriate dressing can get blurred at times. These picks are flattering for most body types and address the needs of those who want to look polished at any age. Wide-leg trouser cuts are forgiving to the lower body, define the waist, and create an overall curvier look. Dark-grounded florals slim and create visual depth which conceals any minor imperfections.
White Hot
The summer classic gets an update in the Proper Wide-Leg Chino Pant. A higher rise is more flattering to the waistline and more comfortable to wear. Continuous front seams elongate the legs and wider means more room, and more forgiving. Pair with the Raffia Wedge Ankle Strap Sandal matching Tie-Front Long-Sleeve Linen Shirt in 'Lemon Drop' yellow to complete the ensemble.
Fiercely Floral
Feeling bold and vibrant these days? Slide into empowerment with these novelty dark-grounded floral pants you can pull off at any age, as long as you wear them with confidence and panache. The Montauk Oasis Knit Palazzo Pant transcends the barriers of time. Pull the look together with a 'Firecracker' orange Halter Banded-Bottom Mock-Neck Top, statement bangles and fuchsia earrings with matching Raffia Wedge Ankle Strap Sandals in orange.
Undated Denim
If you are looking for the next form-flattering denim trend staple, look no further than the Proper High-Rise Palazzo Jean. The high-rise lifts and shapes while the slight flare slims the thigh area and creates a long and lean appearance. Trends come and go but this is a style that outlasts and always cycles back around, so it's safe to keep for the future as well as wear at any age. Options include light-medium wash or white. Complete the outfit with the chic Marilyn Cowl-Neck Charmeuse Blouse in 'Watermelon' as a layering piece and finish it off with a gold platform sandal.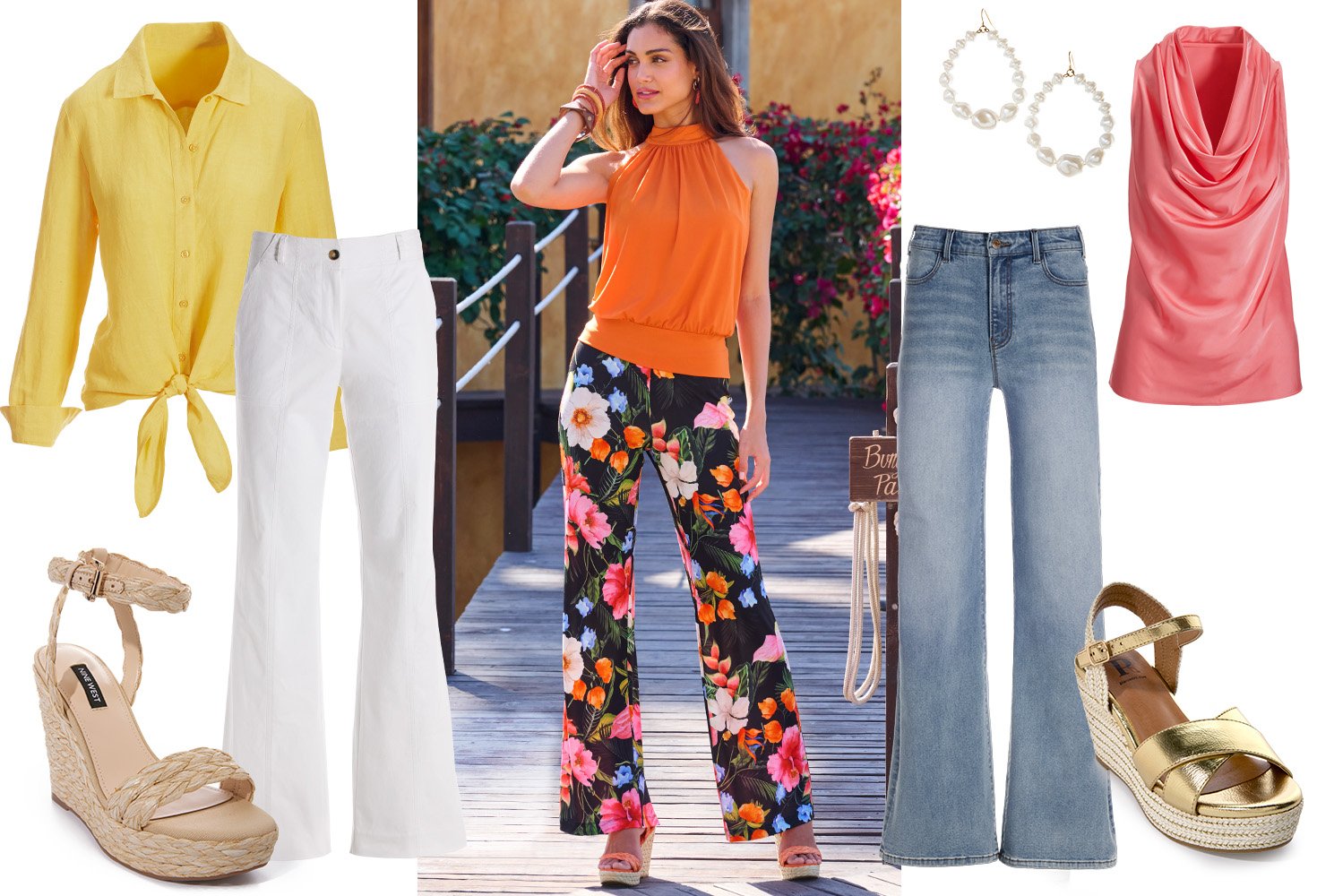 Denim, Tops & Jacket Ensembles
The easiest way to update your wardrobe is by adding some fresh tops that speak to the season in the current trends, like a decorative printed floral or embellished jacket, and then juxtapose that with some sustainable pieces for balance, like a classic white button-down tailored shirt or strappy tank. For example, white pants and denim will always have a home in most closets and you can guarantee their yearly revival as a summertime rule. Infuse your wardrobe with both so you have the newness and give your workhorse pieces a new life. Feel confident that these on-trend tops and dependable basics will complement your style at any stage of life.
Laced In Detail
The Lace Faux-Leather Moto Jacket is a stellar option that doesn't read age-specific. It's trendy and chic yet designed with impeccable construction techniques and attention to detail, so it has classic appeal. It's a true statement piece. Hence, it doesn't need much and can carry itself with a simple pair of slenderizing Proper High-Rise Slim Straight-Leg Jeans and a soft Strappy Cami.
A Play On Denim
Denim fabrication and all its uses are rooted in our American history. It's synonymous with casual cool. You'd be hard-pressed to find a soul over twenty who has never owned a denim jacket before, or at the very least a pair of jeans. The timeless denim jacket gets a refined update with this Puff-Sleeve Double-Breasted Denim Blazer. Still casual, but elevated. Build the outfit as shown with the tailored Sophia Button-Up Charmeuse Blouse, crisp white Proper High-Rise Palazzo Jean and gold chain belt.
Age-Ambiguous
If a garment reads "too old" or "too young" for our current timestamp, we tend to steer clear. The Vintage Blooms Print Puff-Sleeve Denim Jacket has ageless credentials. It's a fresh trend, and a must-have item, so this is a recommended piece if you are looking for a flattering and feminine jacket to wear this season. Charming puff-sleeves, floral prints in pink perfection and impeccable design all married in a contemporary classic update. Pull the look together with our Proper High-Rise Slim Straight-Leg Jean and Beyond Travel Keyhole Tunic Top to let the jacket be the star.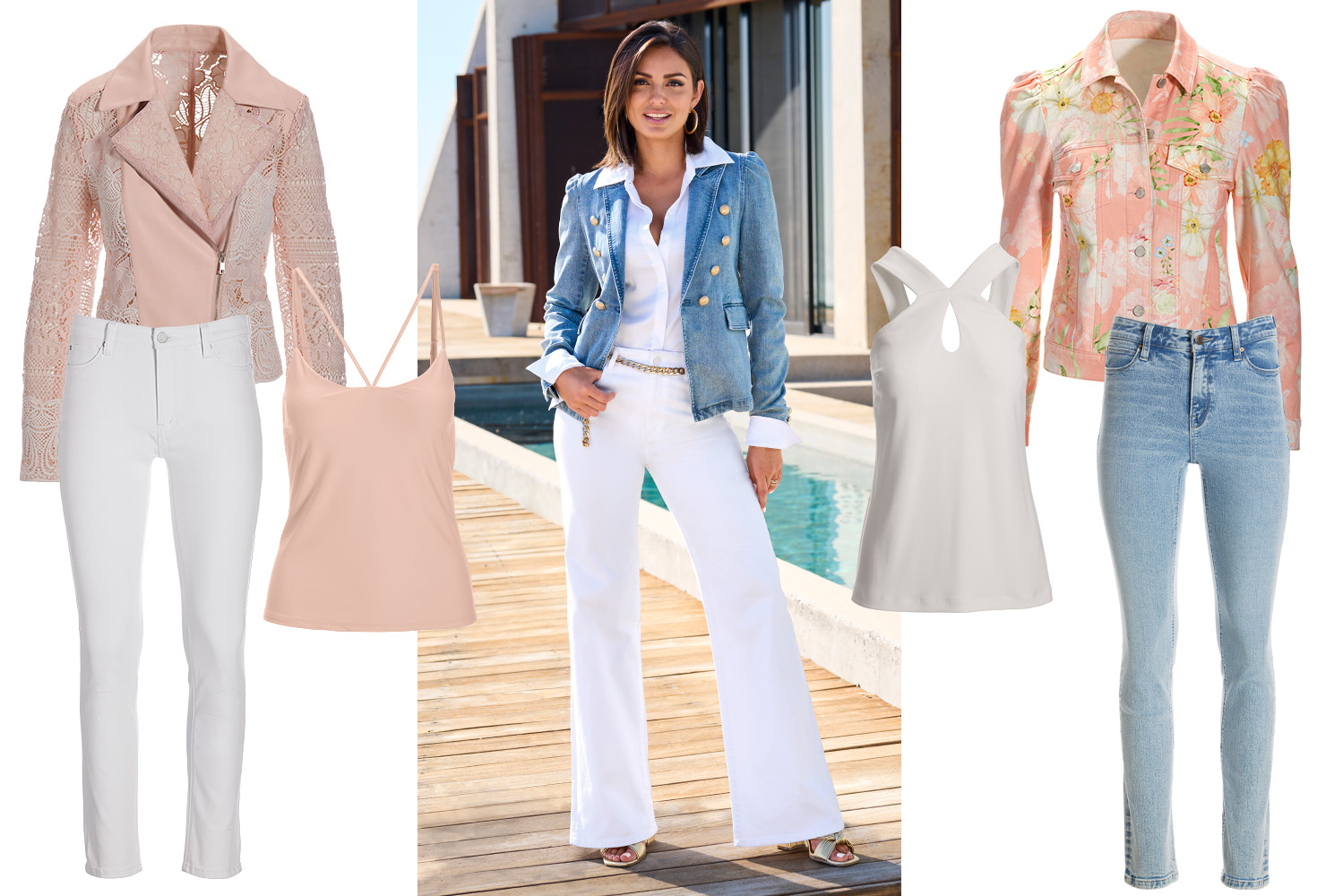 Love these outfits? Shop all of our new arrivals curated for ageless style in the most flattering designs.