Style Over 40
5 Must-Have Colors For Holiday Outfits in 2022
With a booked calendar of seasonal activities, parties, and celebrations, you need the perfect holiday outfit for every occasion. Find your must-have holiday outfits at Boston Proper.
November 09, 2022
Must-Have Holiday Outfits For All The Holidates
It's the time of year when our calendars are full of holiday happenings and events…now to get our closets full of all the styles for the season's holidates. Where to start? We like approaching the holiday wardrobe strategy by color, and there are plenty to choose from in looks that are casually chic to elegantly elevated.
5 Must-Have Colors to Try This Season
To help you get your holiday wardrobe ready, here are some of our favorite colors and styles to try this season. Whether going to a family gathering, cocktails with co-workers, or a big bash, these color trends will help you be the most stylish for all your holidates.
1. Festive Reds
From party tops to dressy styles, your holiday wardrobe isn't be complete without a touch of red.
When in doubt, festive reds are a great option to show some holiday spirit. Classic reds are always chic and statement-making; add feminine lace, ruffles, and metallic embellishments, and you're covered for just about any celebration. Never underestimate the style-power of a modern red top paired with leather pants and booties for a festive outfit that can easily take you from the office to parties and drinks.
Festive reds are also the perfect color to bring some cheer into your everyday styles. Pair your favorite jeans with a deep red blouse and layer a bold red blazer over your office outfit for a touch of elegance inspired by the season.
2. Chic Silver & Gold Glitter
Every day turns into a holiday celebration when you add a little shine.
If there is a season to go ultra-glam, it's this one. The holidays give license to swap out traditional styles for ones that include lots of sparkle and shine. From bright, glittery sequins to brilliant stone embellishments, eyes are sure to be all aglow whenever you enter the room.
Have fun with outfits that shine for every kind of holidate. A party top with sparkle lends itself to jean pairings when the occasion is casual, and the opposite of a pant that shimmers and shines—there's the option of pairing to an understated top or sweater. And for those who say the more, the better, pile on the shine, from head to toe.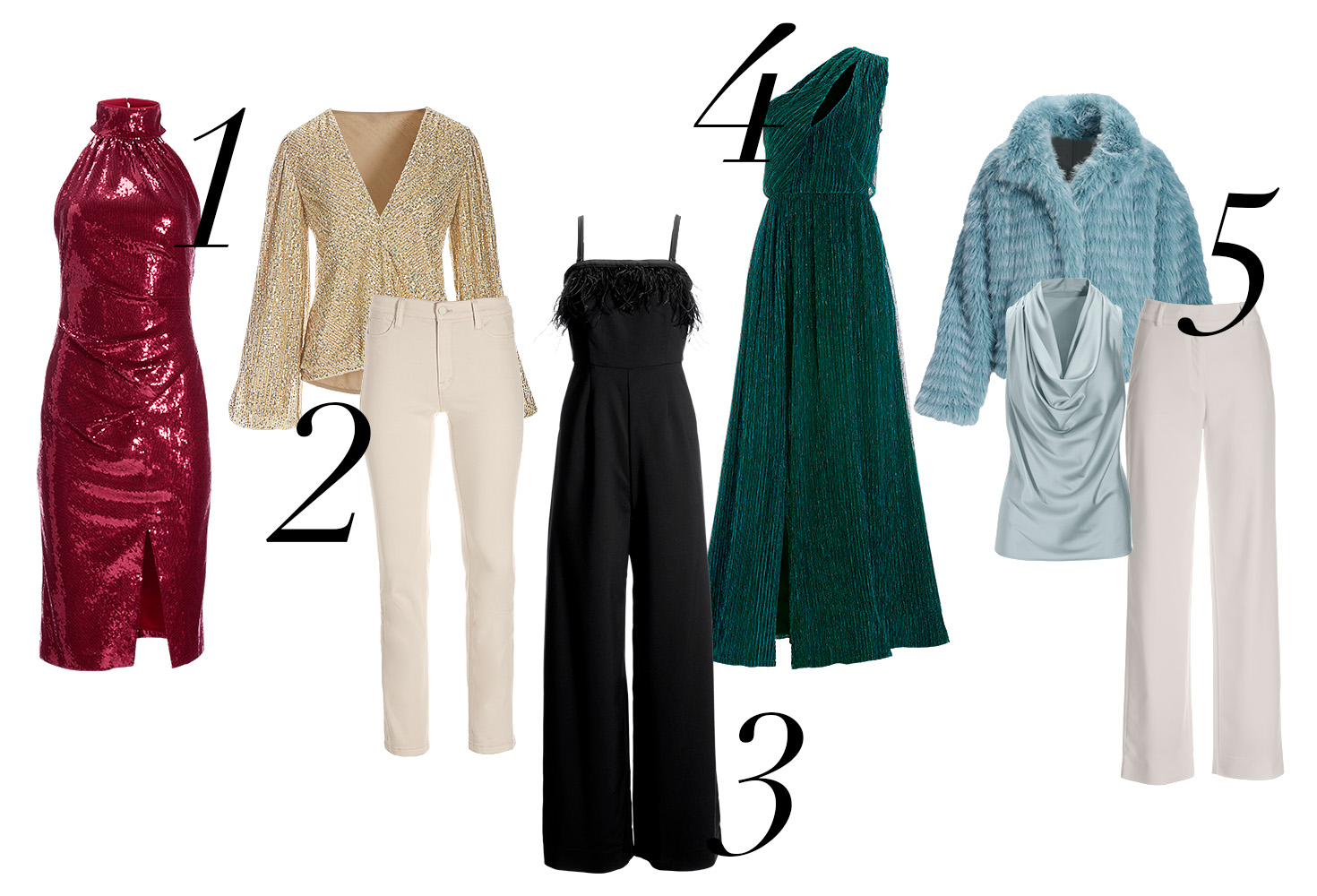 3. Black Magic
Forever chic and statement-making, whether feather or faux leather, black is a holiday staple.
It's the always-chic color statement; however, when designed in velvets, embellished with baubles, or trimmed with feathers, black goes from a go-to staple to all-out glam. This season, we're redefining how to wear black by way of party looks with elevated details like sheer sleeves, intricate lace, cutout necklines, and metallic accents.
Black is elegant, timeless, and easy to dress up or down to match every event in your holiday social calendar. Even a pair of black faux-leather pants becomes party-ready when paired to a special occasion top or sweater.
4. Holiday Greens
This season, emerald green is as statement-making as ever, however styled.
Emerald green is a rich, sophisticated color for this season and beyond. As a deep jewel tone, it stands on its own and also creates a dramatic look when styled into a holiday outfit. We designed gorgeous green hues into captivating prints for unique and elevated style and played it against metallics for entrance-making effects.
From a holiday wedding to a neighborly tree-trimming party, what we love most about this shade is its enduring elegance and how it works for all occasions.
5. Cool Blue Hues
Icy, sparkly, and cozy, cool blue hues let you go from casual get-togethers to cocktail parties with just a hint of holiday cheer.

A cool blue hue may be your perfect holiday color if you are a modernist at heart. For you, departure from tradition suits you best; cue the icy cool tones of blue. And why stop at color choice? Take it up a notch with faux fur and shimmery charmeuse, tonal sparkle and shine, or a plush sweater texture.
Silhouettes also come into play if you love modern style, so look for slouchy and off-the-shoulder styles in tops and sweaters for casual outfits. A chubby jacket balances the new wide-leg pant statement, and the shift dress becomes a game-changer when it's sheer, scalloped and adorned with 3D details.
Don't Forget Accessories!
Thinking about the outfit all the way through, down to shoes, belts, and jewelry, completes every look to perfection. Choose styles that work with textures, undertones, and silhouettes to finish your color-focused outfits. Understated outfits can handle bold pieces, while colorful prints, metallics, and shine need a little less.
Holiday Outfit Ideas For All Your Holidates
Here are some of our favorite holiday outfits to help you look your best while keeping you warm and cozy, whether going to a gala, family gathering or simply having drinks with friends.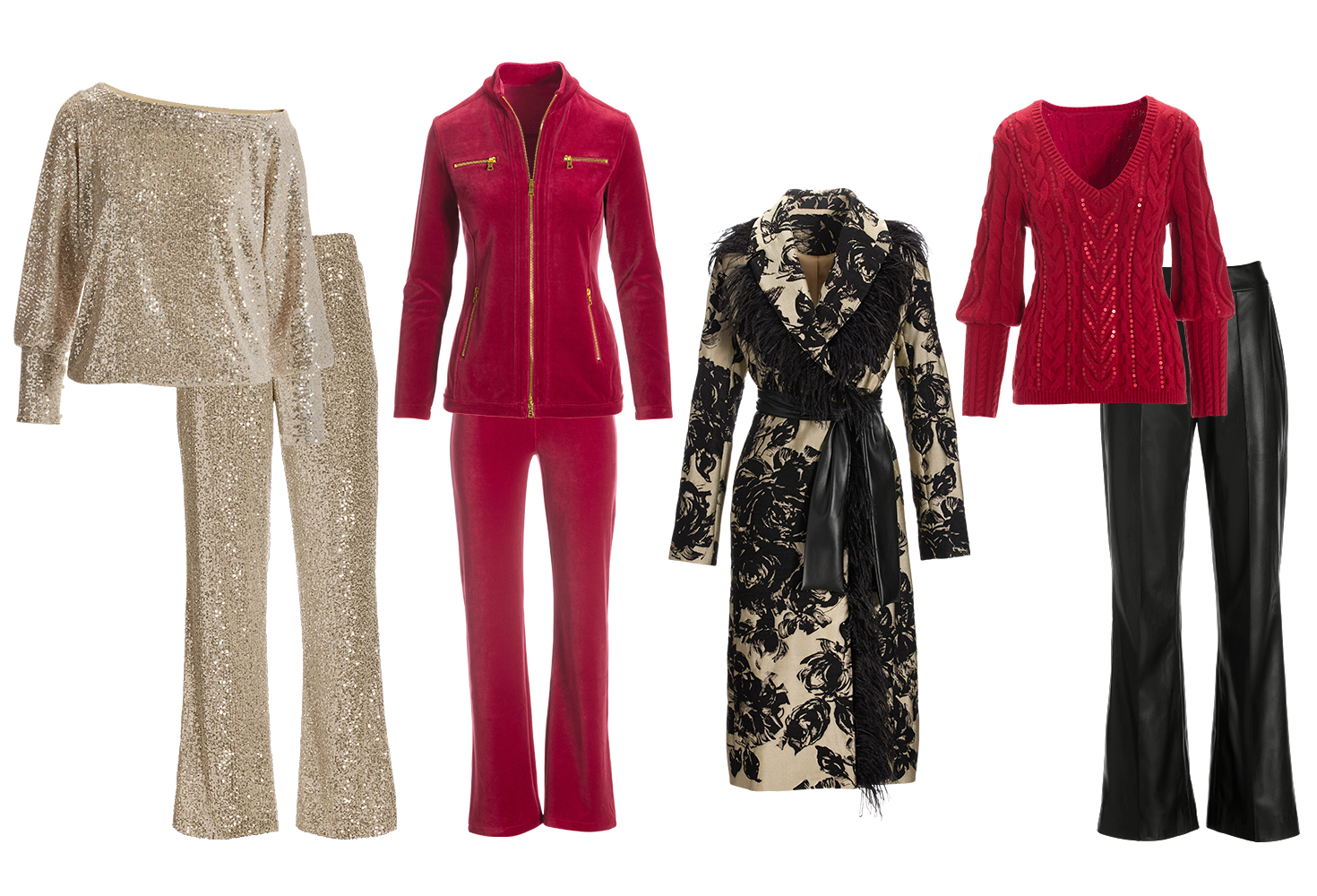 • Matching sets in glitter and glam: There's nothing wrong with a matching set paired with your favorite sneakers for a relaxed style, or pair it with glitzy heels for a night out. Go with a shimmery matching set to feel very fashion-forward, and keep accessories simple to leave all the attention on the clothes.
• Athleisurewear in chic fabrics: From plush velour to a wrinkle-resistant stretch knit, shopping days (whether scrolling along on your phone or rolling around town from store to store), you'll love the flexibility, comfort, and style no matter how easy or how hectic things get.
• Throw on a statement-making jacket or coat: Think faux fur and feather trims for this year's must-have outerwear statements.
• Elevate your sweater game: The right sweater happens to be all the things: festive, comfortable, and fashionable. Plus, a standout sweater levels up outfits in many ways. Add layered necklaces, luxe boots, or drop earrings to the look for easy, effortless glam.
• Switch to faux leather: Faux-leather pants bring a hint of edginess to holiday style when worn with a feminine blouse or a sleek, sophisticated turtleneck. Get into high holiday spirits in faux-leather bottoms + elegant tops and turn a season-long essential into an outfit-maker for any occasion.
The holiday season is about the festivities, the gatherings with family and friends, and elevating your everyday style. Try out different color trends and silhouettes, and explore our new arrivals to transform your wardrobe and make a fashionable statement no matter what holidate you're celebrating.