Style Over 40
Luxe Sweaters
Fall 2022 sweaters to stay warm, comfy, and stylish all season long.
September 29, 2022
In This Article
As autumn arrives, it's time to make room for cozy knitwear in trending fall colors in your closet. Whether you're looking for ribbed cardigans or plush sweaters in cashmere, finding the perfect fall sweater doesn't have to be too difficult. This season's selection of sweaters and textures is all about luxe fabrics and trending silhouettes to prepare for the season.
What's key to seamless sweater pairings is having some key styles on hand and ready to go. Because layering becomes so important this time of the year, sweaters that offer versatility, can be easily outfitted, and create a flawless look without feeling bulky, are the ones to own. Our sweater collection is chockful of these exact styles…plus added details to elevate each style, perfect the fit, and feel great on.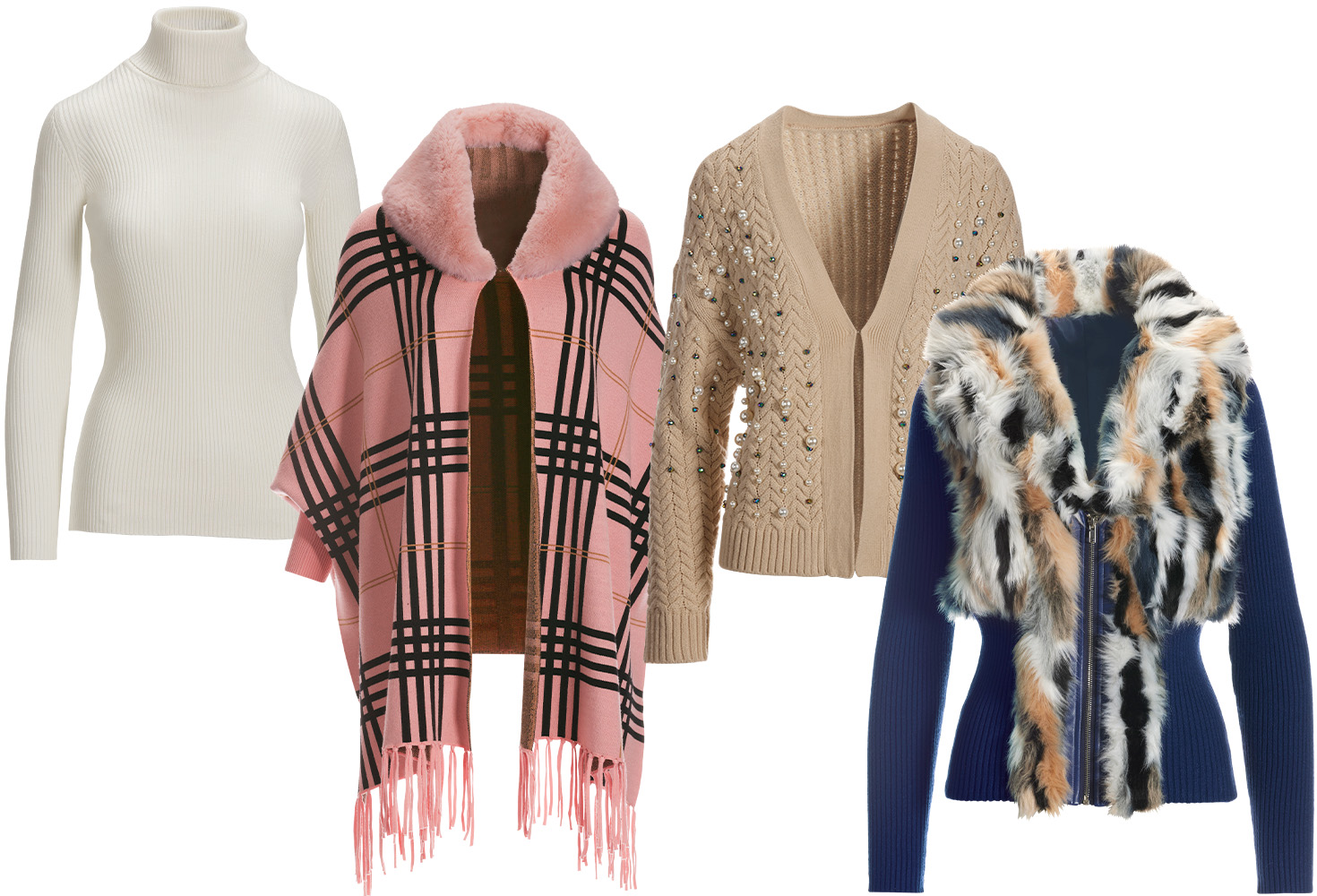 Everyday Essentials
Our advice? Do not begin the fall season without at least one essential ribbed sweater style. Lightweight ribbed knits are not only on-trend but also layering dynamos woven from a high-quality yarn that conforms to curves while remaining soft and comfortable. A must-have you can dress up or down; one can never have too many of them.
Statement Casual
An open, long-line cardigan is a statement piece that's completely functional, stylish, and versatile by becoming a light jacket on chilly autumn nights. Whether a luxurious cable-stitch, a 100% cashmere cardi, or perhaps even a fur-trimmed poncho, the longer lengths provide warmth and coverage over everything. Wear it layered and open, or tie a stylish belt paired with your favorite leggings or high-waisted jeans to create a feminine silhouette that makes you look your best.
Party Styles
Feeling cozy and dressed up is attainable via standout sweaters with special details like pearl trim, button cuffs, and sparkling embellishments. Sophisticated party details transform classic fall sweaters into occasion pieces. Whether you're headed to happy hours or a festive fall celebration, an embellished sweater paired with jeans and boots effortlessly creates the perfect party look.
Fur For All Occasions
In faux-fur accent and trims, nothing makes a bigger cold-weather fashion statement. And not just for dressing up, faux fur is a lavish detail adorning even the most casual sweater knits. With a feel like real, our fur trims are plusher than ever and are added to our best-selling silhouettes. Just add denim and over-the-knee boots for après-ski.