Fall 2023 Jacket Edit
The Boston Proper Guide To Styling Fall Outfits
August 23, 2023
In This Article
Jackets ground the season, and your look, with styles ready for every occasion. From slimming double-breasted blazers to longer-length silhouettes, there's a statement jacket, or two or three, for you to fall for. This season versatility is top of mind, and it's all about investing in carefully selected layering statements to incorporate into your closet. The best fall jackets now are:
The Versatile Blazer
A resurgence of suiting and business attire has pushed the quintessential blazer in a new direction for fall. Emerging as the strongest trend is our double-breasted silhouette. This wardrobe workhorse piece is cut to be form-flattering, and the fit is absolutely flawless. Offered in key fabrics, textures and colors, you'll love the versatility of this blazer…and the detailing with crest buttons to elevate minimalist outfitting.
Style Tip: Blazers work for you… from denim to suiting, they are your go-to option for dressing smart on the clock.
#1 SHOP DOUBLE-BREASTED BLAZERS >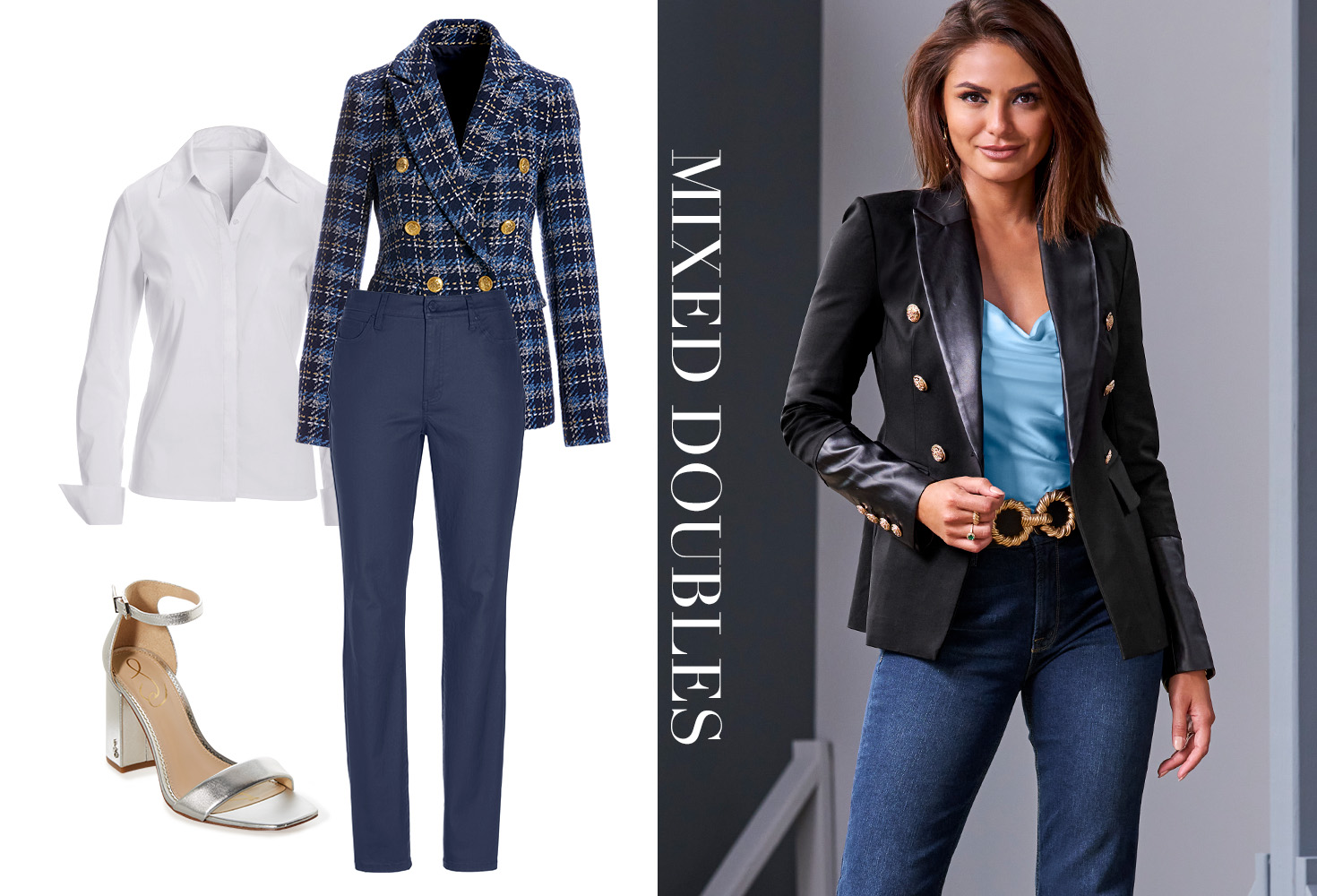 Reimagined Tweed
Tweed is a timeless classic, but we've made it even better with metallic shine and fringe accents. Gleaming crest buttons and crystal trim elevate these seriously chic and sophisticated statement pieces set in textured woven fabrics. If the outfitting calls for a garment to balance proportions, choose a length that covers with a sense of ease. Consider a longer duster to layer over an above-knee dress with over-the-knee boots. And wear a shorter style jacket to liven up occasion attire or an understated top with everyday jeans.
Style Tip: Hero layering garments in novelty tweed extend the life of your current wardrobe pieces and ensure multiple occasions to wear.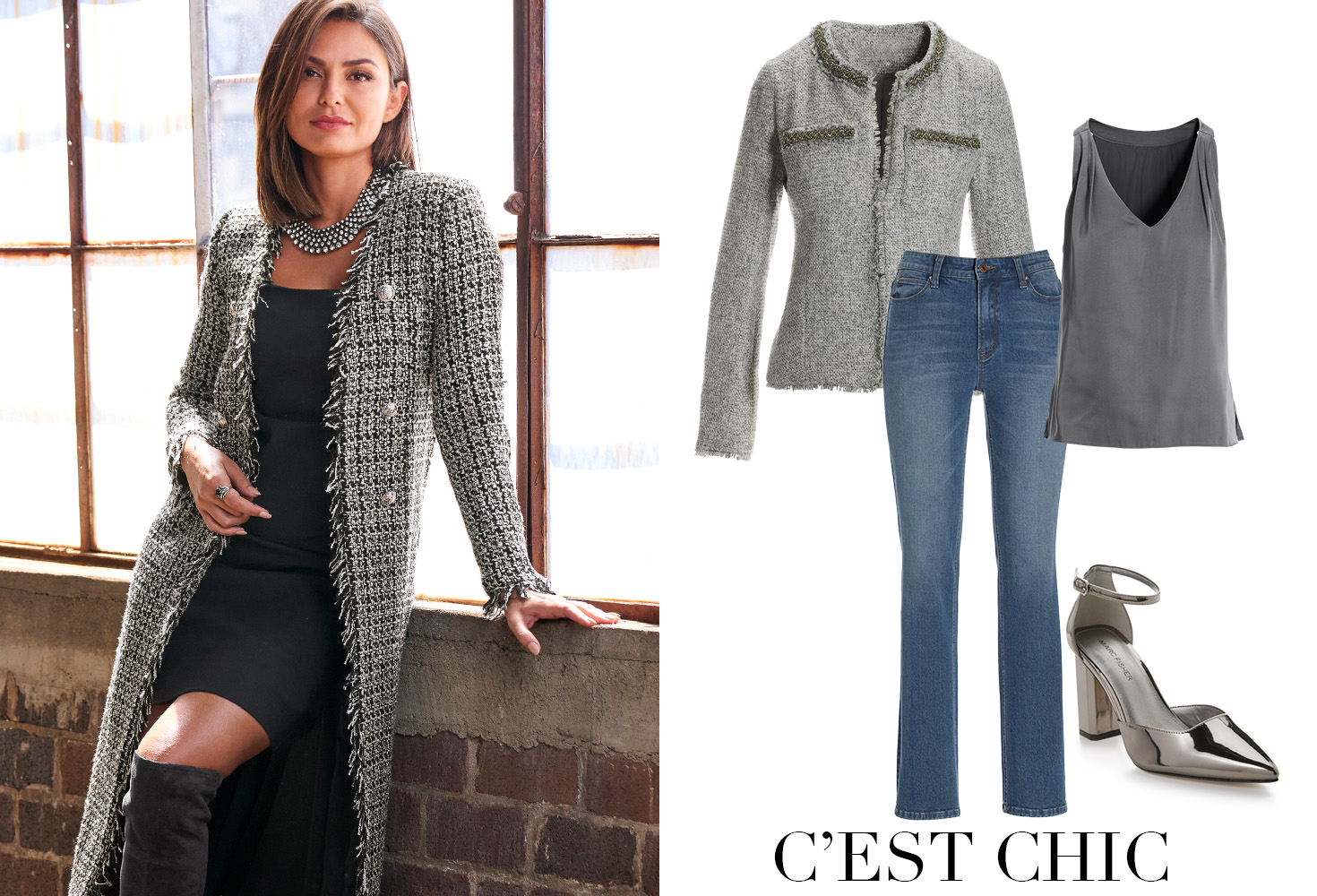 Leather x3
This fall, leather is everywhere in brand-new silhouettes and colorways, offering strong day-to-night wearability. Whether a statement hue or classic neutral, leather conveys sophistication and edge, be it the soft, supple, genuine trench for virtually any day of the week and shorter zip jackets in our sleek moto silhouette or shape-enhancing peplum that dresses up and down.
Style Tip: Leather pairs with every fall fashion look, making it the perfect layering solution.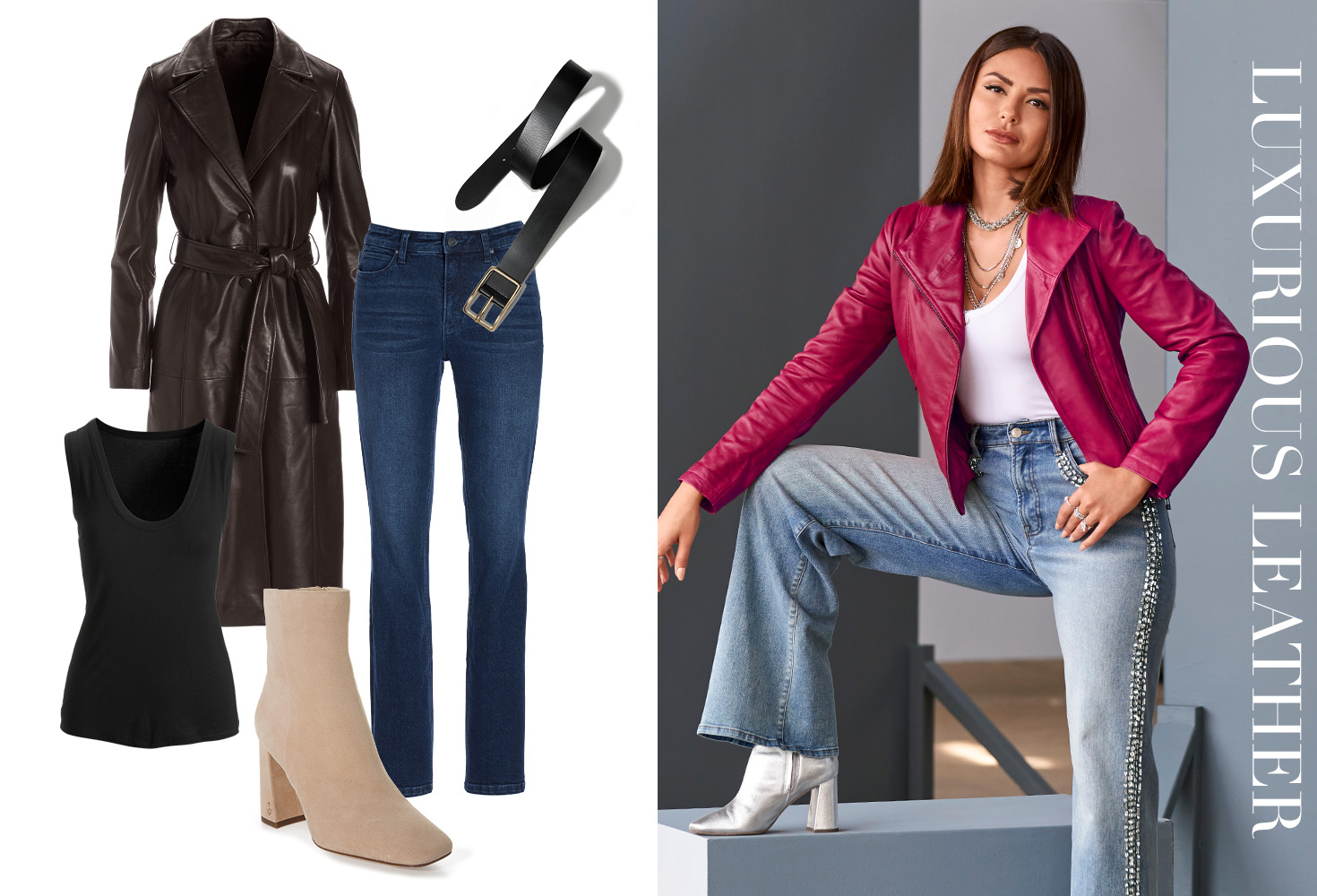 Denim
Casual polish calls for denim jackets for savvy styling options, whether mixing washes or fabrications. Skip formalities and try a form-flattering blazer cut in the seasonal, must-have double-breasted style. We love a lighter wash balanced with black faux leather. And denim-on-denim is still a trend! Solve your denim wardrobe dilemma with an updated puff-sleeve jean jacket in our most versatile black wash that goes with basic staples, even blue jeans. And did we mention the stretch? Our denim jackets are loved for their comfortable fit and feel.
Style Tip: The latest fits in denim continue to deliver endurance and timeless appeal, so that you can invest in these jacket styles for the long haul.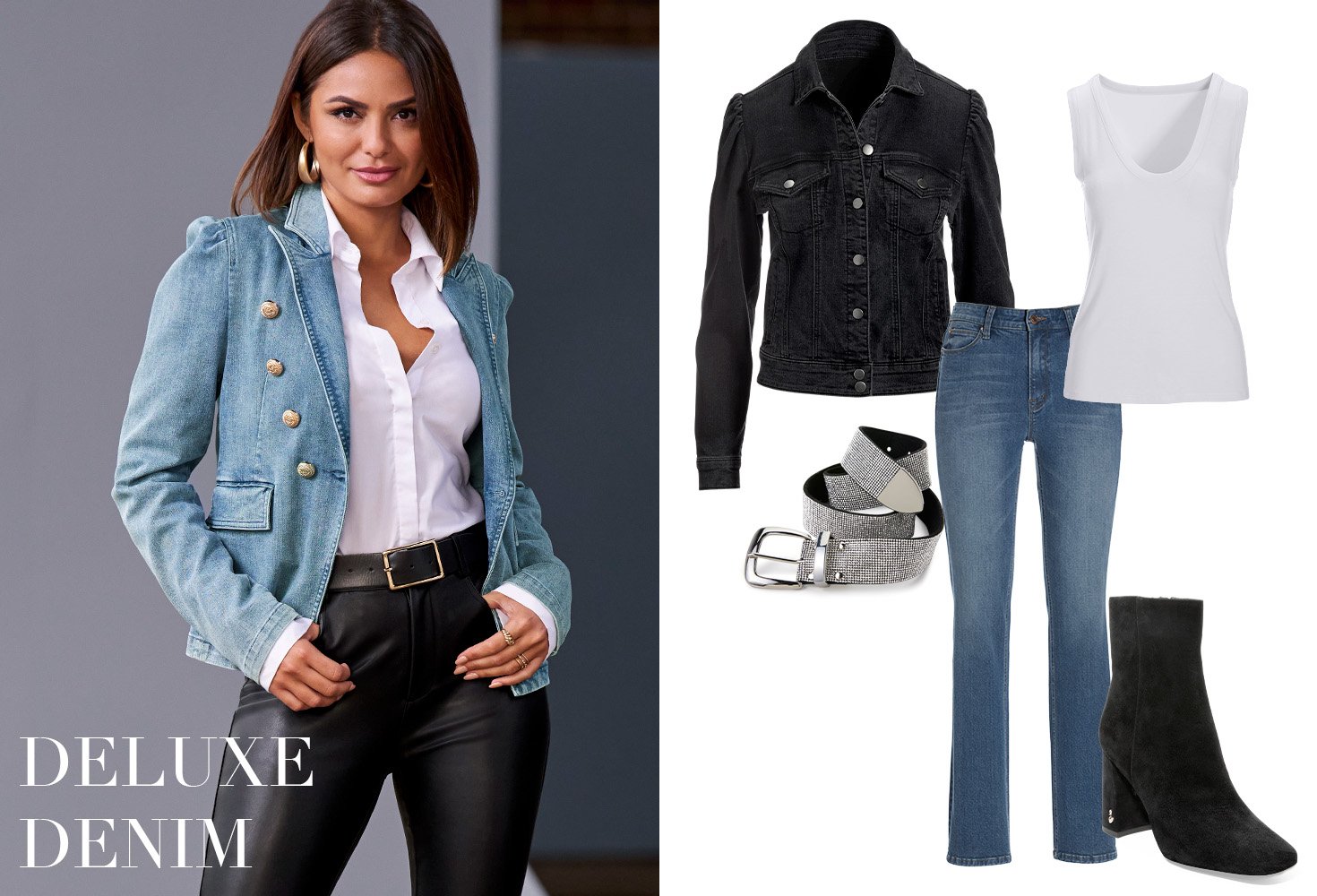 A Tailored Classic
Fashion is sleek and sophisticated this season. We all seek that clean, classic, tailored overcoat that doesn't swallow you up, so we cut this one to the right proportions and added details to flatter; this is the one you wear—it doesn't wear you. Wear neutral when supporting lights or add color to your wardrobe and match your favorite fall fashion novelty print or darker grounded pieces.
Style Tip: This chic coat is great for bootcut and wider-leg styles worn with a more fitted top, but also works with a slimmer pant style.