Fashion Tips & How Tos
8 Festive Outfit Ideas: Holiday Party Wear For All Occasions
Stylish options for every type of gathering and every style preference. 
November 01, 2023
We know this time of year can be both joyous and hectic. So, when curating our Boston Proper holiday collection, we made sure to include styles that dress you with ease and put festive fashion at the top of your holiday list.
As with every style for every season, we designed this new holiday party wear in the most flattering fits and with sensible details to ensure you can find the shapes, coverage, and level of dressing you need.
Whether you're a dress gal or a pants gal, we present glamorous options for both, along with perfectly proportioned outerwear to balance the look.
Here are eight festive outfits for holiday parties:
1. Classic Elegance with a Twist: Red Ruffle And Lace Dress
As far as making an entrance goes, this Red Ruffle And Lace Dress will do it, with a captivating asymmetrical ruffle hem for leg reveal. Along with a bold holiday red hue, a high neckline, and intricate floral lace details, this timeless style is fit for celebrating in grand style.
2. Winter Florals: A Long-Sleeved Sheath Dress
Winter florals are one way of standing out! This Long-Sleeved Floral Sheath Dress creates allure with a sheer embroidered overlay against a black slip body for a look that's elegant and a fit you'll be comfortable in.
Paired with shiny red Ankle-Strap Heels and a Red Velvet Clutch, this look is perfect for holiday gatherings where you want to showcase your unique style.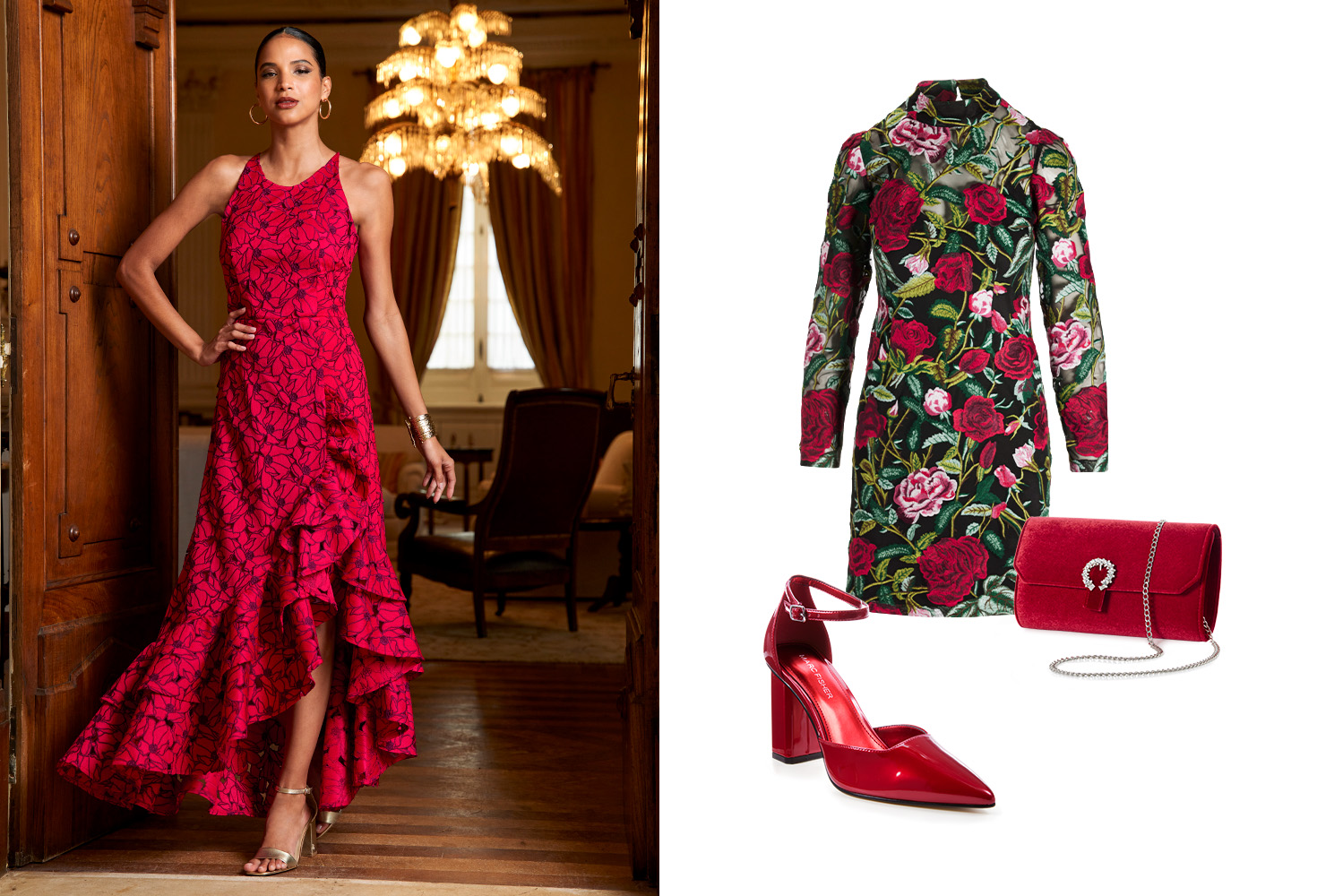 3. Plaid Perfection: Festive In A Plaid Shirt Dress
If you like classic holiday party wear, try our Plaid Fit and Flair Halter Shirt Dress. The plaid pattern evokes a sense of tradition, making it an ideal choice for seasonal gatherings. The longer-length maxi silhouette is both festive and provides leg coverage.
Chic black heels and statement hoop earrings pair perfectly with this style to create an all-around elegant look.
4. Festive Green Glam: Ruffle V-Neck Sweater
For a more casual setting or hosting at home, our emerald green Organza Ruffle V-Neck Sweater is the perfect choice. The alluring v-neckline and chic ruffles lend details that dress you up in an instant. Paired with on-trend bootcut jeans and a pearl-embellished belt for a bit of sparkle, this holiday party outfit is ready for family dinner!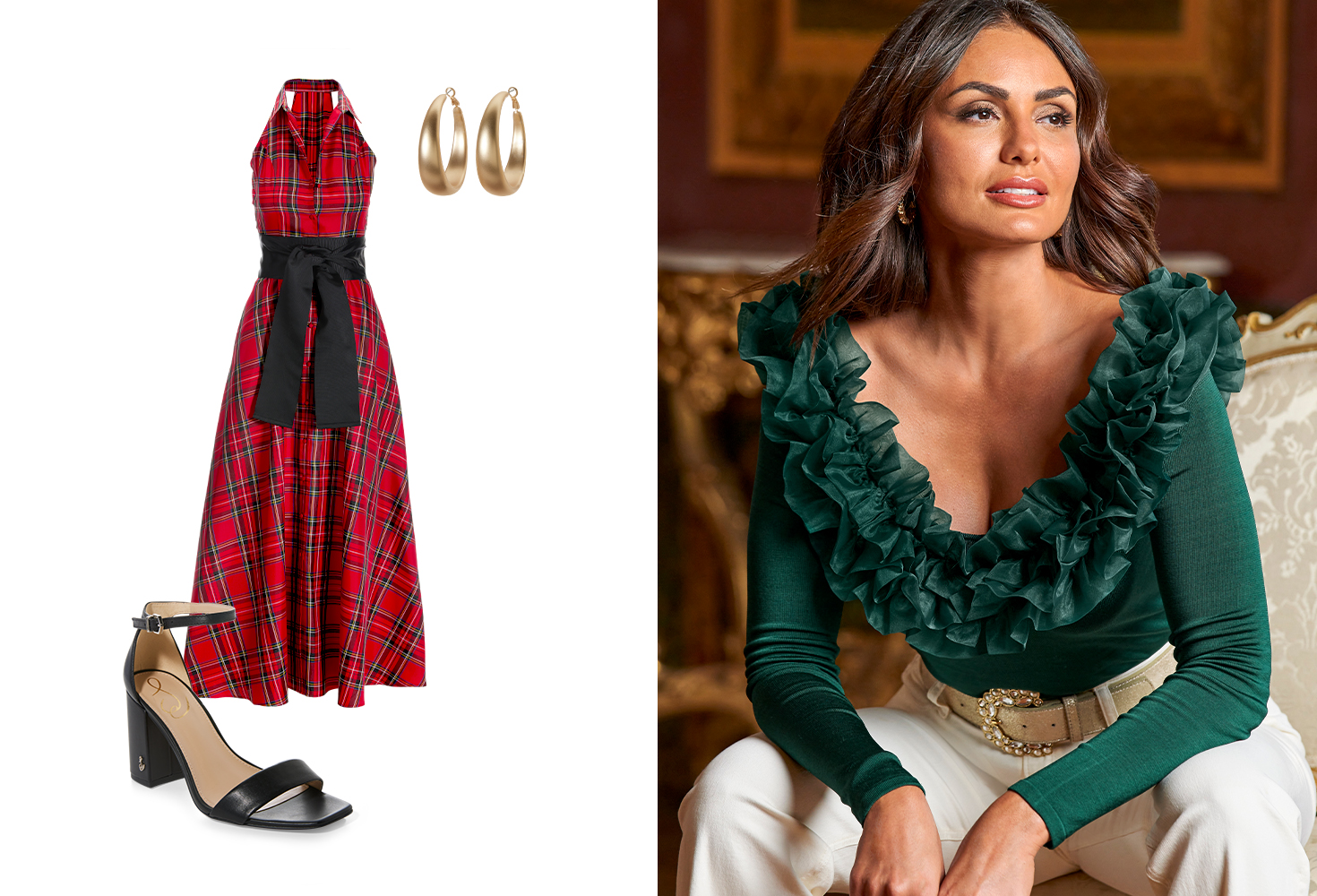 5. Elegant + Glam In A Red One Shoulder Gown
Possibly the most unforgettable outfit in our collection! Featuring a peekaboo waist and crystal embellishments for a bit of holiday sparkle, our One Shoulder Crystal-Embellished Knit Gown is iconic. The Faux-fur Chubby and longer-length gown are a perfectly proportioned pairing. Elegant and glamorous!
6. Sparkling Sequin Showstopper: Blouson Top + Pull-On Palazzo Pants
Two pieces could not make more of an impact or be any easier for party-going. Pull-on palazzo pants (hello comfort) and a blouson knit top silhouette flatter every figure. Sparkling sequins catch the light with every move and you'll outshine everyone in the room in this holiday cocktail outfit!
Minimal accessories let the sequins take center stage - pearl-embellished gold-hued hoops and pointed gold ankle-strap heels complete the dazzling look.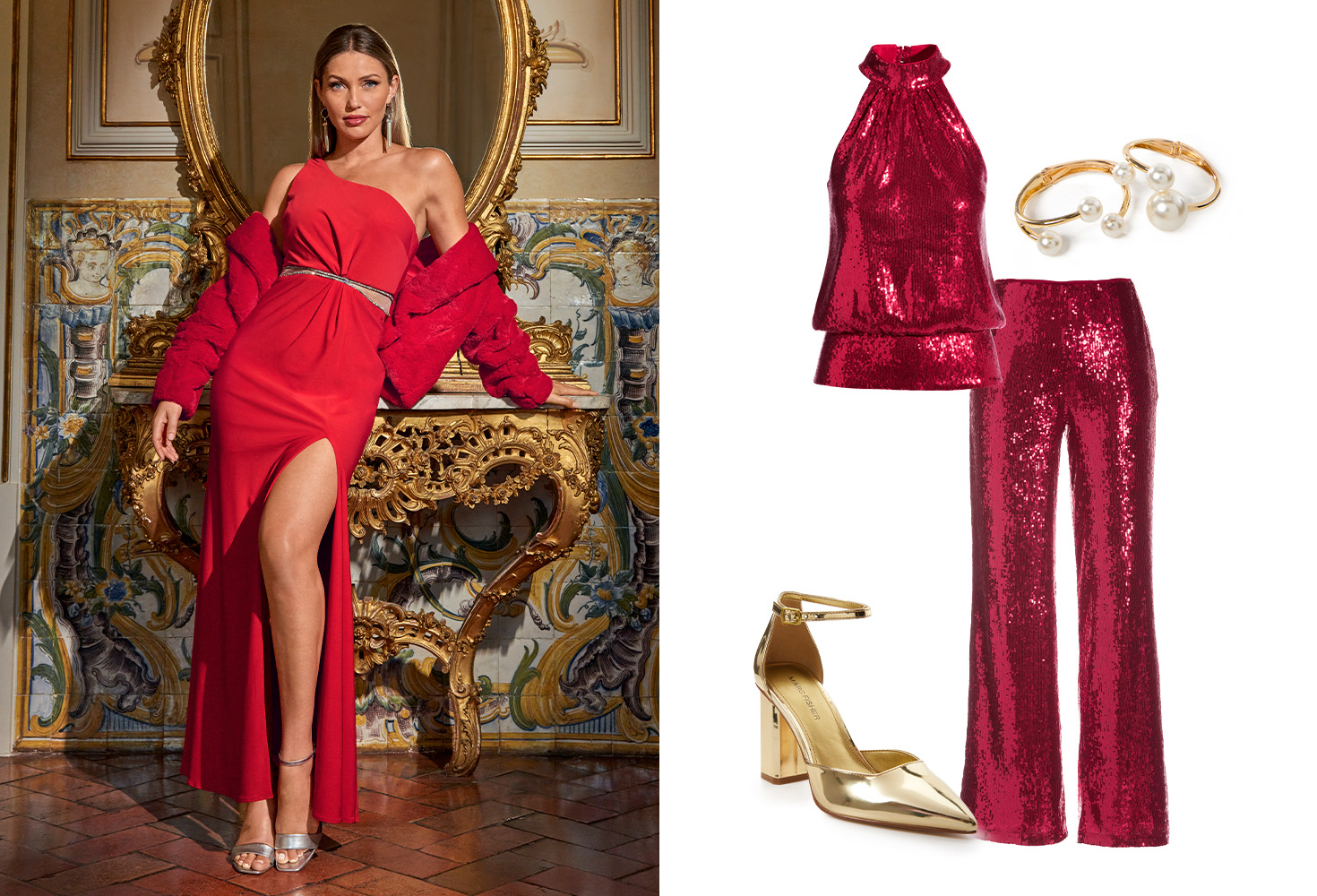 7. Pants Perfection: Charmeuse Blouse, Wide-Leg Trouser Pants, and A Pearl-Embellished Duster
When it's work by day and work party by night, you can rely on just one piece to transform your look into office holiday party attire. We love our Marilyn Cowl-Neck Charmeuse Blouse and Ponte Wide-leg Trouser Pants as a versatile outfit base. Swap your blazer for an artful array of pearls via our metallic pearl-embellished duster, and you're celebration-ready.
Finish the look with gold heels and elegant chain and pearl drop earrings.
8. Glamorous Metallics: Tailored Coat Meets Sequin Lace Sheath Dress
Oftentimes, outwear is a challenge when dressing for special occasions. Not the case here - our Classic Tailored Coat is the ideal layer over cocktail-length dresses.
But first, we start with a high-neck gilded Sequin Lace Sheath Dress and an embellished velvet clutch to lend sophistication and polish to the evening.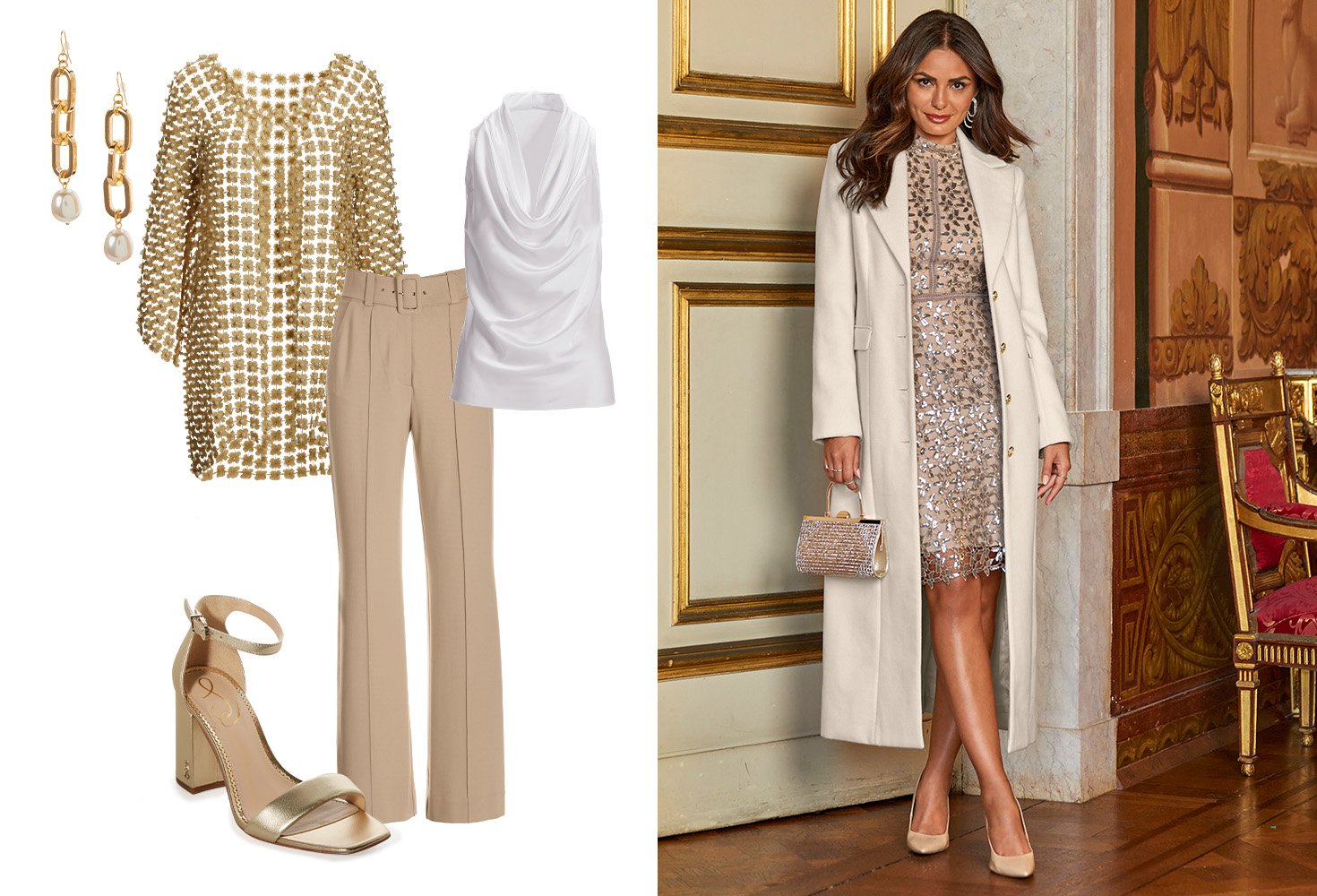 With these eight outfit ideas, Boston Proper ensures you're ready to grace any holiday celebration with chic style. The holiday season is made for experimenting with luxurious fabrics, dazzling embellishments, and captivating colors. As you revel in the festivities, remember that the essence of holiday elegance lies in your own individual sense of style. So put on your holiday best attire, and show us how you wear it like no one else!