Fashion Tips & How Tos
3 Must-Have, Wear-Now Winter to Spring Outfits
December 21, 2022
It's here: that transitional time of the year when we're ready for spring colors and lighter layers, but winter hasn't left us entirely. The transition from winter to spring is always exciting; not only for the warmer days coming but also for the opportunity to update wardrobes now in styles that take us into the spring season.
That's why we've rounded up three must-have looks you can show off right now and wear until the end of spring.
1. Blazer & Jacket Layering
Investing in versatile blazers and jackets you can wear indoors when you need an added layer for warmth, then later as a warm-weather outer layer is a great idea for right now. The best bet is looking for styles that crossover from season to season—meaning colors and textures working together for seamless outfitting on a cold day in January and also for a warm spring day in April.
How to do it? Lighter tones and prints transcend seasons; the choice of fabric and weight is key to transitional looks. In addition, the layer underneath, plus shoes and accessories, make all the difference. Many times you can pair up the same jacket and jeans with a ribbed turtleneck sweater, boots, and scarf. Then they become lighter and spring-ready with a sleeveless tank and sandals.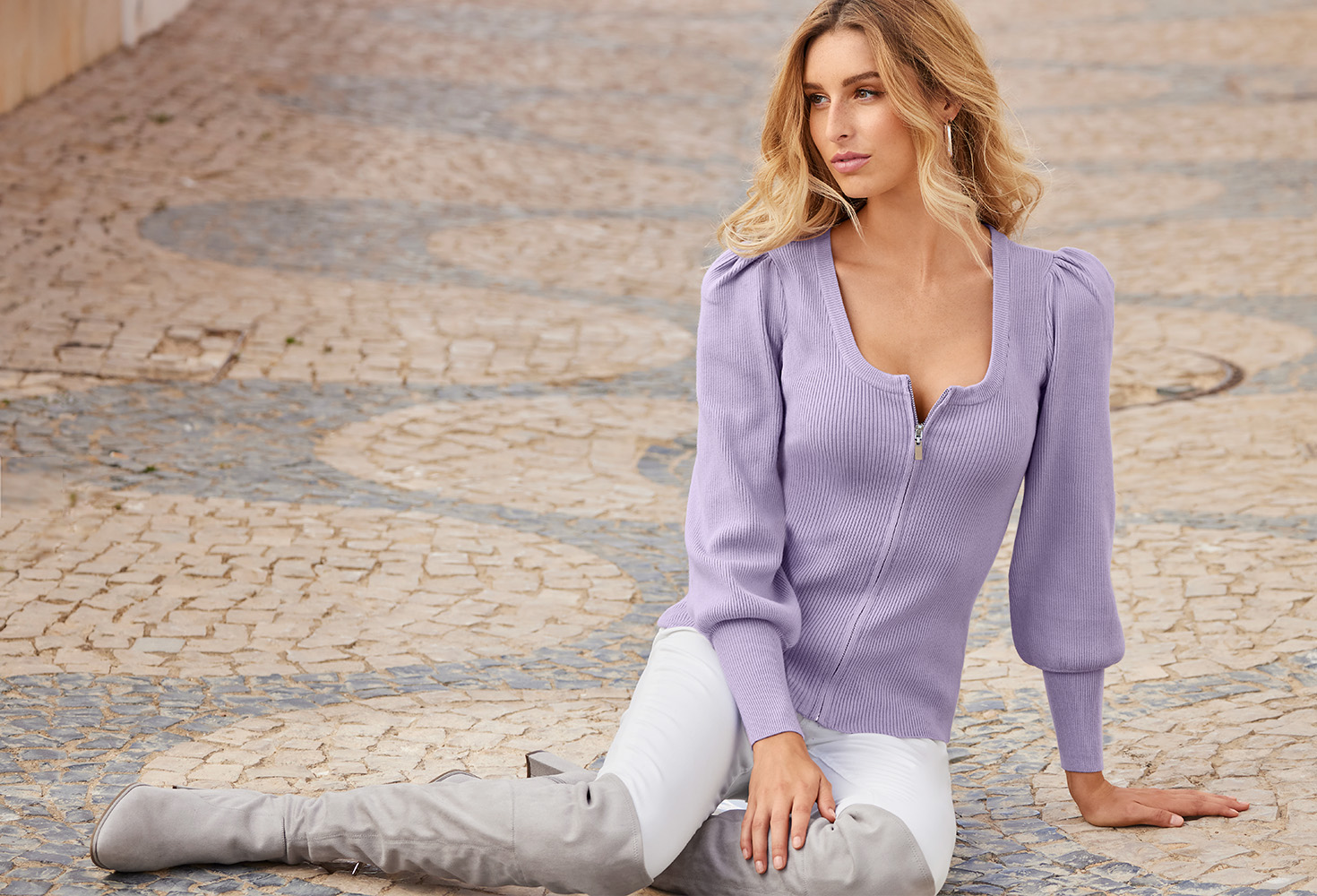 2. Sweaters In Any Weather
Have you noticed how sweaters have become a year-round must-have essential? Gauges and hues may change with the seasons, however, there's no denying the sweater is a staple in dressing for winter's frigid air as it is during summer when in excessively air-conditioned environments.
Just with blazers and jackets, a variety of colors and weights offer the most versatility, especially with styles that can be layered depending on the season. There are infinite options when you pair an oversized sweater or zipper cardigan with a long-sleeve knit top for a cozy look and feel, and then with a short-sleeve tee or cami when you'd like to be able to take it on and off as temps warm up. Go with pastel, bright, and neutral sweaters in a medium weight to find out just how often you can wear sweaters in any weather.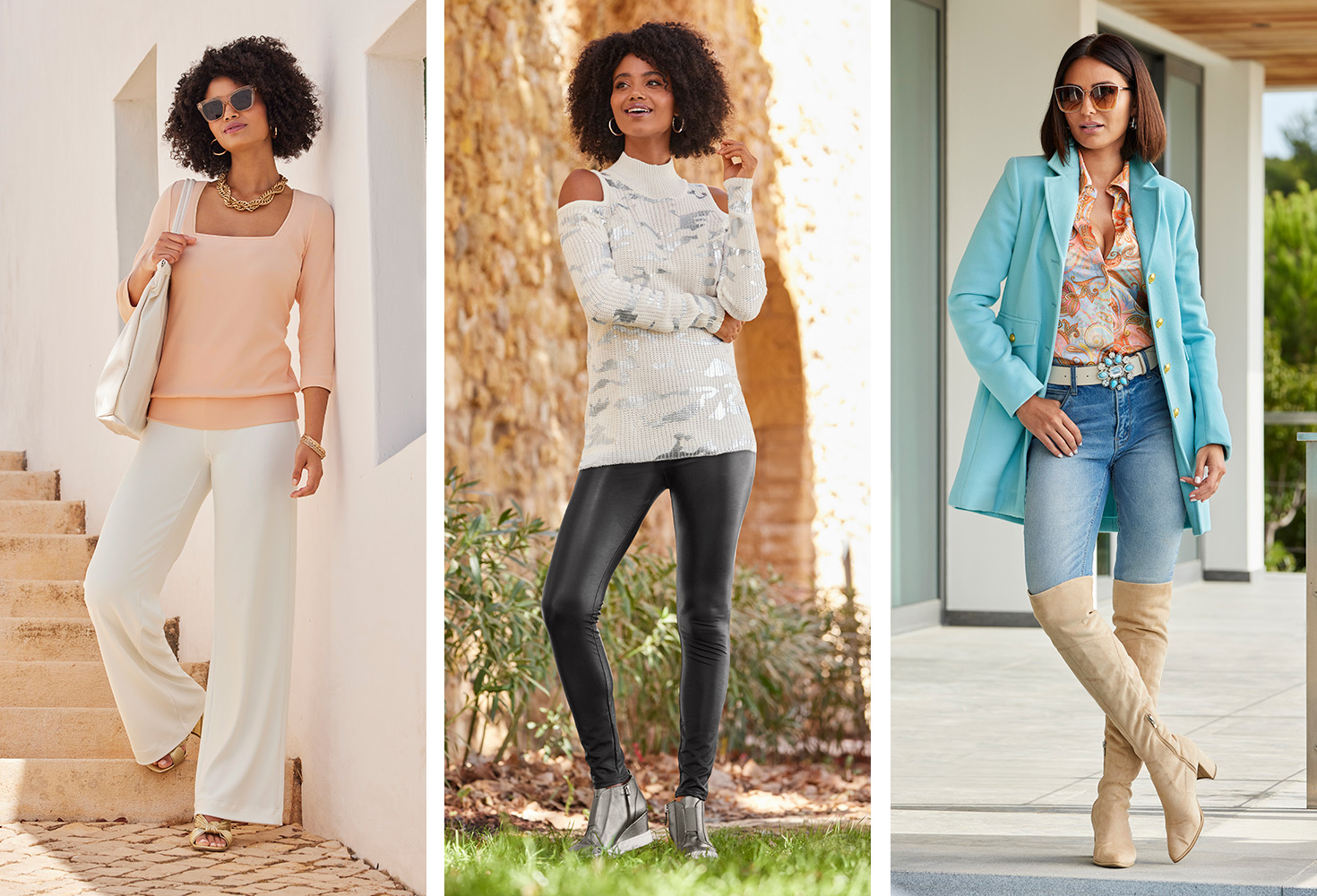 3. Reimagine Your Winter-to-Spring Bottoms
It's always an overwhelming temptation to reach for jeans and leggings in the colder months because they offer coverage and ease. However, those same silhouettes can be transitioned to spring if you choose a few key styles that ensure wearability into spring. Look for boot-friendly cuts and lengths and then work a few of these tips into the mix.
Tip 1 – A slim-leg jean tucks neatly into calf and knee-length boots creating a nice, long line. Take that same benefit into spring by swapping out the boots and booties for a sandal or sneakers.
Tip 2- Leggings are the most comfortable bottom you can pull on and go, so wear them as part of the winter uniform, again with boots, and then lighten the look with a sneaker or a heel as you transition into spring. The one thing to enforce here is to pair them with a top or jacket that passes the hipline and covers the bottom, like a long tunic-length sweater or blazer, for a flattering, polished outfit.
Tip 3 – Forget the 'no-white between Labor Day and Memorial Day' rule...it no longer applies. Wear white, creams, and light washes now. Just ground and balance the look for whatever season you're in.
Style Tips to Transition Your Winter to Spring Wardrobe
We love the idea of carrying our favorite winter styles to spring by combining them with casual picks. Here are some of our best styling tips when curating winter-to-spring outfits:
Layer up
Opt for versatile layers like sweaters, cardigans, and jackets that aren't too heavy. Pairing a light knit with a flowy midi skirt or jeans is a great combination.
Bring spring colors
Swap your winter colors for lighter ones. There's no need to overhaul your entire color palette. But, start embracing lighter colors by introducing white jeans, denim, and bright pastel colors into your wardrobe.
Mix and match
You don't have to keep everything spring-oriented. Mix and match the seasons to keep your outfits looking fresh. A head-to-toe spring outfit can have a touch of winter by adding a leather jacket or a trench coat. Likewise, a winter-inspired look can jump forward to springtime with white denim, lighter layers, and softer colors.
Accessorize accordingly
A subtle way to bring springtime nods to your outfit is through accessories, be it a chic belt, sophisticated tote, or a new necklace.
Transitioning from winter to spring can be an exciting wardrobe opportunity. Shop the latest arrivals here to spring ahead.