style tips
How To Wear The Double-Breasted Blazer
Dress your blazer up or down—it's this winter's fashion essential
October 9, 2020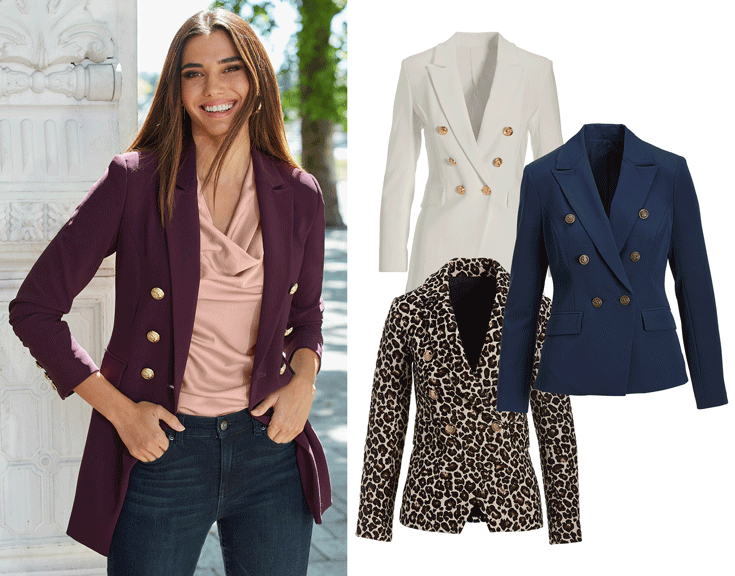 Click "+" to get the look
The iconic double-breasted silhouette meets the versatility, comfort, and wrinkle-resistant ease of our best-selling knit collection. If you've ever struggled with ways to wear a blazer for different occasions, this wardrobe essential is easier than ever to wear at any age for work, a night out, and everything in between. It's all about how you style it.
How To Style The Blazer For Work
Blazers have the benefit of making any outfit office-ready—even if your office is at home. When you have a last-minute virtual meeting or client lunch, this chic blazer adds effortless polish to a casual ensemble so you can command attention. It's tailored structure and attention to detail show you mean business. We love it with any of our Beyond Travel pants in a matching hue for a full-suit effect that's comfortable, easy, and stays wrinkle-free.
How To Style The Blazer For A Night Out
Whether you're meeting a friend for dinner, going on a date, or grabbing late-night drinks, the double-breasted blazer is the polished layer that steps up even jeans and a tee. For sexier looks, it adds sophistication without feeling stuffy. We love it in animal print with a lace bodysuit, skinny jeans, and sky-high heels or knee-high boots. We also love it with a dressy blouse or cut-out top and our must-have faux leather leggings.
How To Wear The Blazer In Bold Colors
Our double-breasted blazer comes in classic neutral colors as well as animal print, plaid, and more must-have colors. When wearing this blazer in a statement print or color, we love an all-black or neutral look that's ultra-flattering and makes the blazer pop. We also love pairing this blazer with the complementing solid colors of our best-selling Beyond Travel styles—afterall, they're meant to look amazing with anything in your closet.