what's trending
Go For Bold With
Animal Print
Fashion
How to style animal print
August 27, 2020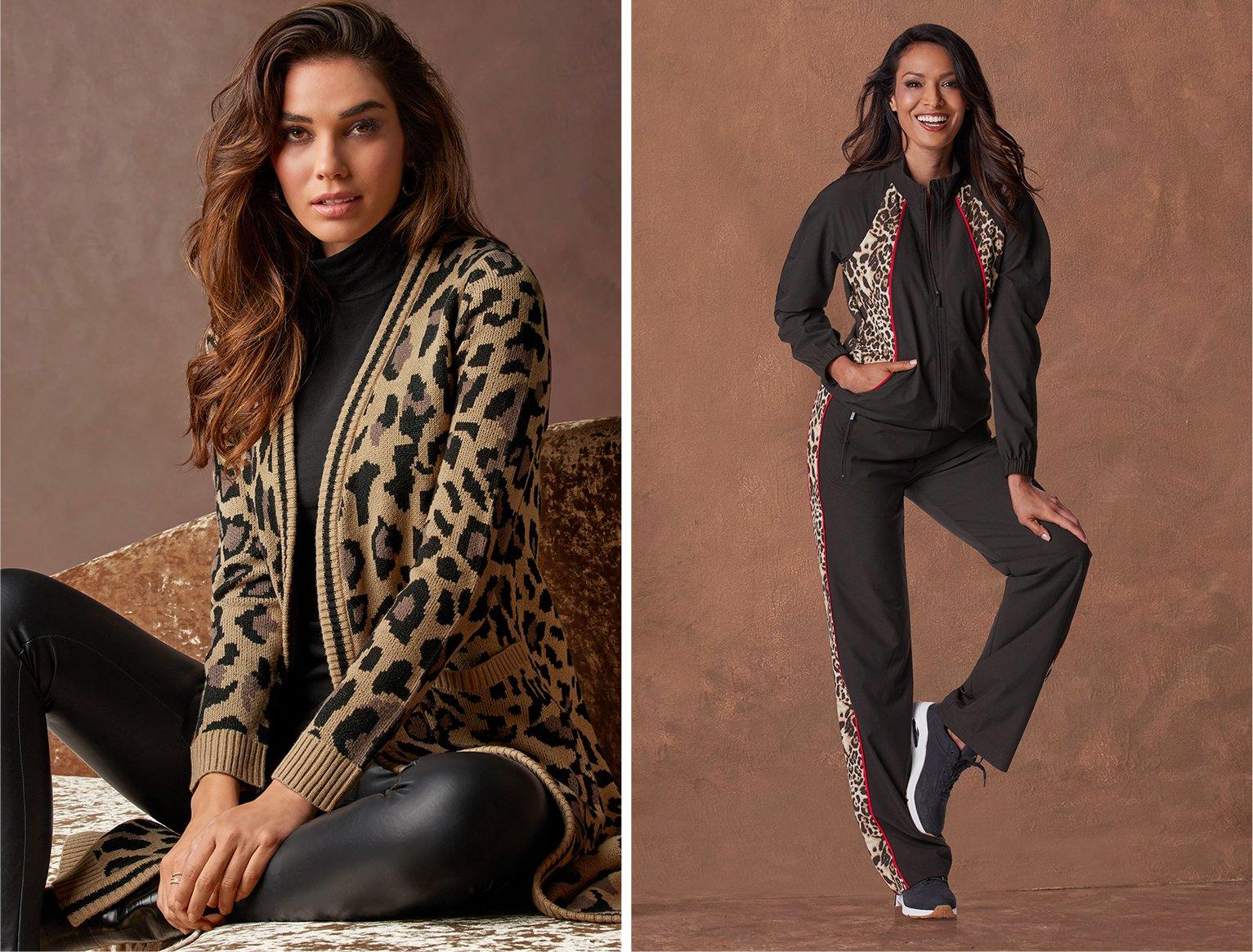 Click "+" to get the look
Beloved by women for years, animal print fashion trends have evolved over time, but one thing never changes: animal print itself is always in style. From snakeskin and leopard print to the latest trend—zebra—it's a way to add instant intrigue. Timeless yet modern, it suits any style, any age, and can be made all your own—it's all about how you wear it.
How to Wear Animal Print at the Office
A pop of animal print can elevate any look. It conveys a kind of confidence few prints can, and is equally iconic and unexpected. While you can always stick to animal print accessories, there are many more ways to make animal print work for any occasion (even the office).
Mix & Match With Solid Hues: We love a neutral palette that includes a statement piece in animal print. Our Beyond Travel styles in versatile solid colors aren't just perfect for work—they pair perfectly with a printed top, bottom, or jacket. Top off a sleek black dress with a leopard print cardigan or tailored animal print blazer. The same formula works when the animal print is swapped: Pair your animal print dress with a solid-colored sweater or jacket.
Go For Plush Textures: Fall is the perfect time to fall in love with sweaters and knits that feel amazing and look luxe. Our current obsession? The new leopard print duster that goes with everything from trousers to skirts to dresses.
Find Balance: Go for something classic to complement the boldness of the print. This makes your look sophisticated yet not overdone or trend-heavy. For example, a polished shirtdress is always a Do.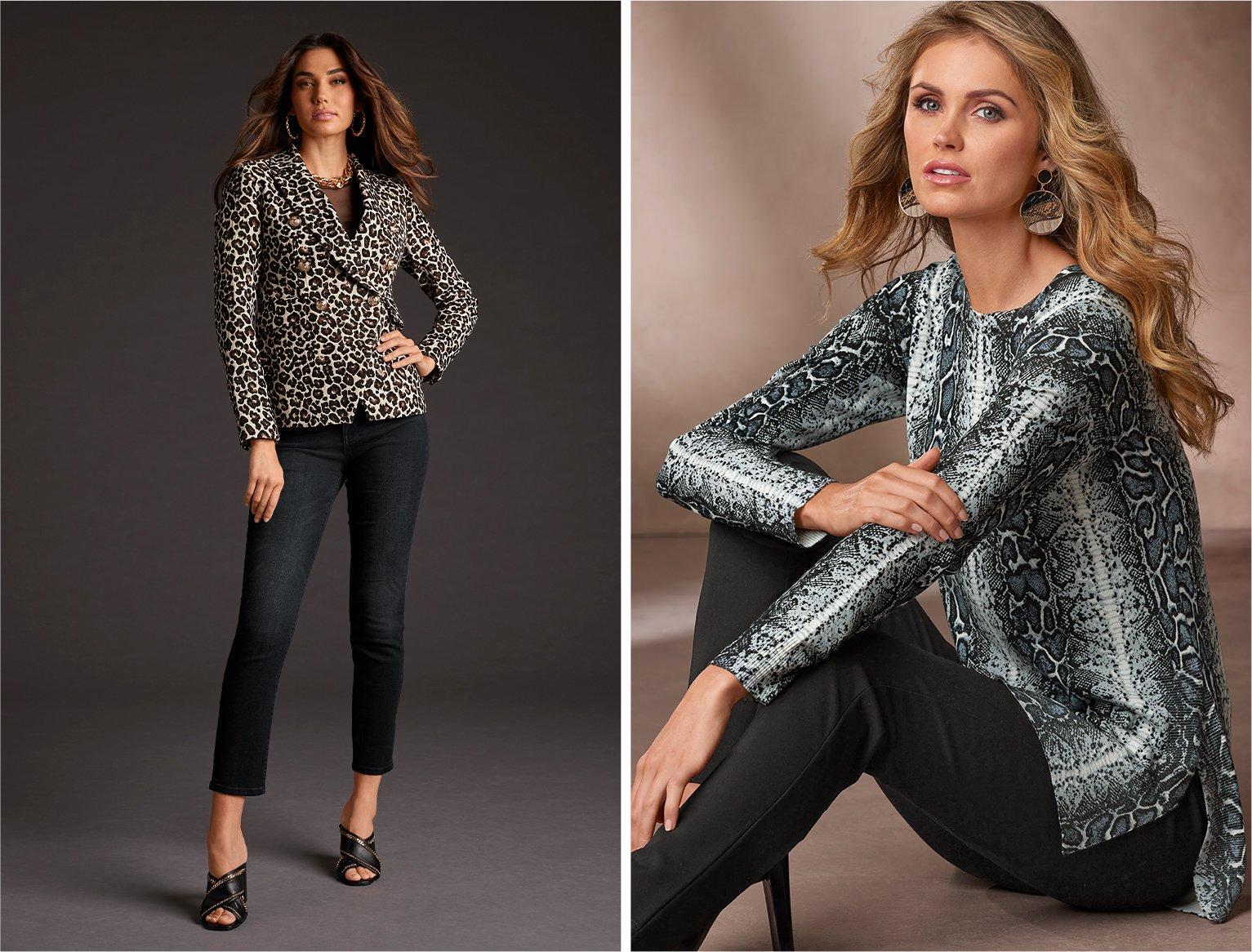 Click "+" to get the look
More Ways to Style Animal Print
A relaxing day? Fun night out? While the above animal print tips for the office also work for other situations, there are so many more ways to make your look more fun (but just as chic) for a weekend agenda.
Use It As Your Neutral: Leopard print works well for this, as its camel color already has wear-with-everything versatility. The same goes for black-and-white zebra or snakeskin prints. Once you view animal print this way, you'll be amazed how well it goes with almost anything—from bright colors to easy denim, floral prints and more. Our favorite pieces for layering? Our sleek and simple mock-neck or turtleneck tees and tanks.
Mix Prints: Deftly mixing prints shows a keen eye for style. Animal prints pair well with each other or other classic prints such as stripes for a modern look that's undeniably chic. Just keep in mind: it's usually best to keep the paired print simple, and large prints typically go well with small prints.
Animal Print for Any Season or Occasion
Are you drawn to the allure of animal print, but aren't quite sure if a top or dress feels right for you? Keep things simple—a hint of print can be just as fun, or one chic style you use to top off your outfits.
Animal Print Jackets:. From tailored blazers to updates on timeless denim jackets, we consider an animal print coat or jacket to be a wardrobe essential. No matter what you're wearing underneath, it adds a bit of personality and makes even a laid-back look feel stylish.
Animal Print Swimsuits & Cover-Ups: Add a chic sandal, shades and a hat, and you're ready to relax by the water. They're essential for vacations and staycations alike.
Animal Print Shoes: Our must-haves include animal print pumps or boots, an ideal choice for looks that go from the office to cocktail hour without skipping a beat. Another thing we love? Animal print sneakers that step up any on-the-go outfit.