What's Trending
Elevated Ease
Styles for an easy, breezy start to summer
April 15, 2021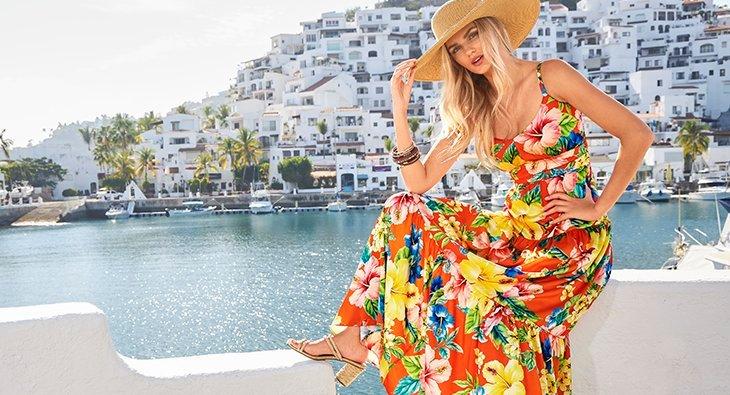 Click "+" to get the look
A daydream escape. That's the feeling we get as we look to this new collection. Whether summer provides you adventures near or far, Boston Proper fashion has taken its cue from Bella Italia, and the focus is elevated ease. Looks that work for you in whatever life may bring—cozy, yet polished at home, or effortlessly chic out, about, and beyond. Laid-back luxe is what's in.
In these times, we've come to realize the importance of seasonless style and fashion versatility. So we've carefully curated pieces that can be layered, stripped-down or luxed-up, plus ensured the collection included style-minded staples that go the distance—for example, a long, flowing beach cover up over swimwear that can be worn as a light, cool, topper with denim. As we delve deeper into summer, these are the style stories that are emerging: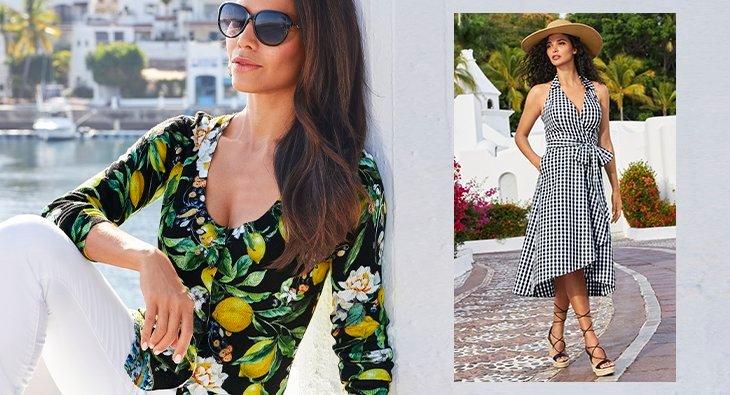 Click "+" to get the look
Summer Passions
We look to the Spring/Summer runways of Milan for this style story. Fashion gingham is looking fresh and feels so now for picnicking in Tuscany or your very own backyard. Checks decked out this season's must-have accessories as well, giving the perfect pop of interest when paired back to flattering basics.
A juicy crop of luscious lemon prints made their way onto dresses, tops, and the like, transporting us (and now, you) to the isle of Capri. These chic citrus-infused designs are so joyful and fun!
Another one of our favorite Italian influences inspired the vintage vibe of the in-house designed, kaleidoscopic prints you'll see popping up throughout the line. You'll love living in these vibrant, effortless styles. Also, do be on the lookout for casually cool new twists on camo and a fashion focus on stars & stripes designed with festive summer outings in mind.
Luxurious, tactile texture was truly the fashion darling of Spring/Summer runways, refreshing simple silhouettes and inspiring romantic new ones. Think three-dimensional stitching and embroidery, hand-pieced appliqué blooms, openwork crochets, ultra-feminine lace, sensuously sheer Swiss dots, and stylish new spins on broderie Anglaise aka eyelet. We ran with these timeless yet fresh textures in-house and curated an assemblage of effortlessly wearable wardrobe must-haves you'll want to layer into your look right now. Literally whatever this season brings, wherever it takes us, incorporating these pieces will undoubtedly give your wardrobe a lift for utterly chic style.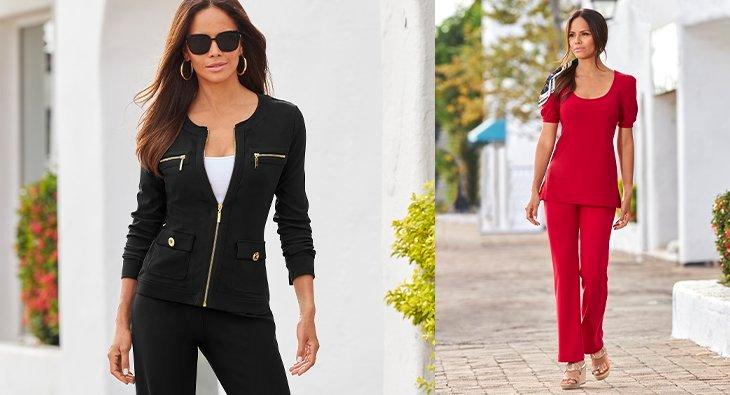 Click "+" to get the look
Summer Simplicity
Because mixing & matching is "in," the monochrome matching set is everywhere right now, but we're going to let you in on a little fashion secret: this look is timeless and one of the reasons we created our Beyond Travel™ Collection. First, we imagined, then created, the perfect proprietary double-knit fabrication to offer comfort, ease of wear, and easy care all in one! And to maximize versatility, the pieces were designed to wear every day and in every way. Whether you're couching it and attending zoom meetings on your laptop, dashing out to run errands, or road-tripping your way to someplace relaxing this summer, this collection has you covered. With built-in stretch (and the feel of a custom fit) that smooths, slims, and moves with you, our delicious, supple mini-ottoman essentials are everything. And with so many fashionable silhouettes to chose from, you will feel good while looking good. Confession: we've literally lived in these comfortable, easy-care styles the entire year.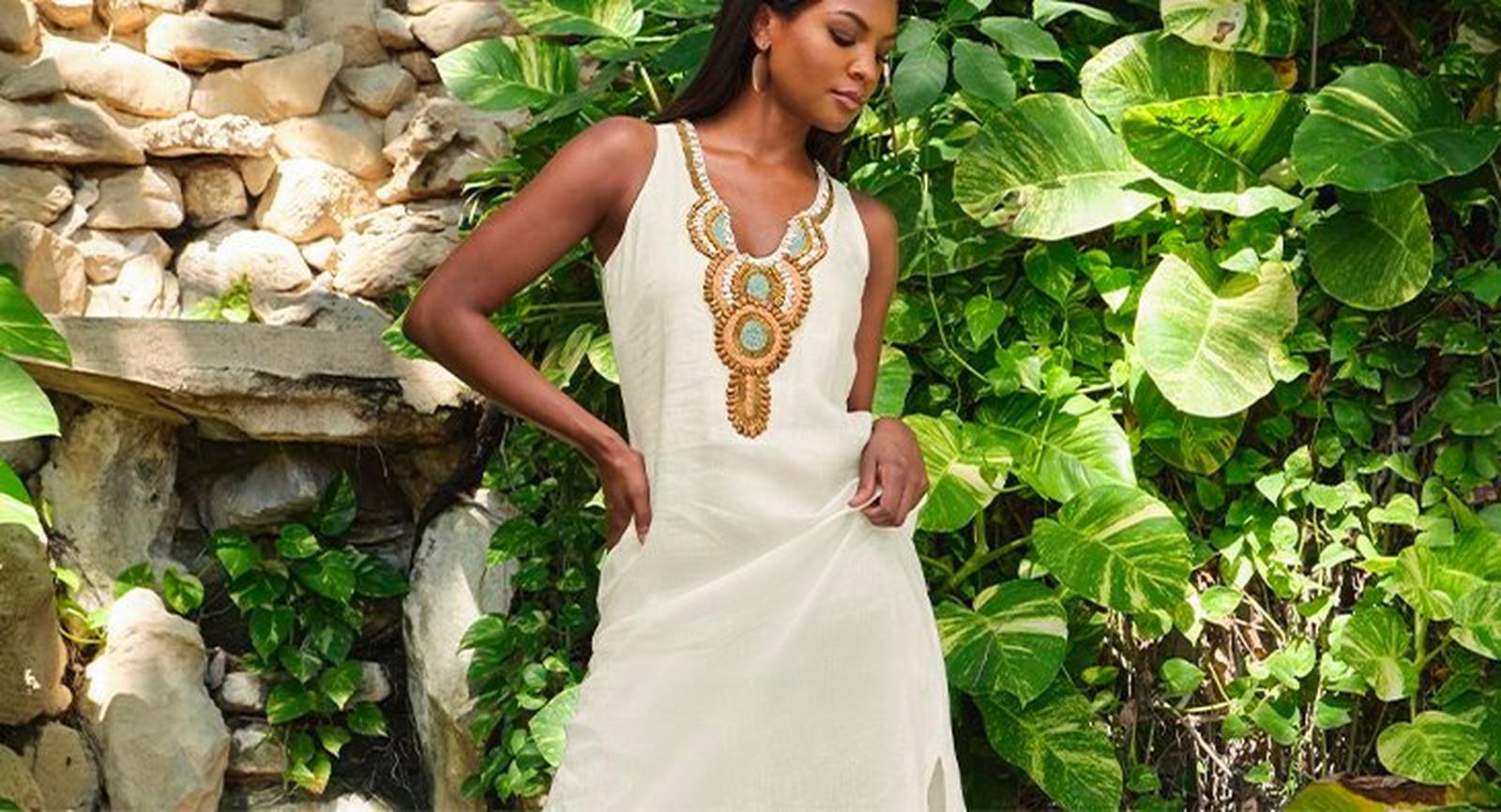 Click "+" to get the look
Touched with Luxe
That's right, luxurious, stand-out pieces can mix right in with go-to style staples, day into night, vacay, or stay-cay. Touches of metallic, sequins, pearls, jewels, and intricate embroidery define this style story. And such luxe statements can truly be seen as the new essential; watch how they elevate your look of the day, every day. We've trimmed a pair of our great-fitting jeans with pearl racer stripes. We've paired a comfy, metallic-kissed summer-weight sweater back to a classic, linen palazzo pant. And we've lavished so many everyday silhouettes with rich, vibrant embroidery, sequins, and jewels.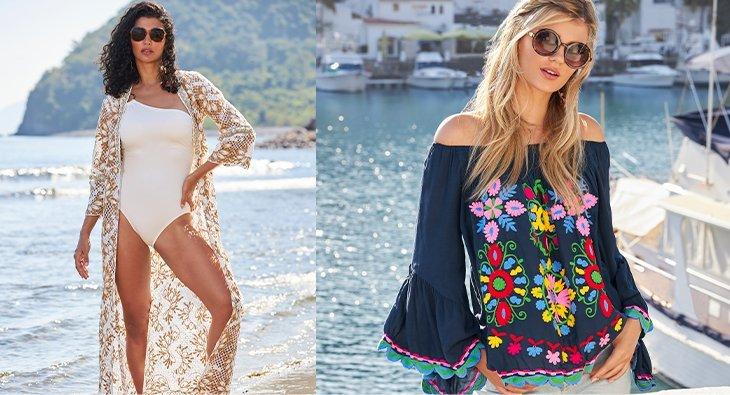 Click "+" to get the look
Weekend Approved
Is it just us, or have weekdays been blending into weekends and back to weekdays for what feels like forever? On that, we have fantastic news as we approach summer; this mindset gets stylishly celebrated.
Comfy, casual summer go-to's will have you effortlessly styled for a trip to the green market or a festive backyard barbeque. The most fabulous and flattering swim collection we've rolled out yet paired back to versatile, statement-making cover ups splashes onto the scene too. Prepare to turn heads in the sun this season.
Meanwhile, activewear does it all for you every day, giving off a chic and carefree vibe we're loving. Whether decked out in our exclusive B-Active pieces for an online yoga class or a run to the coffee shop, you'll feel sporty, sleek, and supported. You'll want to check out our matching set athleisure coordinates, too, just right for running errands fashionably or a brisk evening walk on the beach. Lastly, we're calling our camo racer-stripe crop pant and metallic racer-stripe knit dresses the sporty-chic must-haves of the season. These weekend warriors are so fun and fresh—perfect styles for the girl on the go this season.
As we immerse ourselves in all things fashion, we're feeling it—This truly is a summer of love... with effortless style.