Dress and Sneakers Looks to Wear Now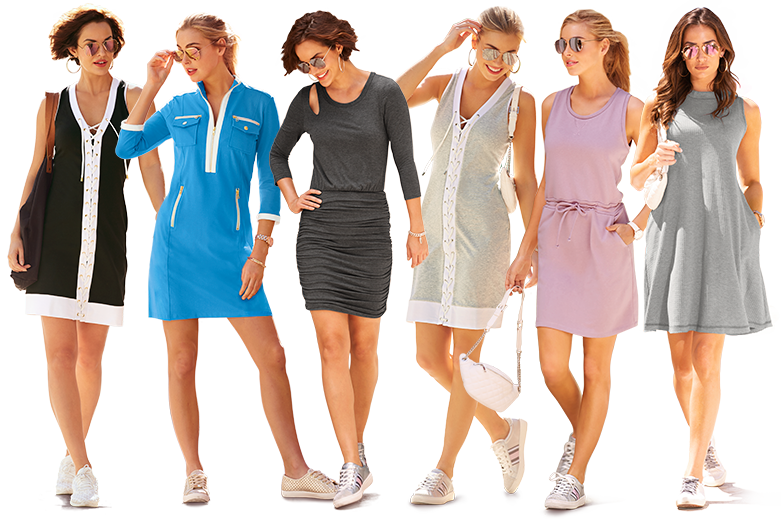 A look once reserved for practical commuters only, wearing sneakers with a dress has gone mainstream and actually makes perfect sense. For some, it may take a bit of getting used to, but wearing a dress-sneaker combination is fun and fashionable, plus the look offers easy, casual comfort. It's a trend we recommend jumping into, feet first, of course…and one we hope never goes away.
The most logical dress to pair with sneakers is a sporty style dress. The design lends itself well to the informal, laid-back look of sneakers. Whether it's a short T-shirt dress or track stripe type maxi, you can wear any stylish sneaker with it, be it quilted, platform canvas or an embellished slip-on.
You can get more daring with some of the latest runway looks we've spotted by putting together a flowing, feminine midi dress with a pair of leather lace-ups. At first you may want to reach for your ballet flats, however, give this edgy alternative a chance.
Sheath and shift dresses worn with eyelet sneakers or trainers are a look we love. It shows you've got savvy style and street smarts by pairing them together. Because this type of sneaker is usually enhanced with color, graphics and/or texture, wear a simpler dress that coordinates well with the details.
However you choose to show your unique style with these two effortless items from your wardrobe, take note of the freedom and confidence you feel. It's quite liberating to break traditional fashion rules occasionally, and your feet will thank you for it too!