Sleeveless
You have the right to bare arms here at Boston Proper (that's right, we said "BARE" arms), and what better way to show off your beautiful upper-body than with these sexy sleeveless tops? You don't have to settle for a traditional tank top or even those cute cap sleeves anymore- although those are both still super hot, so don't, uhm, un-settle for them either necessarily. The point is that sleeveless tops are all the rage right now, especially during the hot summer season. Shop sleeveless tops with unique signatures such as asymmetrical ring-cutout turtlenecks, V-necks that play on contrast, tropical-style halter tops, and much more.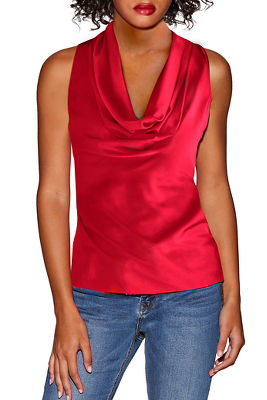 QUICK VIEW
Marilyn cowl neck blouse
$59.50
Save $50 when you spend $150. Use code HOLIDAY50.