Home
|
Clothing
|
Jackets & Blazers
|
Leather
|
Green
|
X Small (2, 4)
Leather Jackets
Boston Proper offers a wide selection of leather jackets for women in a variety of lengths and styles, including faux leather.From double and single-breasted leather blazers to luxurious leather trench coats,
embellished leather jackets
to leather moto jackets, layer your look with fashionable leather jackets. Shop Boston Proper's entire selection for more statement jackets and jackets for all seasons.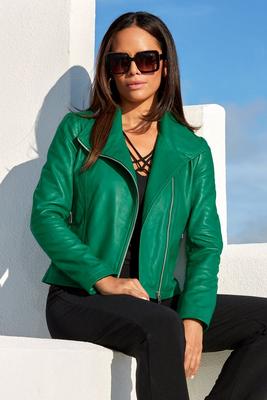 QUICK VIEW
Leather Collared Moto Jacket
$298.50 $279.50
30% off ALL dresses, rompers, and jumpsuits! Use code: DRESSES30.