SWIM LESSONS
---
A sexy swimsuit for every figure does exist—we show you the best bathing suits for your body type.

The sun is shining bright, and good vibes are in full force. Summer is upon us again, at last! And this summer is going to be such a celebratory one; we're reemerging, making plans, seeing friends, attending parties, and booking travel again. Fact is, swim season will be in full swing, too, with pool parties, beach weekends, and long, lazy days by the lake. And feeling confident in your own skin while wearing much less comes into play. We all want to look and feel amazing. Finding the perfect swimsuit that actually accentuates your greatest assets and plays down what you might wish to conceal is everything. Don't forget a cover-up that both makes a statement and provides you with the confidence-boosting coverage you seek.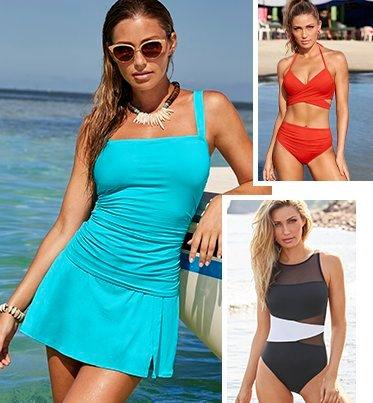 Click "+" to get the look
LESSON 1:
The Instant Tummy Tuck
Why, oh why must we go into a tailspin every single time summer rolls around, cramming in crazy workouts and giving up delicious treats for that elusive flat tummy? Great news! Don't! All thanks to beautifully designed new swim separates that do all that work for you. Let us introduce you to Swim Sense by Carmen Marc Valvo. We collaborated with this highly lauded designer to create gorgeous mix-and-match swimwear that smooths and slims you without forsaking style—offering a strategically ruched meet-and-greet tankini top and two tummy-slimming bottoms. Meanwhile, many of our fashion one-pieces are designed with clever illusion cut-outs, accents, and seaming that smooth and conceal too.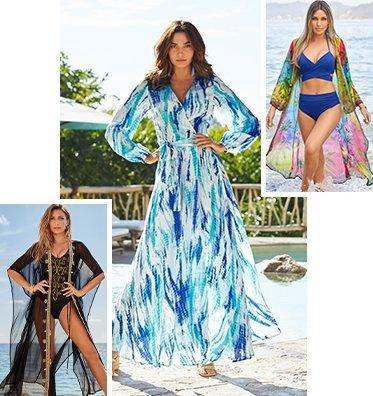 Click "+" to get the look
LESSON 2:
Proper Bum Coverage is Confidence
Itsy-bitsy teeny-weeny sounds "cute" in theory, but we look good when we feel good, so the right bathing suit bottom is everything. The female body is so feminine and beautiful, voluptuous and natural. You have sexy curves and a naturally feminine frame. Your ideal swimsuit will compliment your figure with smoothing, age-appropriate coverage you can step out in confidently. Flirty skirted styles (see turquoise suit above) are a befitting option too.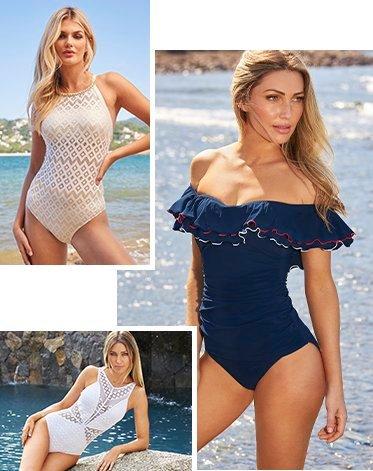 Click "+" to get the look
LESSON 3:
Go for Bust & Show Off a Little Sexy
Whether you have a fuller bust or a smaller one, your ideal swimsuit should offer a flattering fit, comfortable lift, and support that embraces and accentuates your own unique, beautiful shape. Our swimwear offers many suits that celebrate the bustline in such an appropriately sexy way; you can expect built-in support in many of our designs. So take the plunge or cover up. It's totally your call. Either way—our new swim collection is going to leave you feeling amazing.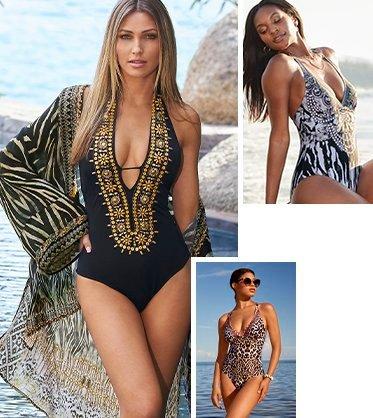 Click "+" to get the look
LESSON 4:
How to Cover Up Stylishly
We have coined the cover up this season's power player—a perfect accompaniment to swimwear, offering chic statement-making coverage for a beach stroll or a lunch al fresco. But so stylishly versatile, our standout dusters look great with shorts and a tee outfitting or paired back to denim. Prepare to fall hard for our embellished designs, the eye-catching prints, and the breathtaking silhouettes.
FACT: A fashionable female can never have too many cover ups.