Looks For All Occasions
Office Party Style
Outfits for every kind of office party (and from the office to the party)
November 11, 2020
It's about that time—office party season, that is. Whether it's a pot-luck feast a la Thanksgiving or a cocktail party in a swanky setting, our winter collection has endless outfit options for whatever the evening (or afternoon) calls for. Step things up or keep things casual—there are looks for it all, and for every woman at any age.
What To Wear To A Party In The Office
For end-of-the-day festivities, know the vibe that's called for. We love anything from a dressy top or luxe sweater to a cocktail dress. But, our favorite styles are the ones that deftly do it all—and you don't have to change into come 5pm. Our statement ruffle blouse (in winter white or must-have plaid) adds drama without being overwhelming, as does our ravishing red top with ruffles and sheer detail. We also love the chic simplicity of a black jumpsuit with an embellished neckline, which you can layer under a blazer for your 9-5 agenda.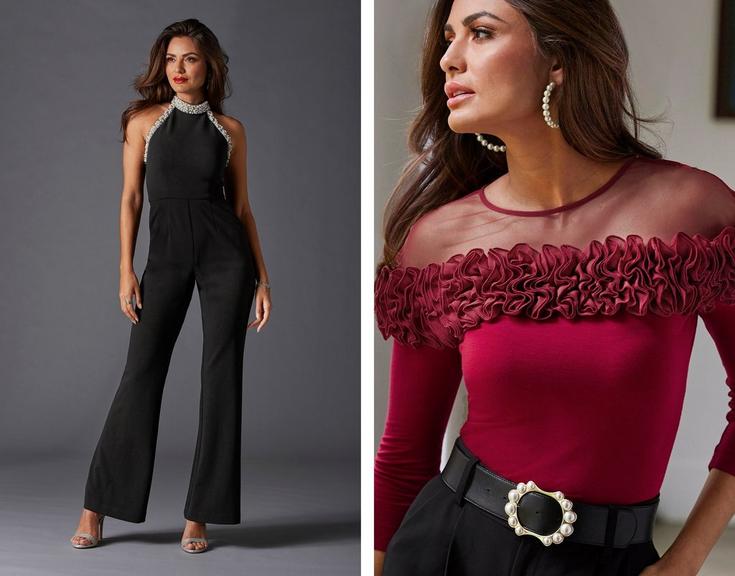 Click "+" to get the look
What To Wear To An Offsite Luncheon
For parties that are occurring mid-workday, there are still stylish ways you can show your holiday spirit from the office to lunch. Our favorite way to dress up any weekday look is a sharp blazer or embellished jacket. Layer it over a polished black dress or a silky blouse—bonus points for festive hues like green, red, or gold.
What To Wear To A Formal Holiday Party
We'll take any excuse to go glam. If you're RSVPing to a venue where everyone will be dressed to the nines (or even an intimate cocktail party where you'll want to make an impression), our winter collection has so many ways for you to stand out and still be professional. We love our dressy jumpsuits that command attention with sleek silhouettes and elegant details, as well as an embellished or sequin dress in festive green or gold. Of course, you can't go wrong with iconic black—and our black cocktail dresses have on-trend details that take them beyond your typical LBD.
What To Wear To A Virtual Office Party
By now, we all know the top is what matters when celebrating via screen time. In addition to our collection of party-ready sweaters in bold colors with pretty embellishments, we love bold chic blouses with a cut-out shoulder, statement print, and other modern touches that prove you're the best-dressed guest (at least from the waist-up).