What's Trending
Signs Of Spring
Must-have fashion trends for spring 2021
February 4, 2021
Get ready to welcome a feel-good time of year, when the air is fresh with life and all-new possibilities. We've curated a new collection of styles with unabashedly feminine details, rich textures and vibrant colors reflecting the optimism of the season. Having spent so much time at home lately, we've come to know what styles make us feel our best and why—and now more than ever, we know the value of getting dressed for ourselves. This spring is all about feeling your best for whatever comes your way, whether it's for staycations, self-care, or making plans for the future.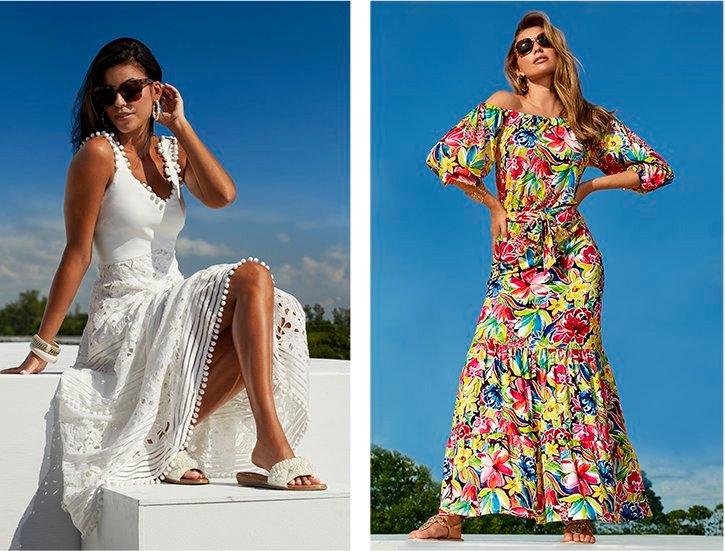 Click "+" to get the look
Spring Romance
The promise of the season brings statement looks in alluring silhouettes with intricate details, vivid prints, and bright hues. When spending time at home, these styles act as a dreamy escape—while still being totally wearable.
Bright Berry: Lean into spring's playful sensibility with a boldly feminine, confidence-boosting hue. This is the kind of feminine color that instantly boots moods (and stands out on Zoom meetings).
Lace & Crochet: These perfectly pretty, intricate details add allure and dimension to dresses, dusters, tops, and more—and they make neutral looks pop.
Fresh Floral Prints: Wherever we are this season, we're looking for the bright spots. That means bold bursts of colorful floral prints to liven up your look (and your day).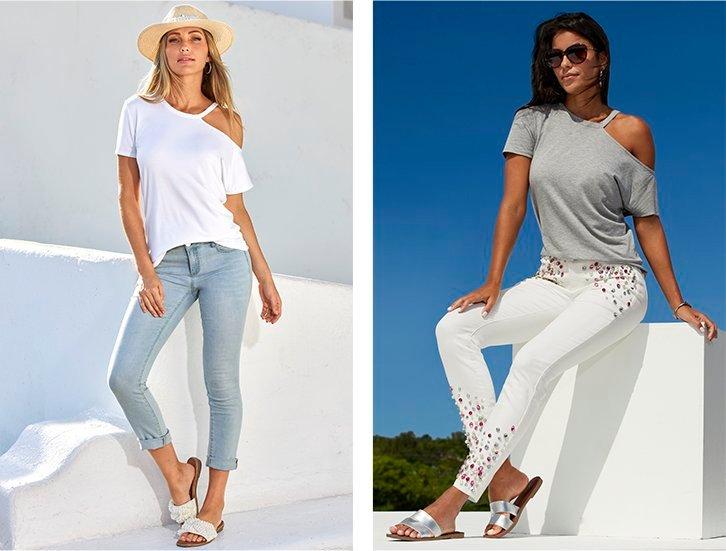 Click "+" to get the look
Denim & Details
Lighter, brighter washes are having a moment, and we love them because they make colors and details pop. Though light-wash denim is typically more casual, these new jeans for spring are an elevated take on everyday ease.
New Proper Stretch Denim: Soft stretch and incredible comfort, in must-have washes and trending styles with a flattering high rise. Add to your wardrobe ASAP.
Embellished Denim: Stunning accents can elevate everyday jeans. For boho vibes, go for a vintage-wash jacket with embroidered flowers, or sparkling stones in pastel hues.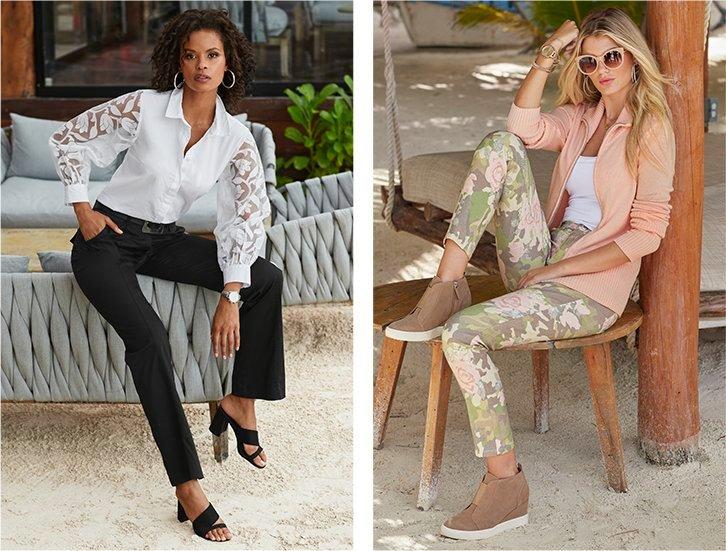 Click "+" to get the look
Mastering Neutrals
We've refreshed classic, casual styles to make them unbelievably chic and more versatile than ever, giving you the foundation for stylish monochromatic looks for spring.
Chinos For Day & Night: They may appear easy and relaxed, but chinos know how to look good 24/7. Wear white chinos with soft colors, the kind of look that says "brunch-ready." For a dressed-up approach, go for black chinos and heels.
The New Cargo Pant: It's more modern than ever. A drawstring hem with duo-length button tabs lets you choose the length. Make them date-night worthy by adding heels to a sleek black-and-white color palette.
Camo Print For Spring: Florals and pastels like blush pink make this neutral print a must-have for right now.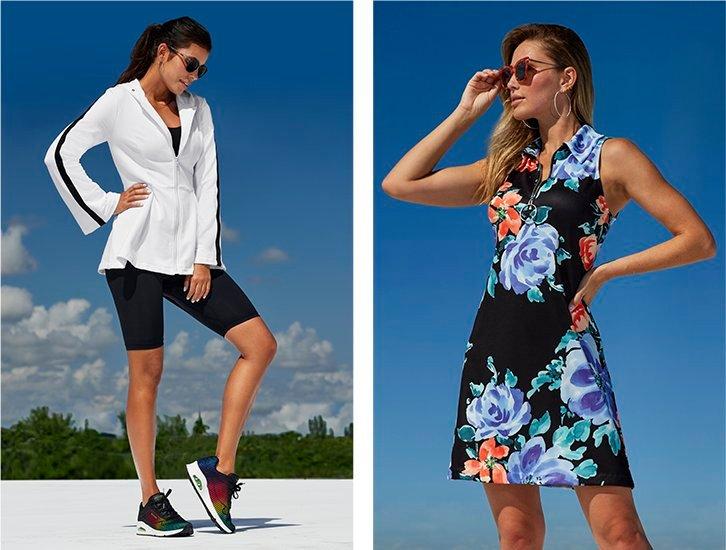 Click "+" to get the look
A New Spin On Sport
Since activewear has become the at-home uniform these days, we felt it was important to step things up a notch for spring. Give your wardrobe the best of both worlds—performance-ready comfort and must-have style—starting with our new B-Active collection.
Introducing B-Active: Elevated activewear designed with fashion, function, and you in mind. A just-right, soft-spun fabric provides smoothing compression and breathable comfort. Meanwhile, the on-trend styles are designed to easily coordinate outfits.
Tropical Floral Prints: Mix the best of sporty and feminine style with new, island-inspired prints on sporty essentials. It will have you dreaming of (and planning) your next getaway.
Sporty Dresses: Colorblock details, sleek stripes, and easy silhouettes in comfy French terry. It's one-and-done style for home, errands, anywhere.