How to Pair Wardrobe Basics With The Latest Styles
These three colorful tops pair perfectly with fashionable bottoms and accessories
You spot a great new pant or shoe you just have to have. And right away you ask yourself…what can I pair it with? Taking three completely different silhouettes into consideration, if the tops below are hanging in your closet, you'll be assured you have what you need to build stylish outfits.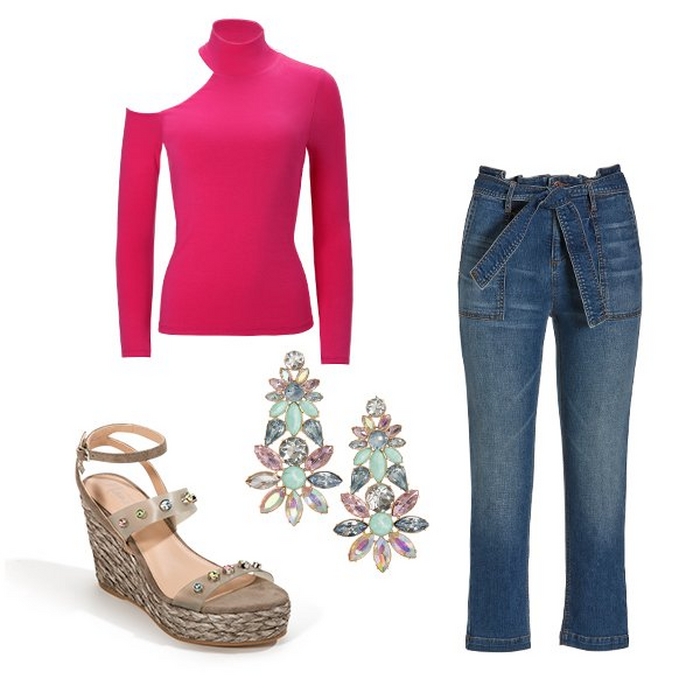 Click "+" to get the look
Look #1
Where to begin with this amazing asymmetrical turtleneck? It has all the checkmarks for sophisticated-sexy style for occasions you wish to be more covered – a high-neck, long sleeve and an alluring cutout. Wear it untucked with a side-zip or back-zip pant, or tuck it in with a new belted crop jean to showcase the waist detail. What's more, the bold pink color works with all bottoms in denim, black and white or neutrals; such as camel and gray. Accessorize with a hint of sparkle, and you're set for a casual day or evening.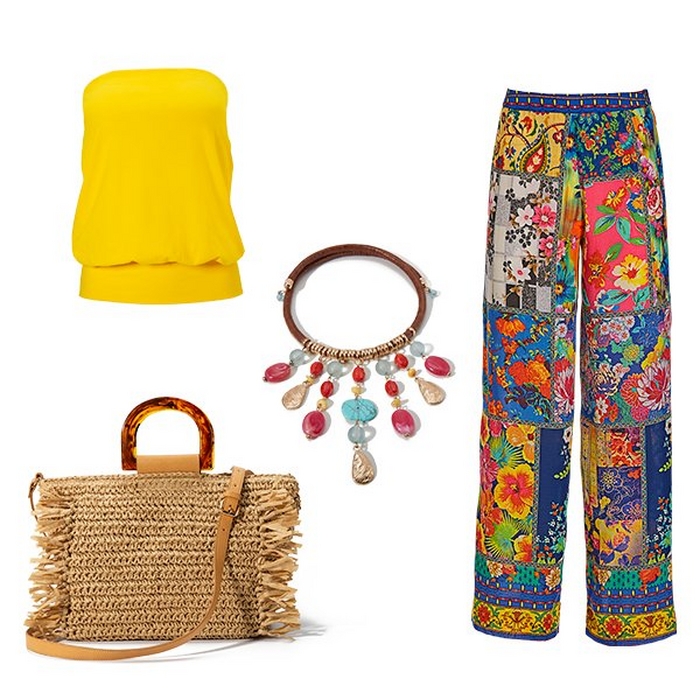 Click "+" to get the look
Look #2
Tube tops have evolved over the years, and thankfully so! This blouson tube top is quite a powerhouse on many levels. For instance, say you just purchased a colorful new patchwork palazzo pant for a weekend getaway, and for later wear into the warmer spring and summer months. What do you pair it with? A bright and sunny yellow top, of course, to balance out the printed bottom and offer shoulder show for a carefree look and feel. Then, accessorize with what you might have, or something new. Another reason this top is a must-have is the blouson style which layers over a pull-on waistband while providing an easy, forgiving fit. And there's no reason to retire this top at the end of the summer season. Just layer a jacket, cardigan or duster over it and it becomes a seasonless essential that adds a pop of color to any outfit or suit.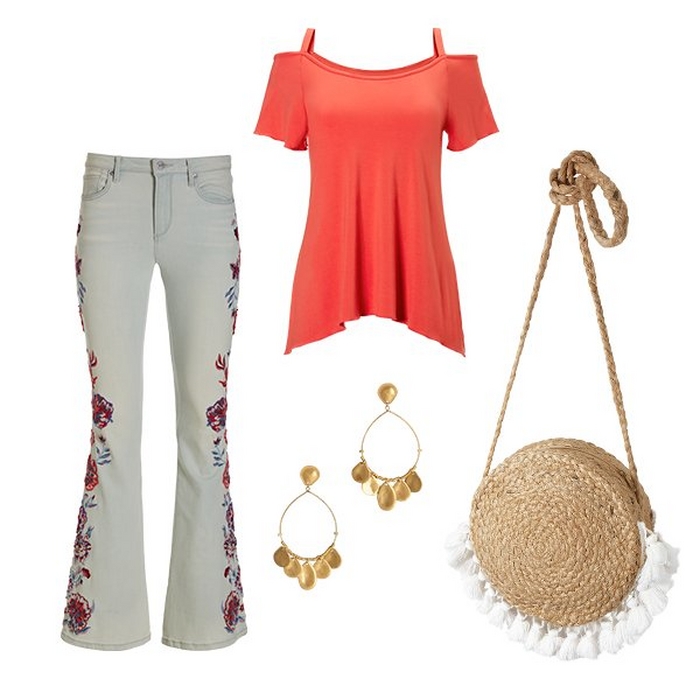 Click "+" to get the look
Look #3
You would never pass up purchasing a unique embroidered flare jean or new denim look with the latest embellishment and detail. For these, the flutter sleeve tee is just the kind of silhouette that ties the outfit together with a flattering drape-look and flowy short sleeve; which also happens to provide upper-arm coverage. This shade of coral complements all skin tones and pairs back well to just about any casual bottom, be it a short or a pant. We like the idea of coordinating accessories to whatever the style of the outfit is, like a dangling hoop and fringed bag for a boho look.
The exclusive Beyond Basics Collection features everyday essentials in all-new colors and styles which are designed specifically for ease and effortlessness in silhouettes to fit and flatter.