What's Trending
How To Choose A Flattering Swimsuit
Look for these styles to help diminish, accentuate and shape your body
April 24, 2020
Relaxing by the pool in warmer weather is something we can look forward to after being cooped up indoors; and with the arrival of summer soon to be at our door, it's likely a new swimsuit is on your list of styles needed to update your wardrobe. But where to begin? There are so many designs, colors and silhouettes to choose from. Perhaps the styles you used to wear no longer appeal to you or you're now looking for a different type of fit – be it a one-piece suit or a mix and match tankini. As our bodies may shift and change so does our swimsuit style. We've highlighted some common areas of concern with solution-based styles that not only help, they're also stylish, stunning and figure-flattering.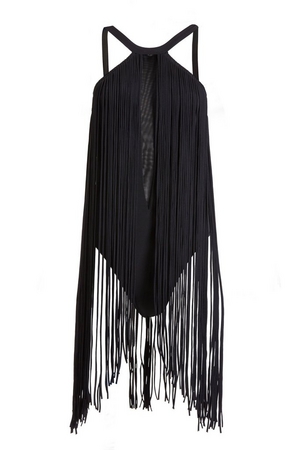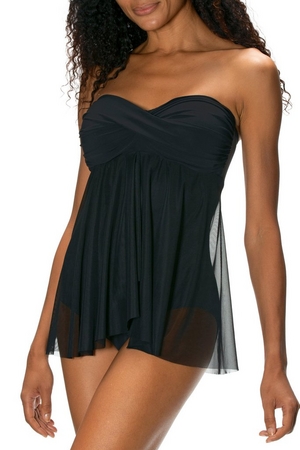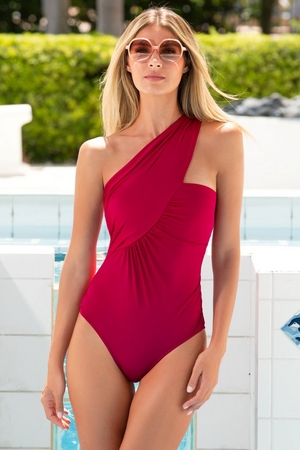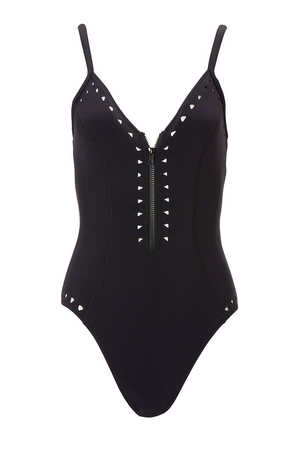 Click image to get the look
Too Much Tummy
Today's compression fabrics and structured designs have given us hope when it comes to shaping the tummy area. With all-over control and built in panels to smooth, these slimming suits help diminish the belly and offer a feeling of confidence and assurance. In addition to fabrications, styling details and embellishments help mask this trouble spot further. Ruching and shirring detract while fringe and overlays camouflage the area.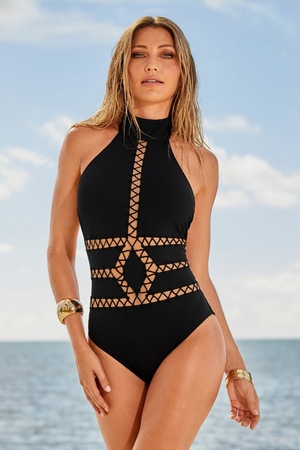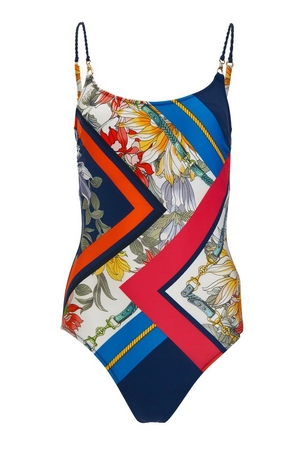 Click image to get the look
Waist Whittler
Creating an alluring, hourglass shape and narrower waist is possible with the right swimsuit. Cutouts, belts and mid-section details are guaranteed to give the appearance of a smaller waist on any figure. Color blocked designs and patterns create shape-enhancing lines and while insets help to draw the eye towards the detail and away from the waist overall. Wrapped silhouettes like a surplice neckline or crisscrossing bodice can add more curve, therefore adding the effect of a slimmer midriff as well. Also, playing with volume at the top or bottom can add the illusion of a smaller waist that creates a cut-in appearance at the mid-section. Think ruffles and shirring.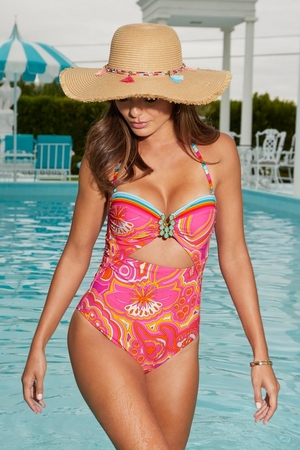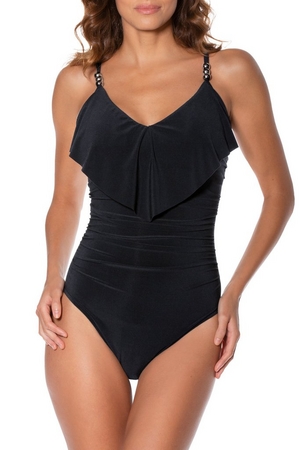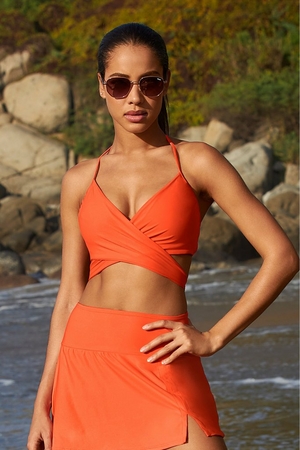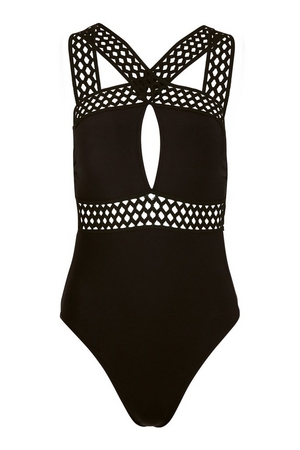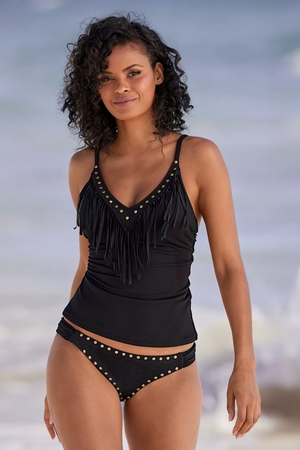 Click image to get the look
Bust Shaping
Padding, support and embellishments all help to create a shapely bustline. Styles that offer cup-specific sizing, underwire boning, adjustable and wider straps can all help to provide extra lift. You may find some suits are constructed with built in padding, comparable to a bra, which help enhance bust size, especially when combined with push up support. Otherwise many suits are designed with removable padding to customize the fit and appearance on top. A good choice to enhance a small bustline is an embellished look that adds volume, like ruffles or fringed details, to not only create interest and extra style, but also flatter and shape.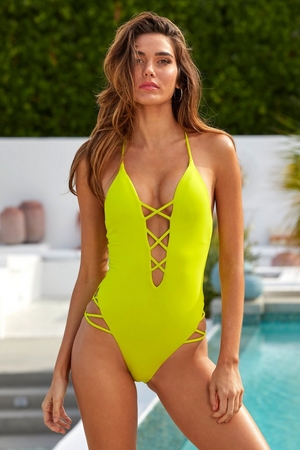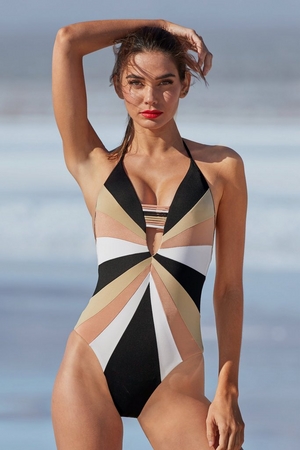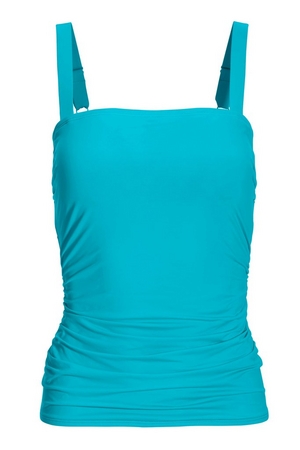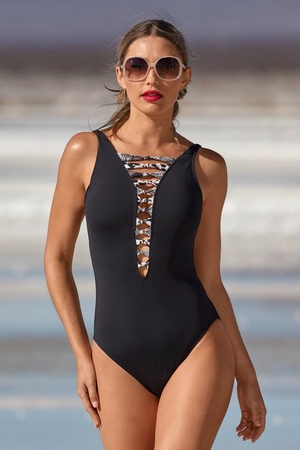 Click image to get the look
Perfect Proportions
You don't always have to have perfect proportions to give the appearance of a well-balanced beach body. Certain styles will help create the look for you. Knowing what you need to balance out makes finding a flattering swim style quite easy. For a taller appearance, swimsuits with a high cut at the hip and/or a plunging neckline help to draw the eye upward bringing the illusion of an overall leaner appearance. Also square necklines help create the look of a broader shoulder on frames with a smaller shoulder-to-hip ratio.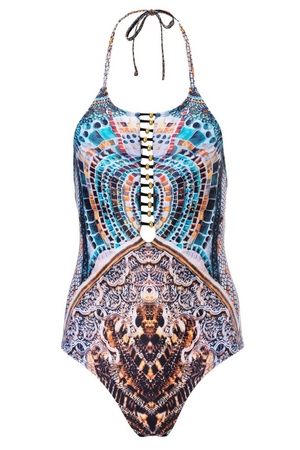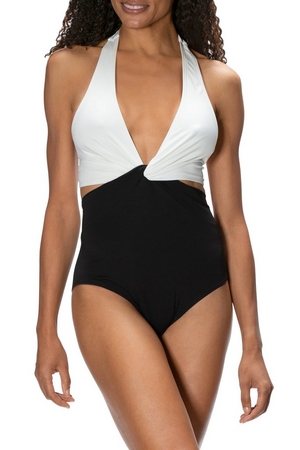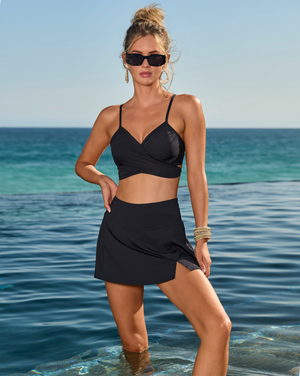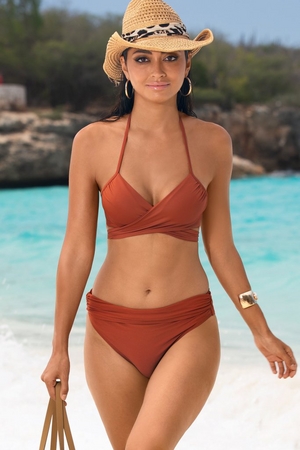 Click image to get the look
The Bottom Half
Color block suits in a solid, dark color on the bottom and lighter shade on top are stylish, but more importantly, help to pull attention away from a fuller hip. Same goes for upward diagonals, whether created by a print or pattern or within the swim design itself. If you're looking for overall coverage, swim dresses and skirts are a perfect option to diminish the hip and buttocks for a carefree look.
There are plenty of swimwear options to accentuate what you love and help conceal what you don't. From shapewear-inspired designs to unique overlays, sexy cutouts and eye-catching embellishments, you'll find your perfect match with styles in the latest swim collection at bostonproper.com.