Style Tips
HOW TO CHOOSE A FLATTERING SHORT
Finding the right style and fit for you
June 3, 2020
With short season right around the corner, you may be considering freshening up your wardrobe with some new short styles. Knowing the type of fabric, the length you prefer and the occasion you're going to wear them, short shopping is quite simple. Here's the breakdown from Boston Proper to help you choose the shorts that are right for you.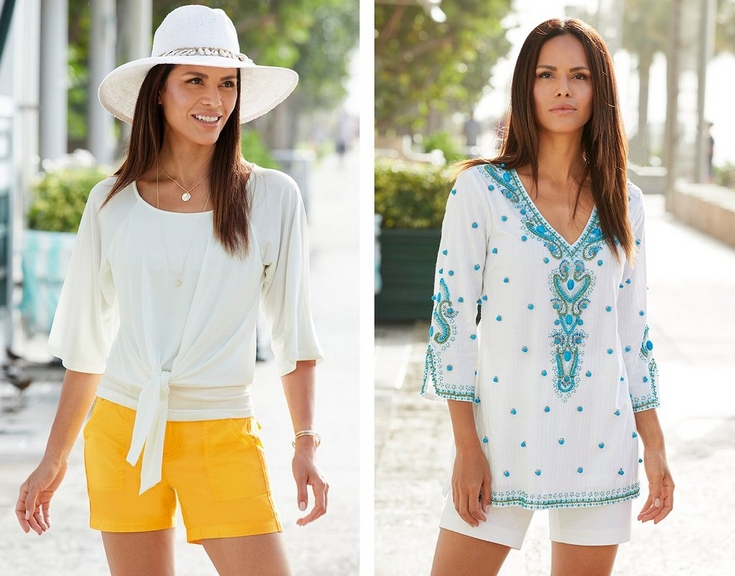 Click "+" to get the look
THE FABRIC
Shorts can be worn for virtually any occasion. The type of fabric from which the short is cut will help dictate that right look for where you're going. Dress code is everything when it comes to pulling off a short look with confidence and style. Reserve denim shorts for casual wear, opt for a structured cotton sateen look for dressing up and wear a comfortable twill, linen or knit for a relaxed work look. All of these choices provide ease of wear and flatter the figure; and all can be found in the selection at Boston Proper. You can shop by collection or search by fabric to find what you like.
THE LENGTH
The length of your short is truly a personal preference, but we have a few tips to consider. Longer lengths, like a Bermuda short, are a good choice for pear-shaped figures as they help slim the thigh and balance out the upper portion of the body. A general rule is the longer your leg, the longer the length of the short. For shorter figures, choose styles that hit about mid-thigh or above. If you have been working all year at keeping yourself fit, by all means a shorter length will flatter a toned leg no matter your height. Keep in mind your overall body type and choose the look that best flatters. The Everyday Twill Collection offers a 4-way stretch fabric and a smoothing waistband with side zip closure in a variety of different lengths.
THE STYLE
A trouser short is a good choice for hourglass shapes to play up proportions. A new look for the season is the tie-waist style from the Summer Essentials Collection at Boston Proper offering a comfortable, relaxed feel in the perfect lightweight chambray-like fabric for warmer weather. For apple shapes and fuller figures, a pull-on waistband helps flatten the tummy and creates smooth lines for a more slimming effect. An additional recommendation is to look at leg openings on a short. A more tapered, narrower leg will look sleeker while wider leg shorts do just that…they widen your look. Whatever the style, something to keep in mind is the more relaxed and looser style shorts look best with tighter fitting tops and the opposite holds true for a shorter, tighter short. Those look best with a looser fitting top. We hope this information is helpful in choosing your new summer short styles!